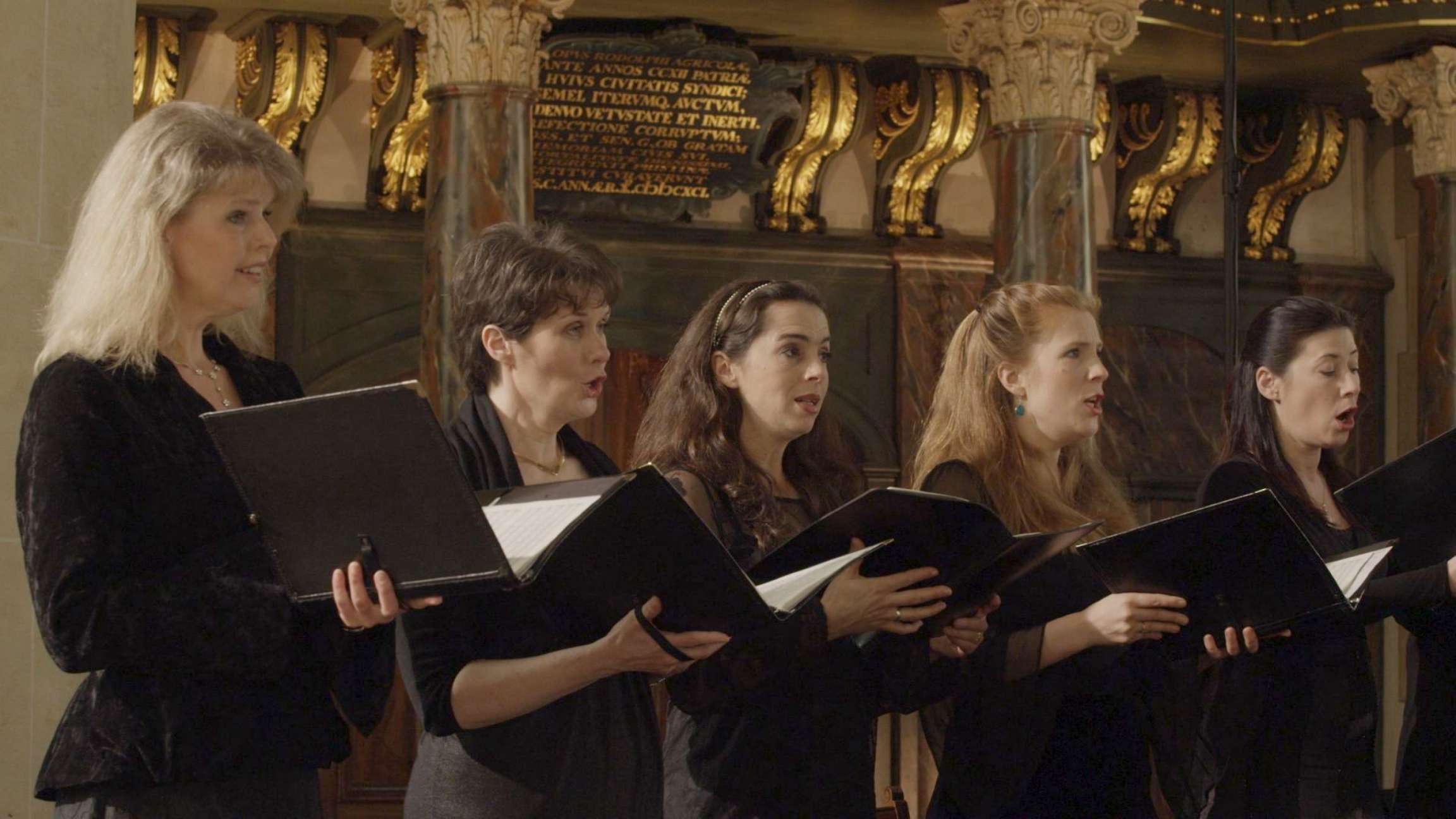 Sei Lob und Preis mit Ehren
BWV 231 performed by the Netherlands Bach Society
conducted by Jos van Veldhoven
St. Martin's Church, Groningen
Story
Extra videos
Texts
Credits
An upgrade for the middle section
For a long time, this music was earmarked 'not by Bach'. Now we know better.
This piece was buried in the repository of compositions known as 'dubious' and 'attributed wrongly' - a collection of music that bears Bach's name in certain sources, but where there is uncertainty as to whether Bach actually composed it. Adding a famous composer's name to a piece of music, especially in a later source, can make the music more attractive and saleable.
Sei Lob und Preis mit Ehren was doubly well buried. In most sources from the late eighteenth and early nineteenth century, it is included as the middle section of a three-part piece entitled Jauchzet dem Herrn, alle Welt. This complete motet was attributed to Bach in many sources. But because the last section has been taken from Telemann's cantata Lobt Gott, ihr Christen allzugleich, and the first section is probably also by Telemann, the complete motet was categorised as 'probably not by Bach'.
In 1983, however, musicologist Klaus Hoffman gave the middle section – Sei Lob und Preis mit Ehren – an upgrade, as it comes from the second section of Bach's cantata Gottlob! nun geht das Jahr zu Ende. So the piece was given its own BWV number: 231, which was later changed again to 28/2a.
Motets, BWV 225-231, 118 and Anh159
Cantatas were Bach's daily bread and a regular part of his weekly tasks as Cantor of St Thomas's. His motets were a different case entirely. Apart from the cantata, hardly any new music was played in Leipzig (music was selected instead from the motet collection Florilegium Portense). This gave Bach scope for writing commissioned works for private occasions, often funerals. Unfortunately, probably dozens of these works have been lost. The pieces that did survive have stayed on the repertoire since their composition, unlike Bach's other vocal works.
The surviving authentic motets – nine works, although research continues – build on a genre with an impressive pedigree. Against the background of strict Renaissance polyphony, the generation of Schütz (1585-1672) borrowed elements from the opulent, polychoral works of Giovanni Gabrieli and gave them a Central-German, Lutheran twist. In Bach's case, too, the content focused on chorales and biblical passages, whereby worldly madrigalism (or put simply: portraying the words) served only to reinforce the expression of the religious genre.
BWV

231 or 28/2a

Title

Sei Lob und Preis mit Ehren

Genre

motets

Year

1725?

City

Leipzig?

Lyricist

Johann Gramann

Special notes

This motet is based on the second part of the cantata 'Gottlob! nun geht das Jahr zu Ende', BWV 28
Extra videos
Vocal texts
Original
Sei Lob und Preis mit Ehren
Gott Vater, Sohn und Heil'gem Geist!
Der woll in uns vermehren,
was er uns aus Gnaden verheisst,
dass wir ihm fest vertrauen,
gänzlich verlass'n auf ihn,
von Herzen auf ihn bauen,
dass uns'r Herz, Mut und Sinn
ihm tröstlich solln anhangen.
Drauf singen wir zur Stund:
amen, wir werd'ns erlangen,
glaub'n wir aus Herzensgrund.
Translation
May there be praise and glory and honour
May it be his will to increase in us
for God the Father, Son and Holy Spirit!
what he promised us through his grace,
so that we firmly trust him,
surrender ourselves wholly to him,
build on him in our hearts,
so that our heart, spirit and mind
steadfastly depend on him.
For this reason we sing now:
Amen, we shall achieve this,
we believe from the bottom of our hearts.
Credits
Release date

14 November 2014

Recording date

15 March 2014

Location

St. Martin's Church, Groningen

Conductor

Jos van Veldhoven

Choir soprano

Marjon Strijk, Hilde Van Ruymbeke, Klaartje van Veldhoven, Orlanda Velez Isidro

Choir alto

Victoria Cassano MCDonald, Barnabás Hegyi, Saskia Kruysse, Elena Pozhidayeva

Choir tenor

Robert Buckland, Diederik Rooker, Ronald Threels, Endrik Üksvärav

Choir bass

Pierre-Guy le Gall White, Martijn de Graaf Bierbrauwer, Michiel Meijer, Lionel Meunier

Organ

Leo van Doeselaar

Concert production

Marco Meijdam, Imke Deters

Producer

Frank van der Weij

Film directors

Lucas van Woerkum, Joost Honselaar

Director of photography

Sal Kroonenberg

Camera

Sal Kroonenberg, Robert Berger, Ruben van den Broeke, Benjamin Sparschuh, Indy Hamid

Film editors

Lucas van Woerkum, Frank van der Weij

Music recording producer

Leo de Klerk

Gaffer

Alban Riphagen

Best boy

Sam Dupon

Producion assistant

Zoë de Wilde

Score reader

Jan Van den Bossche

Make up

Marloes Bovenlander, Jamila el Bouch, Marloes de Jong

Music producer's assistant

Menno van Delft

Music recording assistants

Jaap Firet, Gilius Kreiken, Jaap van Stenis

Music edit and mix

Leo de Klerk, Frank van der Weij

Music edit and mix asssistant

Martijn Snoeren

Colorist

Jef Grosfeld

Interview

Onno van Ameijde

Acknowledgements

Jan Haak