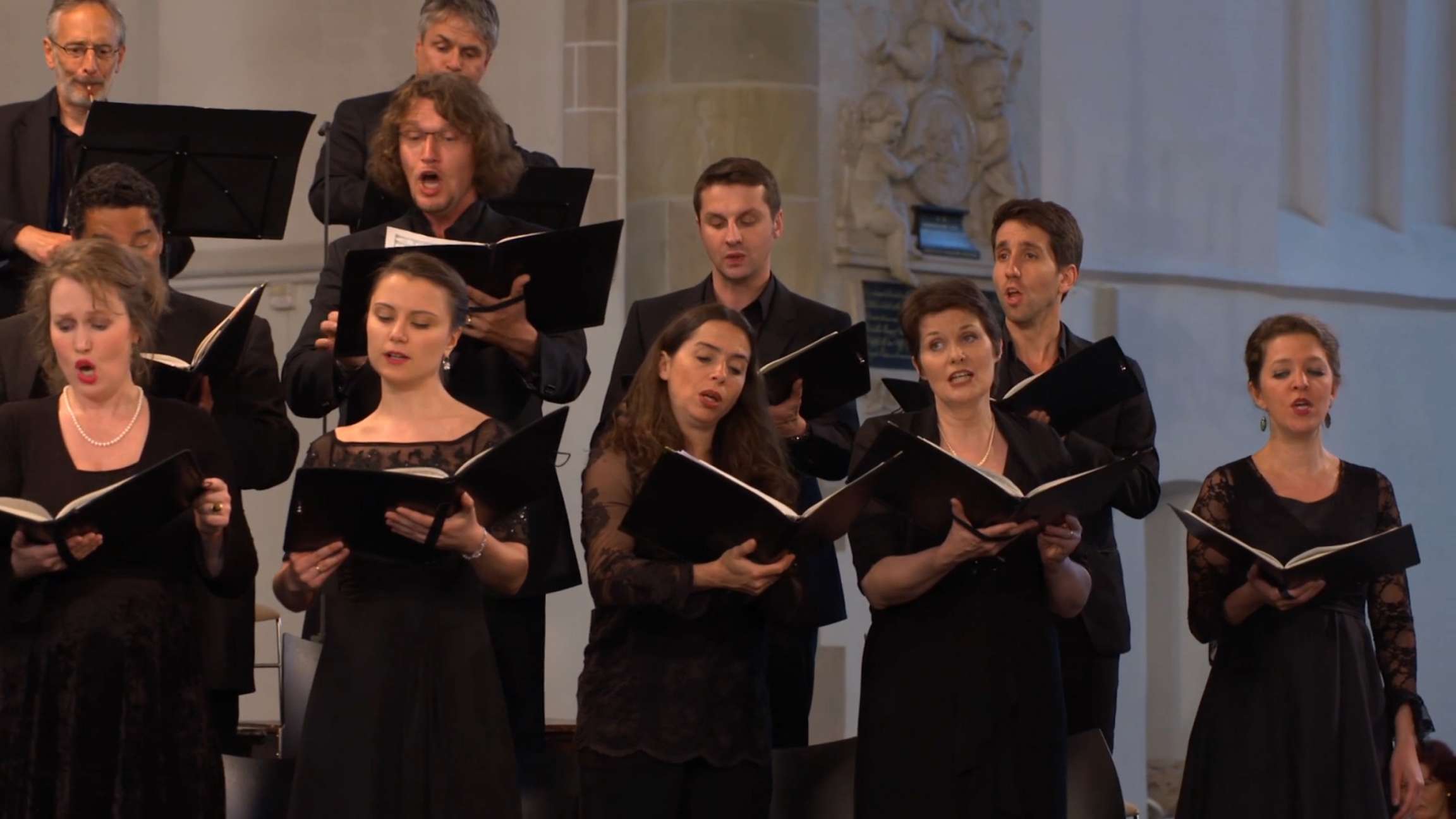 Ich lasse dich nicht
BWV Anhang 159 performed by the Netherlands Bach Society
conducted by Stephan MacLeod
Grote Kerk, Naarden
Story
Extra videos
Texts
Credits
But is it Bach?
"One of the most beautiful pieces of German church music" is still a mystery to us.
That is the sad thing about counting, or about how a catalogue number influences our musical perception. However beautiful, the motet Ich lasse dich nicht, du segnest mich denn languishes in the complete list of Bach's works among the 'incorrectly attributed works'. The candidate composer in this list is Johann Christoph Bach (1642-1703). A pity, but not surprising when you consider that even Carl Philipp Emanuel, who made an inventory shortly after his father's death, could no longer see the wood for the trees. According to him, his father had written 'some motets for double choir'. It would appear that he compiled his list without knowing precisely which motets they were. The decades that followed brought even more confusion. Despite his doubts, one specialist still wanted to see the fine work published as 'Bach', alongside the six motets accepted by everyone as authentic. Whatever the case, the two sources for Ich lasse dich nicht, du segnest mich denn are certainly ambiguous, so it is well worth taking a closer look at the notes themselves.
Whether or not it is signed, this work is of the very highest quality. Take the exceptional economy of the piece, for example. A single sentence gives rise to a unique and varied piece for double choir in two sections. First of all, we hear a call and response play on a siciliano rhythm, which singles out each aspect of the text. Listen to the harmonic tension in emphasising the antecedent and consequent phrase, to the way 'mein Jesu' sometimes sounds like a decoration and sometimes like an exclamation (particularly the latter!), or to the way 'nicht' is given an almost imploring echo effect as the discussion progresses.
In the second section, the composer far outstrips his contemporaries. Although it was popular in Thüringen to present a 'cantus firmus' on a bed of decorated lower voices, we actually know of only one other example of complete polyphonic accompaniment to such a 'cantus firmus': Bach's motet Fürchte dich nicht, BWV 228. Only the motifs 'Ich lasse dich nicht, nicht, nicht' and a stretched-out 'segnest' serve as a transparent foundation below the hymn 'Weil du mein Gott und Vater bist'; thesis and proof in one. This could have been one of Bach's greatest hits.
Motets, BWV 225-231, 118 and Anh159
Cantatas were Bach's daily bread and a regular part of his weekly tasks as Cantor of St Thomas's. His motets were a different case entirely. Apart from the cantata, hardly any new music was played in Leipzig (music was selected instead from the motet collection Florilegium Portense). This gave Bach scope for writing commissioned works for private occasions, often funerals. Unfortunately, probably dozens of these works have been lost. The pieces that did survive have stayed on the repertoire since their composition, unlike Bach's other vocal works.
The surviving authentic motets – nine works, although research continues – build on a genre with an impressive pedigree. Against the background of strict Renaissance polyphony, the generation of Schütz (1585-1672) borrowed elements from the opulent, polychoral works of Giovanni Gabrieli and gave them a Central-German, Lutheran twist. In Bach's case, too, the content focused on chorales and biblical passages, whereby worldly madrigalism (or put simply: portraying the words) served only to reinforce the expression of the religious genre.
BWV

Anhang 159

Title

Ich lasse dich nicht

Genre

motets

Year

Before 1713

City

Weimar?

Lyricist

Genesis 32:27, choral by Erasmus Alber (1557)

Special notes

It has long been thought that this motet was written by Johann Christoph Bach.
Extra videos
Vocal texts
Original
Ich lasse dich nicht,
du segnest mich denn,
mein Jesu, ich lasse dich nicht,
du segnest mich denn.

Weil du mein Gott und Vater bist,
dein Kind wirst du verlassen nicht.
Du väterliches Herz!
Ich bin ein armer Erdenkloss
auf Erden weiß ich keinen Trost.

Ich dank dir, Christe, Gottes Sohn
dass du mich solchs erkennen lan
durch dein göttliches Wort;
verleih mir auch Beständigkeit
zu meiner Seelen Seligkeit.

Lob, Ehr und Preis sei dir gesagt
für alle dein' erzeigt Wohltat,
und bitt demütiglich,
lass mich nicht von dein'm Angesicht
verstossen werden ewiglich.


Translation
I shall not let thee go,
unless thou bless me.
My Jesus! I shall not let thee go,
unless thou bless me.

Because thou art my God and Father,
thou wilt not forsake thy child,
O paternal heart!
I am a poor clod of earth,
and know no consolation on earth.

I thank you, Christ, Son of God,
that you reveal such things to me
through your divine word;
grant me also steadfastness
for the salvation of my soul.

Praise, honour and glory to you
for all your good deeds
and I humbly beg you
not to banish me forever
from your countenance.



Credits
Release date

24 February 2017

Recording date

14 May 2016

Location

Grote Kerk, Naarden

Conductor

Stephan MacLeod

Soprano

Orlanda Velez Isidro, Klaartje van Veldhoven, Griet de Geyter, Aleksandra Lewandowska, Marjon Strijk, Hilde van Ruymbeke, Stephanie Pfeffer, Marta Paklar

Alto

Barabás Hegyi, Gemma Jansen, Elena Pozhidaeva, Bernadett Nagy, Marine Fribourg, Victoria Cassano McDonald

Tenor

Adriaan de Koster, Wolfgang Frisch, Guy Cutting, Diederik Rooker, Immo Schröder, Ronald Threels

Bass

Matthew Baker, Sebastian Myrus, Pierre-Guy Le Gall White, Martijn de Graaf Bierbrauwer, Michiel Meijer, Jelle Draijer

Violin

Shunske Sato, Sayuri Yamagata

Viola

Staas Swierstra

Cello

Lucia Swarts

Double bass

Robert Franenberg

Oboe 1

Martin Stadler

Oboe 2

Peter Frankenberg

Taille

Yongcheon Shin

Bassoon

Benny Aghassi

Organ

Pieter-Jan Belder

Harpsichord

Siebe Henstra

Theorbo

Fred Jacobs

Director

Simon Aarden

Music recording

Guido Tichelman, Bastiaan Kuijt, Micha de Kanter

Music edit and mix

Guido Tichelman

Camera

Bart ten Harkel, Merijn Vrieling, Merlijn Dielemans, Chris Reichgelt, Martijn Struijf

Lights

Zen Bloot

Lighting assistant

Patrick Galvin

Assistant director

Ferenc Soetman

Video engineer

Marco Korzelius

Set technique

Niels Cnossen

Data handling

Jesper Blok

Project manager nep

Peter Ribbens

Interview

Onno van Ameijde

Producer

Marco Meijdam
Help us to complete All of Bach
There are still many recordings to be made before the whole of Bach's oeuvre is online. And we can't complete the task without the financial support of our patrons. Please help us to complete the musical heritage of Bach, by supporting us with a donation!