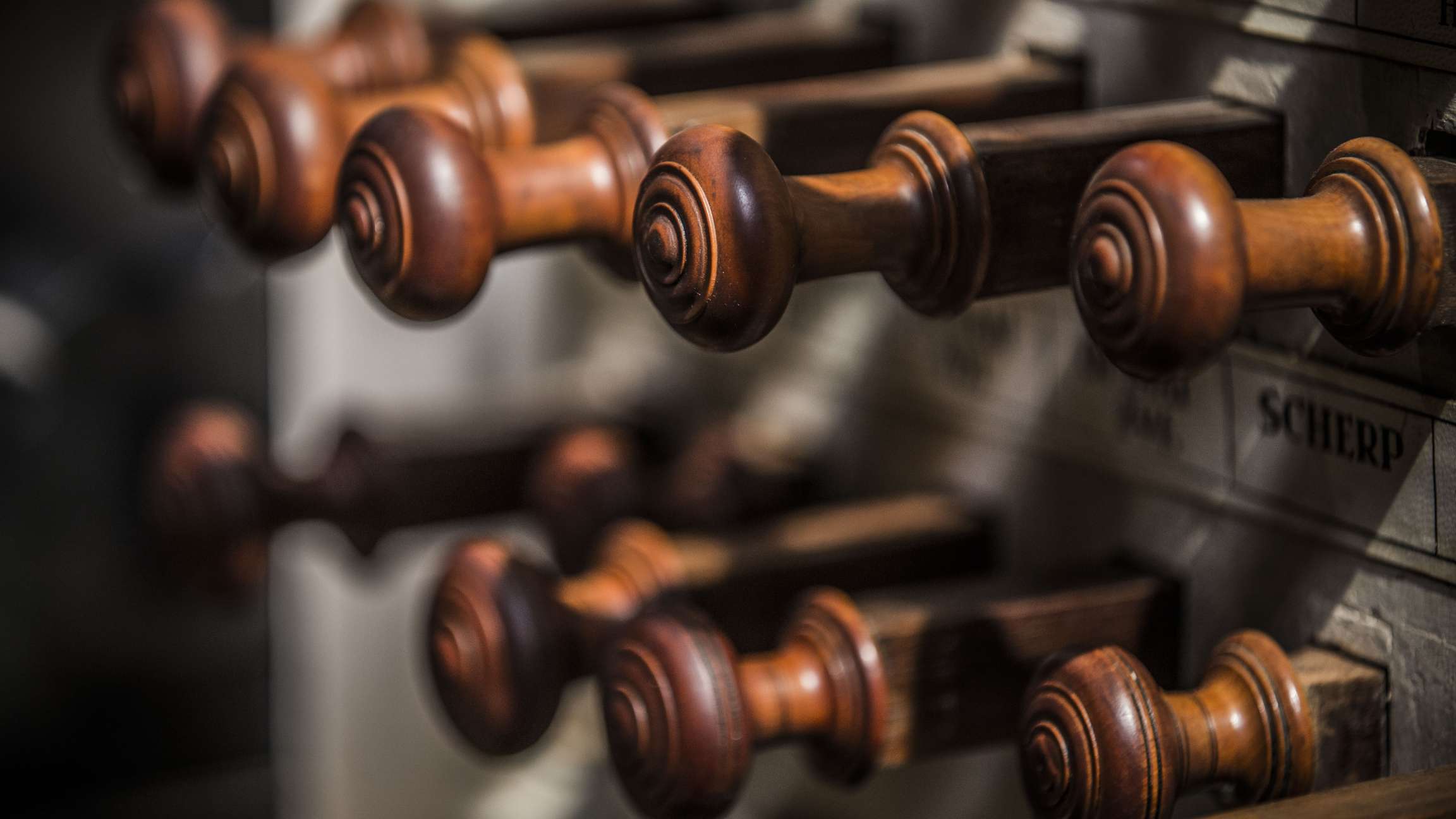 Prelude and fugue in G minor
Prelude and fugue in G minor
performed by Leo van Doeselaar
Walloon Church, Amsterdam
Story
Extra videos
Credits
Enigmatic sources
Many hands, not only his own, offer a glimpse of his musical development.
There's no prelude without a fugue, you would think. Yet it is questionable whether Bach thought up this pair of works together, as the prelude bears more resemblance in style to his early works than the fugue. The sources tell their own confusing story. First of all, there is the Möller manuscript, a collection from 1705-06 in which Johann Cristoph Bach takes a snapshot of his musical circle: Böhm, Buxtehude and Reincken, as well as of his younger brother Johann Sebastian, who was still a youngster. One of the works written in the manuscript by Johann Sebastian himself was BWV 535a, a simpler and unfortunately incomplete version of BWV 535 (the last page is missing). But the 'official' later version exists in so many variations, none of which are in Bach's handwriting, that it is difficult to find out how and when he revised this early work or works. The prelude and fugue must have been very useful in organ lessons, as the copies are made mainly by his well-paying pupils.
As we said, the prelude was probably one of Bach's earliest works. He may have written it directly after making acquaintance with Buxtehude, who constructed his preludes – as Bach does here – in neat, well-defined movements. Bach created three quasi-improvised movements, with an exciting middle movement where the hands keep switching keyboard and the music descends the whole scale in semitones. Just before that, there is a phrase in the pedal that Bach seized on (probably some years later) for his three-voice fugue. The theme accelerates through the use of ever shorter notes – crotchets, repeating quavers and trill-like semiquavers – and the responses also become livelier throughout the piece, especially in the final use of the theme in the pedal. With a few virtuoso streams of notes as a coda, Bach repeats elements from the prelude.
BWV

535

Title

Prelude and fugue in G minor

Instrument

Organ

Genre

organ works

Year

early version before 1705, revised version probably between 1708 and 1717

Special notes

Special notes/reuse An early version of BWV 535a is included in the Möller manuscript. There is no known original of BWV 535.
Extra videos
Credits
Release date

21 November 2014

Recording date

23 June 2013

Location

Walloon Church, Amsterdam

Organist

Leo van Doeselaar

Organ

Christian Müller, 1734

Producer

Frank van der Weij

Film director

Jan Van den Bossche

Directors of photography

Sal Kroonenberg, Ruben van den Broeke

Grip

Antoine Petiet

Music production, editing and mix

Holger Schlegel

Film editor

Dylan Glyn Jones

Colorist

Jef Grosfeld

Production assistants

Marco Meijdam, Zoë de Wilde