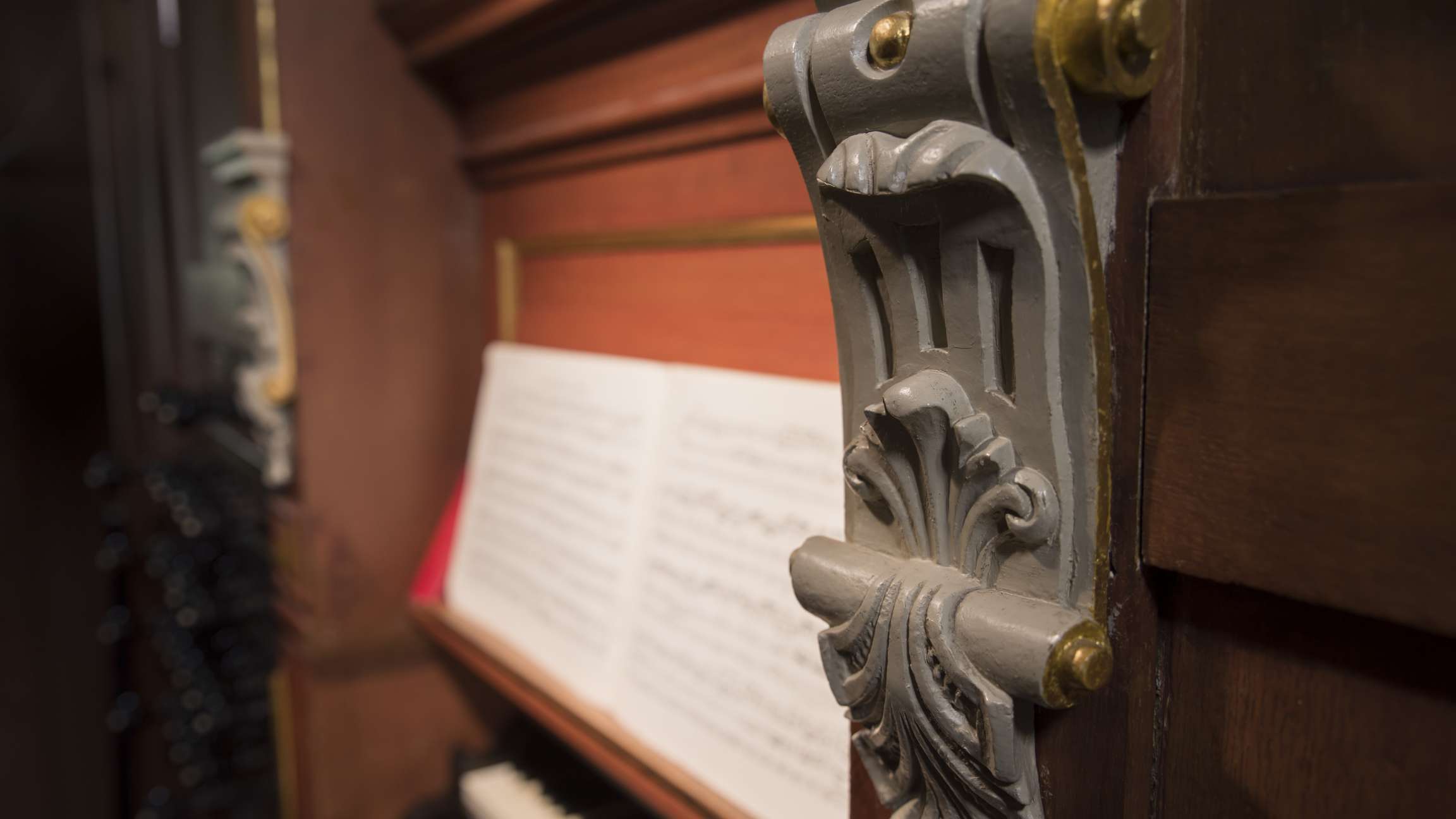 Prelude and fugue in D minor
BWV 539 performed by Reitze Smits
St Jacob's Church, Leeuwarden
Story
Extra videos
Credits
A nineteenth-century composition?
The authenticity of the Prelude and fugue in D minor is not without dispute
Bach was very keen on the duo of prelude (or toccata) and fugue. In the first part, he could let his imagination run free, then show off his technical composition prowess in the second part. However, not all the prelude and fugue duos that have been given a BWV number are indisputably by Bach himself. The origins of the Prelude and fugue in D minor are dubious to say the least.
What is certain, however, is that the fugue is based on the second movement of Bach's Sonata for violin solo, BWV 1001, from 1720. But that does not necessarily mean that he composer was also responsible for this arrangement. Various researchers have emphasised that the original piece for violin was a novelty that stretched the limits of the instrument with a great display of virtuosity. According to some people, the arrangement is actually no more than a dutiful rendition of the original. It is not like Bach to deliver something like that, although it may have been written by one of his pupils. In the interview, organist Reitze Smits explains that he is of a totally different opinion. He thinks it is only in the organ version that Bach has achieved his true intentions with regard to the piece.
There are yet more problems attached to the preceding two-voice prelude. Because what is this relatively short and simple prelude doing here actually? Would not Bach himself have been far more likely to choose an arrangement of the first movement of the same solo sonata – always supposing that he was responsible for the keyboard fugue? Moreover, the provenance of the prelude is completely obscure, as the piece only surfaced in the early nineteenth century, when it was added to the fugue.
Of course, there are other opinions as well; for example that the daringly unpretentious prelude is a marvel of elegance. Or that the incredibly difficult suggested polyphony for the violin finds its true niche on the organ.
It shows how difficult it is, even for musicologists who have spent their whole life with Bach, to put your finger on precisely what defines his mastery.
BWV

539

Title

Prelude and fugue in D minor

Instrument

Organ

Genre

organ works

Year

after 1720

City

Köthen/Leipzig

Special notes

The fugue is an arrangement of the second movement of the Sonata for violin solo, BWV 1001 from 1720. There is also a lute version of this movement, BWV 1000.
Extra videos
Credits
Release date

26 June 2015

Recording date

15 September 2014

Location

St Jacob's Church, Leeuwarden

Organist

Reitze Smits

Organ registration

Mayuko Banno

Organ

Christian Müller, 1727

Producer

Frank van der Weij

Film director

Jan Van den Bossche

Directors of photography

Diderik Evers, Ruben van den Broeke

Music production, editing and mix

Holger Schlegel

Film editor

Dylan Glyn Jones

Colorist

Jef Grosfeld

Production assistant

Hanna Schreuders

Acknowledgements

Rob Tigchelaar