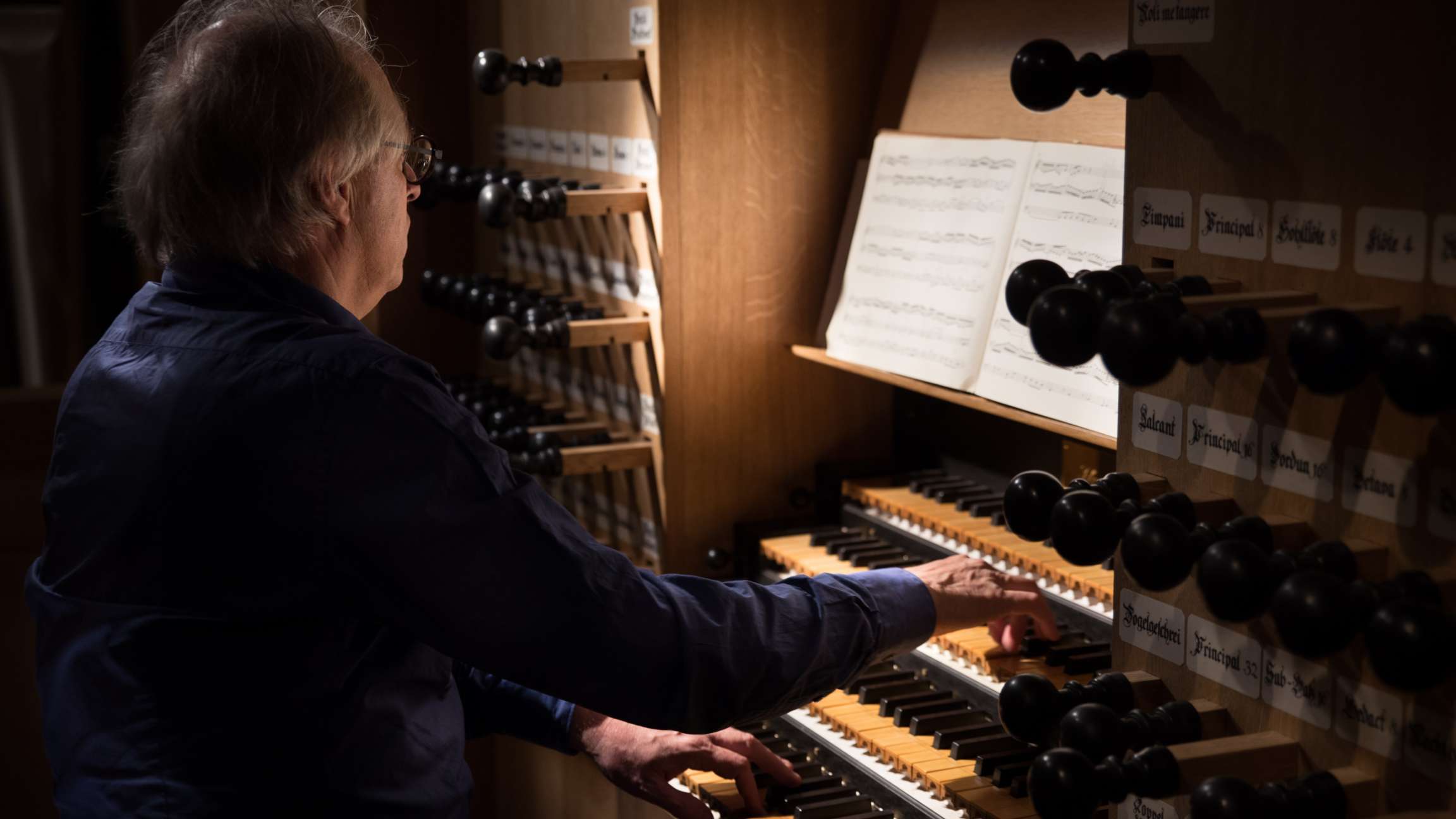 Fugue in B minor
BWV 579 performed by Leo van Doeselaar
St. Catherine's Church, Hamburg
Story
Extra videos
Credits
I can do better!
Bach added a German touch to Corelli.
According to Carl Philipp Emanuel Bach, self-study and reflection were the methods used by his father in his development as a composer of fugues. Careful study of the work of famous contemporaries, in particular, advanced his skills. Corelli's Sonate da Chiesa a Tre for two violins and continuo, from 1689, is a good example. We do not know when Bach first saw this music, which was printed in Modena in 1689. Neither do we know when he used the second movement of the fourth sonata for a new composition. But we can well imagine that this fugue is the result of the aforementioned self-study and reflection.
After all, Bach did not only use the two themes from this Vivace, as suggested by the title Thema con Suggeto Sigre. Corelli elabor, but actually 'rewrote', if not 'improved' the fast movement by lengthening it considerably, adding a fourth part and greatly elaborating the fugal character. The latter, in particular, would have been a challenge for him, as Corelli treated his theme and counter-theme in a rather unorthodox way. Bach clearly sought possibilities to align Corelli's joie de vivre with the strict rules of German organ music.
We can assume that he was not dissatisfied with the results of his Corelli fugue. In any case, the tiny 'coda' at the end seems to mean something like: '...as I'd put it...' Leo van Doeselaar opted to play this unexpected ending very softly, as he explains in the interview.
BWV

579

Title

Fugue in B minor

Epithet

Fugue on a theme by Corelli

Instrument

organ

Genre

organ works

Year

before 1710?

City

Weimar

Special notes

The theme of this fugue is taken from the Sonate da Chiesa opus 3 no. 4 by Corelli (1689).
Extra videos
Credits
Release date

20 May 2016

Recording date

22 October 2014

Location

St. Catherine's Church, Hamburg

Organist

Leo van Doeselaar

Organ

Various builders between the 15th and 19th century. Reconstruction: Flentrop 2013

Producer

Frank van der Weij

Film director

Jan Van den Bossche

Director of photography

Sal Kroonenberg

Camera assistants

Andreas Grotevent, Lucas Lütz

Music production, editing and mix

Holger Schlegel

Acknowledgements

Vadim Dukart, Andreas Fischer