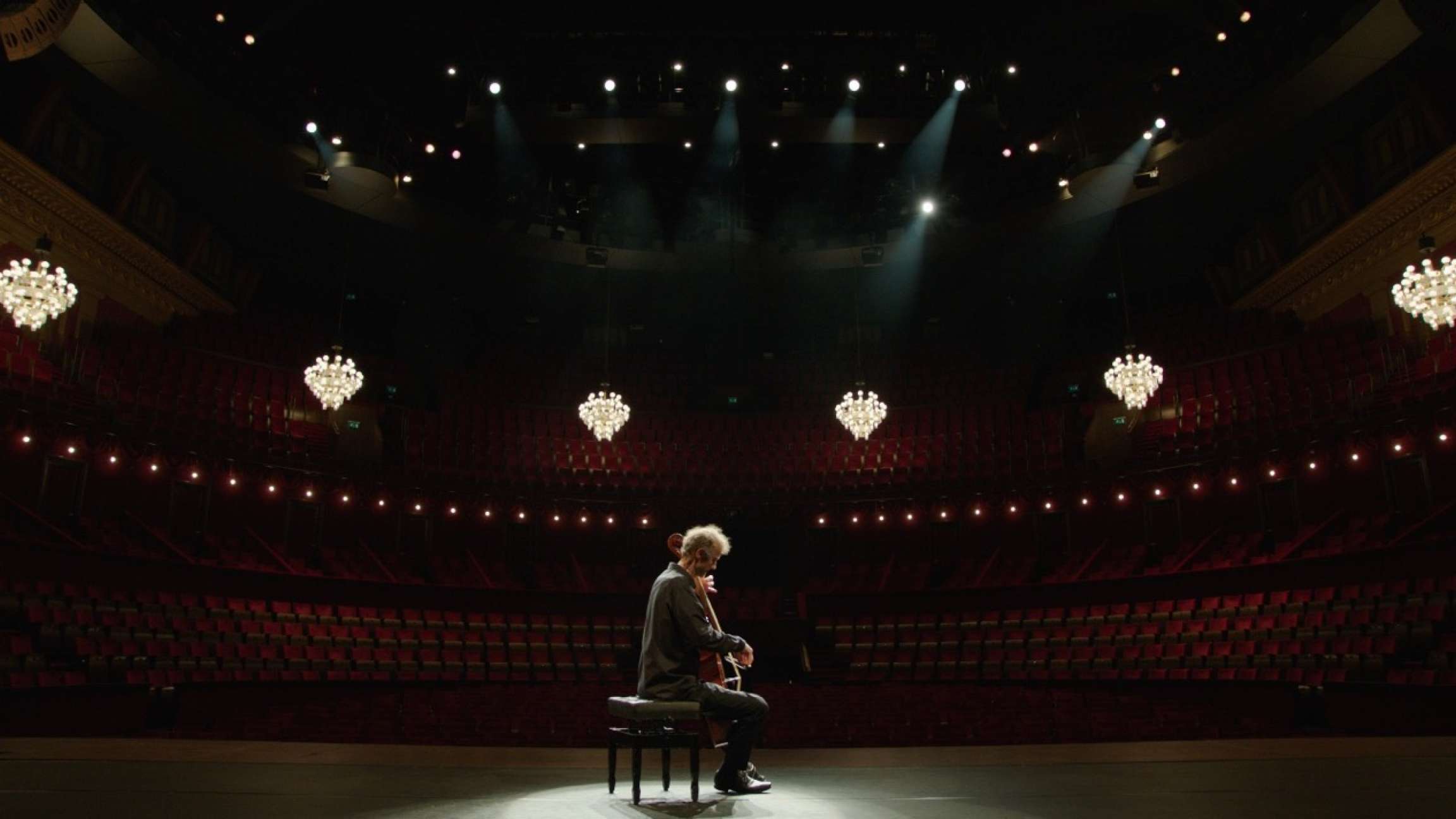 Cello Suite no. 4 in E-flat major
BWV 1010 performed by Bruno Cocset
Royal Theatre Carré, Amsterdam
Menu
1. Prelude
2. Allemande
3. Courante
4. Sarabande
5. Bourree I + II
6. Gigue
Story
Extra videos
Credits
Contemplative and philosophical
A suite for a cello with a curvy bottom.
Six Cello Suites, BWV 1007-1012
The Six Cello Suites by Johann Sebastian Bach belong to the Old Testament of cello literature. Every cellist who looks at the music immediately feels how naturally the notes are draped around the strings of the instrument. Yet there are many questions and discussions about these Suites a Violoncello Solo senza Basso. Did Bach really write the music for cello, or at least for cello alone? And when did he write it? At the court at Köthen or earlier?
The suites follow a path from simplicity to increasing virtuosity. The Suite no. 4 in E-flat major is contemplative and philosophical, without the mood becoming truly elegiac. In the first three suites, the cellist could play a relatively high number of open strings, giving a high resonance and allowing the upper notes to sound freely. But here the sound is darker. The key of E-flat major involves three flats, meaning that the highest A string cannot usually be played as a separate string.
Special instrument
Cellist Bruno Cocset feels a special bond with this suite. It has a reputation for recalcitrance with cellists, because of its key. But when he heard a recording of the suite in a transcription for harpsichord, played by Gustav Leonhardt, he suddenly understood what it should sound like. For his recording for All of Bach, Bruno Cocset went in search of the right instrument for this suite. Along with cello builder Charles Riché, with whom he often works, he chose this cello, with a curvy bottom and a rosette. In the interview, he explains how this affects the sound.
Location
We are recording all the cello suites at a special location in Amsterdam. This recording was made at Koninklijk Theater Carré, in Amsterdam.
BWV

1010

Title

Cello Suite no. 4 in E-flat major

Instrument

cello

Genre

chamber music

Serie

Six cello suites

Year

between 1717 and 1723

City

Köthen
Extra videos
Credits
Release date

28 October 2016

Recording date

27 June 2016

Location

Royal Theatre Carré, Amsterdam

Cellist

Bruno Cocset

Cello

Charles Riché, Alpes de Haute Provence, 2009, after 17th-century Italian style

Director and editor

Lucas van Woerkum

Music recording

Guido Tichelman, Bastiaan Kuijt

Music editor

Guido Tichelman

Camera

Remko Schnorr

Lights

Zen Bloot

Focus pull

Danny van Deventer

Grip

Bjorn Schumacher

Datahandling

Luuk Walschot

Interview

Onno van Ameijde

Acknowledgements

Koninklijk Theater Carré

With support from

Ammodo
Help us to complete All of Bach
There are still many recordings to be made before the whole of Bach's oeuvre is online. And we can't complete the task without the financial support of our patrons. Please help us to complete the musical heritage of Bach, by supporting us with a donation!