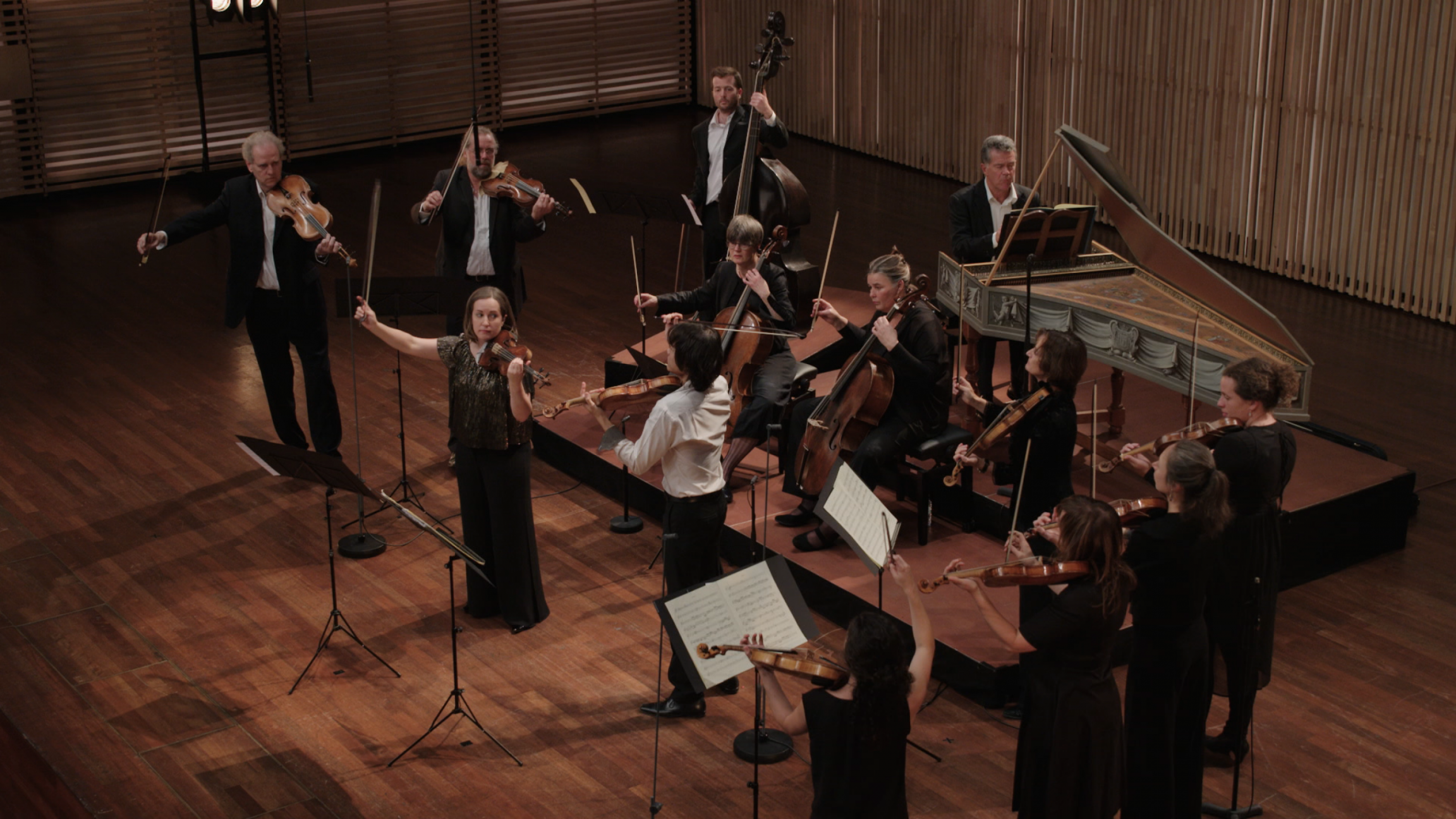 Concerto for two violins in D minor
BWV 1043 performed by Shunske Sato, Emily Deans
and the Netherlands Bach Society
Muziekgebouw aan 't IJ, Amsterdam
Menu
1. Vivace
2. Largo ma non tanto
3. Allegro
Story
Extra videos
Credits
Unusual
"The best eight minutes of music ever."
The two solo parts of this concerto have survived in Bach's own handwriting. This autograph dates from around 1730, a few years after the composer had moved from Köthen to Leipzig. Bach composed most of his instrumental concertos in the period 1717–1723, while working at the court of Leopold von Anhalt-Köthen, but this work appears to be an exception. However, it may not be that simple.
At first sight, this is a concerto in three movements in Vivaldian style and is similar to other concertos by Bach. But a more careful reading and hearing reveal peculiarities regarding, for example, the traditional contrast effects between refrains (ritornellos) and the solo episodes in between. Here, these building blocks are less demarcated than usual. Indeed, all three movements have actually been composed in three parts. The first movement, for example, is modelled on a fugue, but the viola withdraws from the fugal discourse. This concerto could also be performed as a trio sonata for two violins and basso continuo, and it probably originated as such. Does this bring us back to Köthen?
After the fugal opening movement, a dreamy siciliano unfolds, in which the two solo violin parts intertwine lovingly above a simple accompaniment of chords. "The best eight minutes of music ever", says solo violinist Emily Deans.
In the last movement, the two solo violins are hot on each other's heels. Even more so than the first movement, this Allegro fuels the suspicion that the parts for the accompanying ensemble were added later. The fact that Bach has the solo violins play accompanying figures (repeated quavers in double stops) for seven bars twice during the argument is in contradiction, to say the least, to the hypothesis of a trio sonata. The composer is here playing puss in the corner, as in these passages the actual solo parts have simply been transferred to the accompanying ensemble. Soloists Shunske Sato and Emily Deans enjoy this "head bashing, rock-and-roll moment" – whatever the origins might be.
BWV

1043

Title

Concerto for two violins in D minor

Instrument

Violin

Genre

orchestral works

Year

ca. 1730 or ca. 1720?

City

Leipzig or Köthen?

Special notes

Bach later arranged this double concerto for two harpsichords, strings and continuo (BWV 1062), transposed to the key of C minor.
Extra videos
Credits
Release date

6 October 2017

Recording date

7 October 2016

Location

Muziekgebouw aan 't IJ, Amsterdam

Violin and direction

Shunske Sato

Violin

Emily Deans

Violin 1

Lucia Giraudo, Lidewij van der Voort

Viool 2

Anneke van Haaften, Paulien Kostense, Annabelle Ferdinand

Viola

Pieter Affourtit, Jan Willem Vis

Cello

Lucia Swarts, Barbara Kernig

Double bass

Hen Goldsobel

Harpsichord

Siebe Henstra

Director

Lucas van Woerkum

Assistant director

Stijn Berkhouwer

Music recording

Guido Tichelman, Bastiaan Kuijt, Misha de Kanter

Music edit and mix

Guido Tichelman

Camera

Bart ten Harkel, Thijs Struick, Martin Struijf

Intern camera

Klazina Westra

Lights

Zen Bloot

Set technique

Justin Mutsaers

Data handling

Jesper Blok

Project manager nep

Peter Ribbens

Producer concert

Marco Meijdam

Producer film

Jessie Verbrugh

Interview

Onno van Ameijde
Help us to complete All of Bach
There are still many recordings to be made before the whole of Bach's oeuvre is online. And we can't complete the task without the financial support of our patrons. Please help us to complete the musical heritage of Bach, by supporting us with a donation!