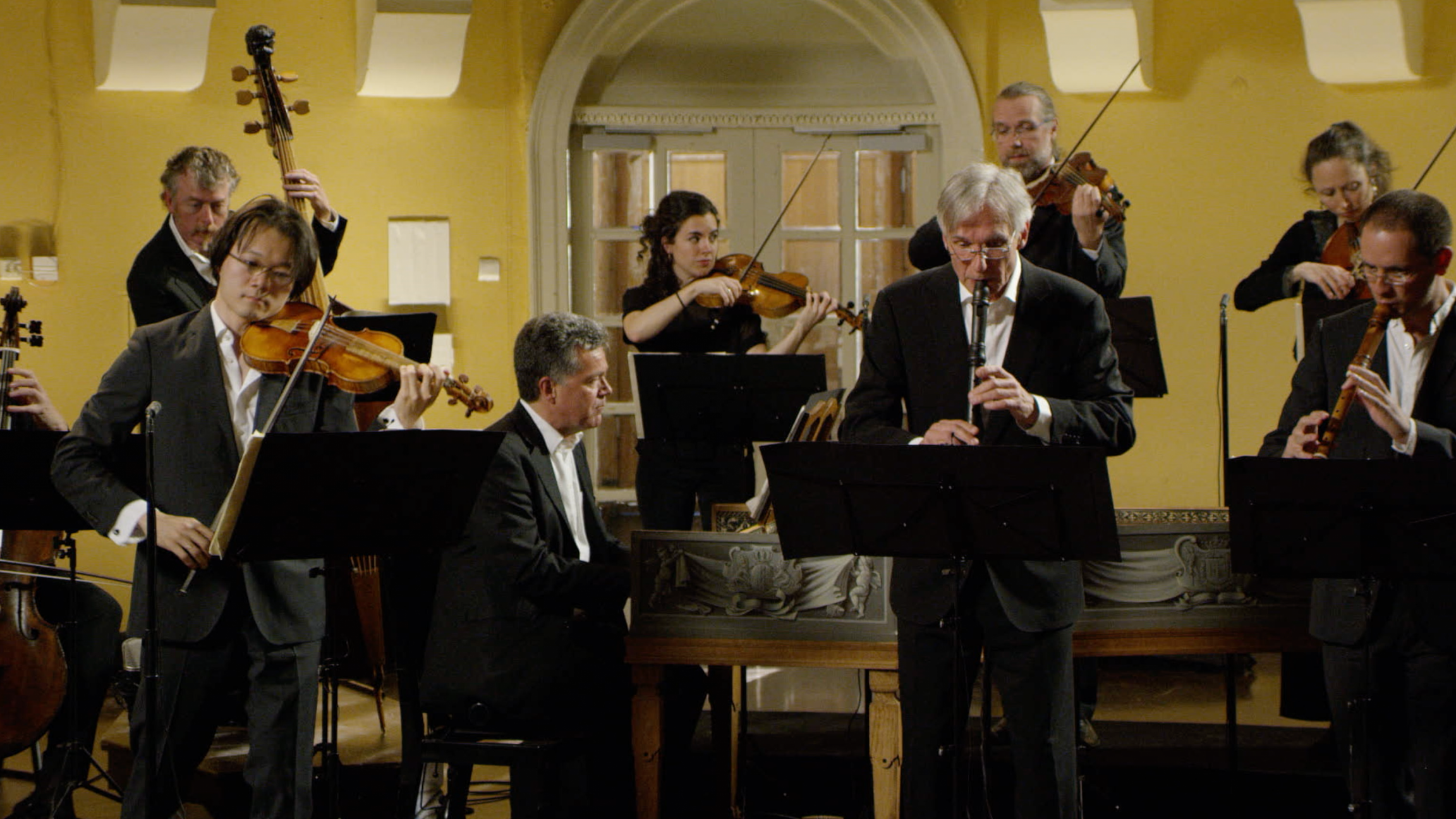 'Brandenburg' Concerto No. 4 in G major
BWV 1049 performed by the Netherlands Bach Society
conducted by Shunske Sato
Felix Meritis, Amsterdam
Menu
1. Allegro
2. Andante
3. Presto
Story
Extra videos
Credits
Blurring the boundaries
How Bach deliberately obscures the traditional concerto form.
In this concerto, Bach is continually misleading us. Which instruments are the real soloists? Initially, the lead is taken by the two recorders, but after the introductory refrain it appears that the violin is the soloist. After the next refrain, the two recorders take over again, but they are soon trumped by the violin, which steals the show in a whirlwind of dizzying notes. And so it continues. The roles are always ambiguous, especially as far as the recorders are concerned.

In the solemn second movement, they are clearly the soloists, but in the third movement the same notes are regularly played by both. Bach deliberately obscures the usually clear contrast between soloists and ensemble. And as if wanting to underline this confusion, he starts the third movement as a fugue, a form in which all the parts are equal by definition. But just when we think it is turning into a real fugue, we hear another violin solo. Bach then goes on to intersperse the traditional alternation between tutti refrains and solo passages with fugue-like imitations. And so his play on the characteristic elements of the concerto form draws to a close in a suitably subversive and boundary-blurring way.
Brandenburg concertos, BWV 1046-1051
In March 1721, Bach sent a manuscript from Köthen to Berlin entitled 'Six concertos with several instruments' (Six concerts avec plusieurs instruments), dedicated to Christian Ludwig (1677-1734), Margrave of Brandenburg-Schwedt. In the preface, Bach stated that he had played for the margrave 'a couple of years ago' and had promised to send him 'some of his compositions'. That was probably during a visit to Berlin in March 1719, when Bach had travelled to the Prussian capital to take receipt of a new harpsichord for the court in Köthen. The music that he sent to the margrave a couple of years later (which subsequently became known as the 'Brandenburg' Concertos) was Bach's ultimate view of the most important large-scale instrumental genre of his day: the concerto.

A concerto nearly always involves a solo instrument (or combination of solo instruments) and an ensemble. The key idea is the alternation between one or more soloists and the whole ensemble, in a sort of light-hearted competition. In the six 'Brandenburg' Concertos, Bach explores every facet of this genre, with regard to both instrumentation and the way in which he handles the form. All the traditionally used string and wind instruments and the harpsichord appear as soloists, the musical forms range from court dances to near-fugues, and the relationship between the solos and tutti instruments is always shifting. Together, the six concertos thus form a virtuoso sample sheet of the Baroque concerto.
BWV

1049

Title

Concerto in G major

Epithet

'Brandenburg' Concerto No. 4

Genre

orchestral works

Serie

Brandenburg concertos

Year

1719-1720

City

Köthen

Occasion

Dedicated in 1721 to Margrave Christian Ludwig of Brandenburg

Special notes

Between 1735 and 1746, Bach arranged this Brandenburg concerto no. 4 as a harpsichord concerto (BWV 1057).
Extra videos
Credits
Release date

2 October 2015

Recording date

19 May 2015

Location

Felix Meritis, Amsterdam

Violin and direction

Shunske Sato

Recorder

Heiko ter Schegget, Benny Aghassi

Violin 1

Lucia Giraudo

Violin 2

Pieter Affourtit

Viola

Anneke van Haaften

Cello

Lucia Swarts

Double bass

James Munro

Harpsichord

Siebe Henstra

Director and editor

Lucas van Woerkum

Music recording, edit and mix

Guido Tichelman, Bastiaan Kuijt

Camera

Robert Berger, Simon Aarden, Maarten van Rossem

Lights

Zen Bloot, Patrick Galvin

Camera assistant

Uriel Matahelumual

Interview

Onno van Ameijde

Producer concert

Erik van Lith

Producer film

Jessie Verbrugh

Acknowledgements

Bach fund of the Netherlands Bach Society, Felix Meritis
Help us to complete All of Bach
There are still many recordings to be made before the whole of Bach's oeuvre is online. And we can't complete the task without the financial support of our patrons. Please help us to complete the musical heritage of Bach, by supporting us with a donation!