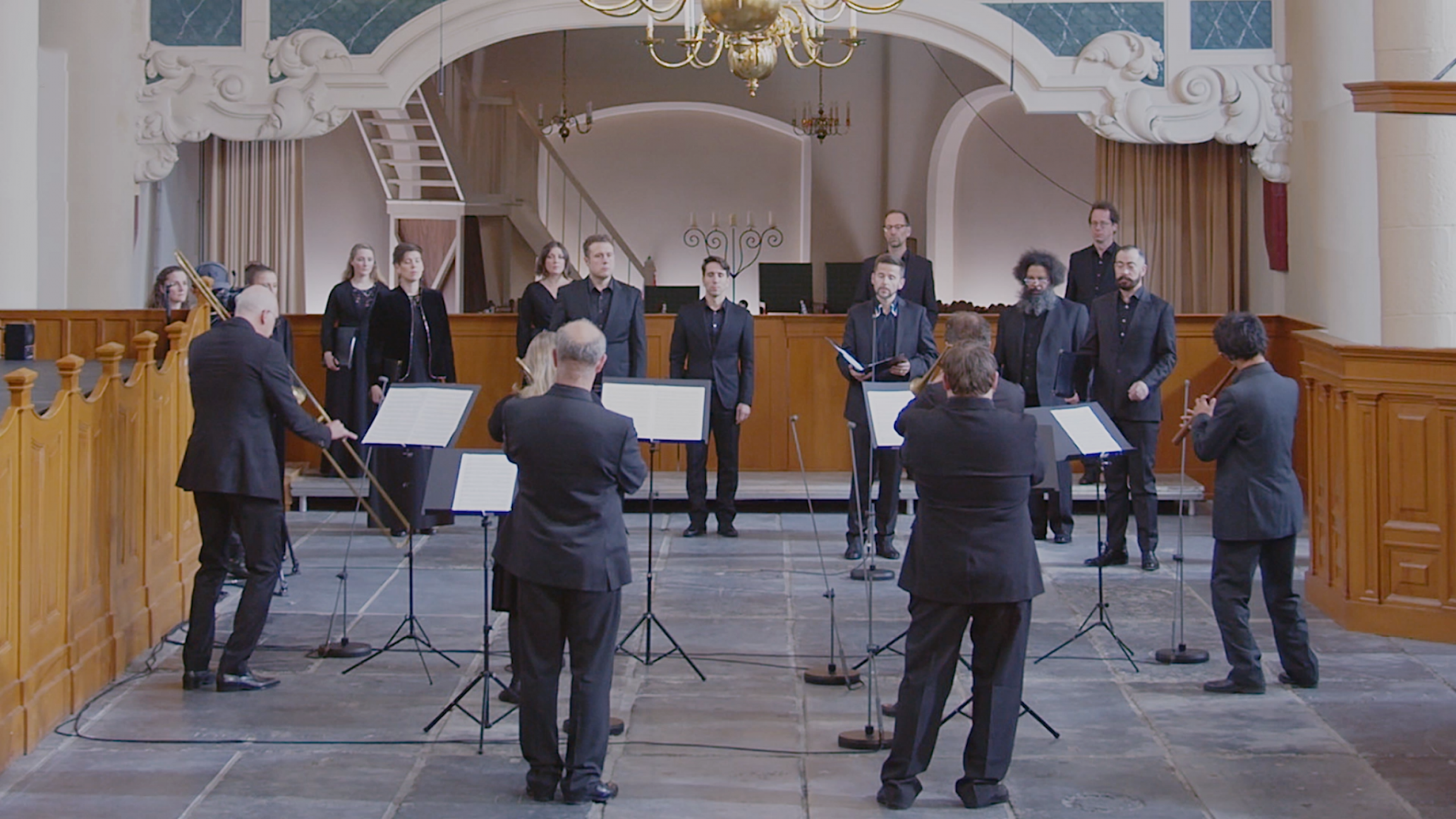 O Jesu Christ, meins Lebens Licht
BWV 118 performed by the Netherlands Bach Society
conducted by Shunske Sato
Walloon Church, Amsterdam
A rare performance
Unconventional funeral music with uncommon instrumentation
Sometimes – viewed from our current performance perspective – Bach gets in his own way a bit: unclear genres and unusual instruments make his work interesting, but also difficult to place at times. A good example of this is O Jesu Christ, meins Lebens Licht. As it consists of only one movement, it doesn't really belong with the cantatas. But because it has independent instrumental parts, it is not usually counted as a motet either, although Bach did refer to the work as such himself.
Moreover, the first of the two versions of the piece requires two lituos, alongside a cornetto and three trombones. The Latin word lituus (derived from Etruscan) means "curved" or "crooked" and was also used to denote a crooked staff or curved wind instrument. Various authors of the past refer to the lituus as a signal instrument for the army. However, it is not clear what Bach intended by it. It may have referred to a sort of alphorn, which was already known in the sixteenth century as lituus alpinus. Or maybe, as Michael Praetorius wrote at the beginning of the seventeenth century, it was another term for shawm or crumhorn. In Bach's day, the word lituus was also used for brass instruments. So here, we have chosen for two trumpets.
As a consequence of the aforementioned lack of clarity, BWV 118 is performed relatively infrequently, for which there is no musical reason whatsoever. It is a wonderful chorale arrangement, like the ones we are familiar with from the cantatas. The instrumental introduction sets the tone, with its melancholy lines and harmonies. The sentiment is continued by the chorale melody, in long notes in the soprano and the other imitating voices. And Bach did indeed write the piece for a funeral. It was performed at the graveside of Joachim Friedrich von Fleming in October 1740. For such an occasion, another composer would probably have written something a little more conventional. Bach, however, grasped the moment to do something special, also within his own oeuvre.
BWV

118

Title

O Jesu Christ, meins Lebens Licht

Instrument

Trumpet, Trombone, Cornetto

Genre

motets

Year

1736-1737

City

Leipzig

Lyricist

Unknown, possibly Martin Behm, 1610

Occasion

Funeral
Thanks to
Vocal texts
Original
O Jesu Christ, meins Lebens Licht,
mein Hort, mein Trost, mein Zuversicht,
auf Erden bin ich nur ein Gast
und drückt mich sehr der Sünden Last.

Dein letztes Wort laβ sein mein Licht,
wenn mir der Tod das Herz zerbricht;
behüte mich vor Ungebärd,
wenn ich mein Haupt nun neigen werd!
Translation
Lord Jesus, light for my life long,
my comfort, and where I belong,
on earth I walk a pilgrim road
bent deep beneath sin's heavy load.

Let your last word light my last day
when death rends my heart on its way
let me not in false ways be led
when it is time to bow my head.

translation © Ruth van Baak Griffioen
Credits
Release date

20 oktober 2022

Recording date

27 mei 2021

Location

Walloon Church, Amsterdam

Direction

Shunske Sato

Soprano

Lauren Armishaw, Marta Paklar, Amelia Berridge

Alto

Alex Potter, Sofia Gvirts, Bernadett Nagy

Tenor

Daniel Johannsen, Adriaan de Koster, Immo Schröder

Bass

Matthew Baker, Pierre-Guy Le Gall White, Michiel Meijer

Cornetto

Andrea Inghisciano

Trumpet 1

Robert Vanryne

Trumpet 2

Mark Geelen

Trombone

Bram Peeters, Kate Rockett, Joost Swinkels

Director

João MB Costa

Music recording

Guido Tichelman, Bastiaan Kuijt, Pim van der Lee

Music edit and mix

Guido Tichelman

Camera

Santiago Rodriguez, Milo McCafferty, Oscar Widl, Enzo Dumettier

Lights

Zen Bloot

Grip

Patrick Galvin, Harm Bredero, Sven Deen

Assistant director

Santiago Rodriguez

Video editing

Rob Gradisen, Robin van Erven Dorens

Assistent music recording

Marloes Biermans

Producer concerrt

Imke Deters

Producer film

Jessie Verbrugh

Supported by

MWH4impact
Help us to complete All of Bach
There are still many recordings to be made before the whole of Bach's oeuvre is online. And we can't complete the task without the financial support of our patrons. Please help us to complete the musical heritage of Bach, by supporting us with a donation!