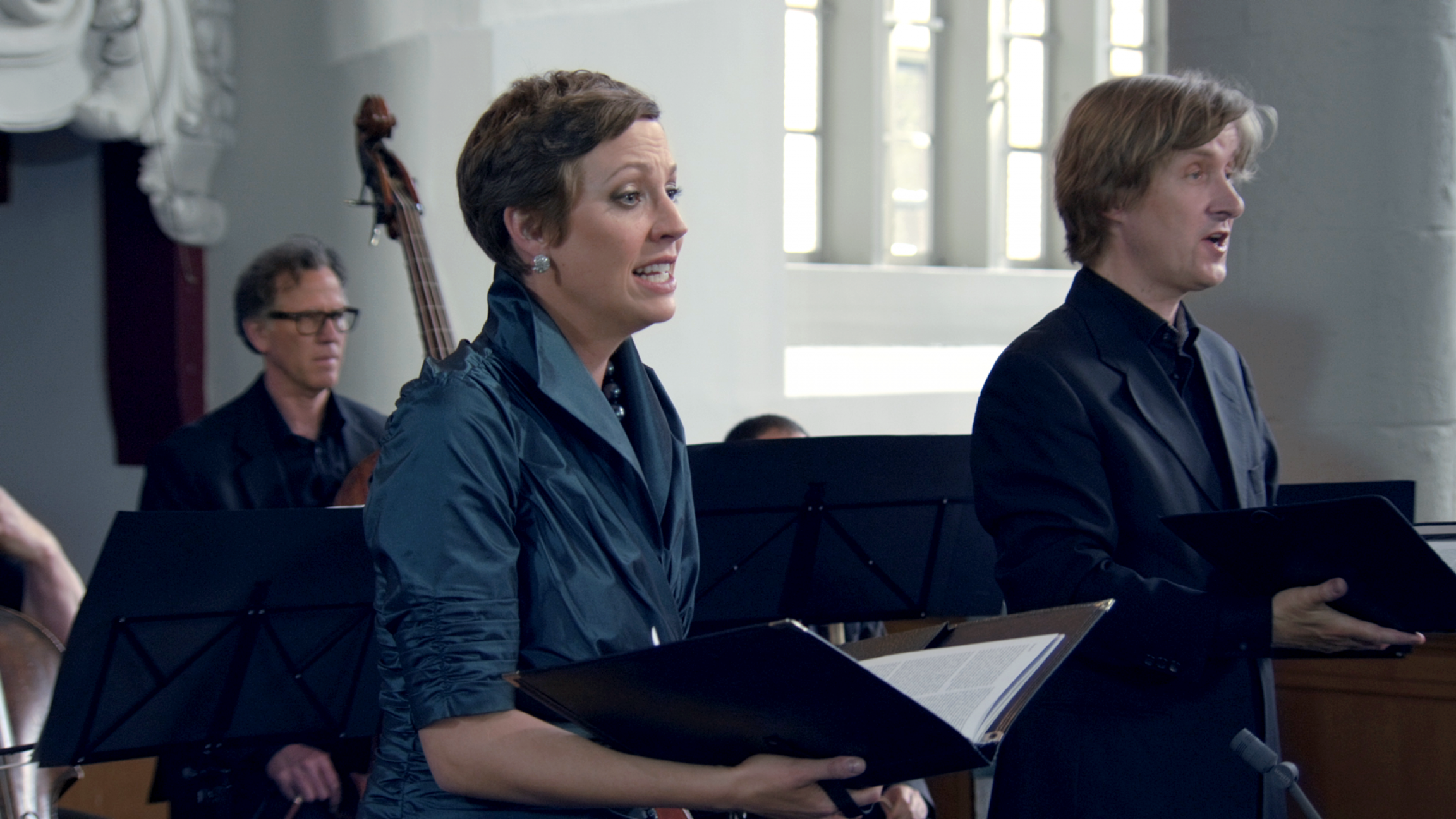 Barmherziges Herze der ewigen Liebe
BWV 185 performed by the Netherlands Bach Society
conducted by Alfredo Bernardini
Walloon Church, Amsterdam
Menu
Barmherziges Herze (Aria)
Ihr Herzen (Recitative)
Sei bemüht in dieser Zeit (Aria)
Die Eigenliebe (Recitative)
Das ist der Christen Kunst (Aria)
Ich ruf zu dir (Chorale)
Story
Extra videos
Texts
Credits
Bach in his element
As a Konzertmeister in Weimar, Bach could at last really indulge in vocal music.
When the twenty-three-year-old organist Johann Sebastian Bach made the switch from Mühlhausen to Weimar in 1708, he had high expectations. Not only was he to receive a much higher salary and work with professional musicians for the first time, but if all went well he could also demonstrate his talent as a composer of vocal music to a much greater extent at the court of Weimar. In practice, however, he was disappointed, as his new employer Duke Wilhelm Ernst had hired Bach primarily as a star organist. And although he completely lived up to those expectations – the young musician stood out for his playing and improvisation, as well as composing a great variety of music for the organ – he did not get round to composing church music in his first years there.
The increase in salary enabled Bach to set up his own household for the first time with Maria Barbara, who was now expecting their first child after their marriage in October 1707. A further five Bach children were born in Weimar, including Wilhelm Friedemann in 1710 and Carl Philipp Emanuel in 1714. That year also heralded the beginning of a new career, as the duke appointed Bach Konzertmeister.
For the next three years, Bach was in his element, composing a total of around twenty cantatas in a completely individual style. For his recitatives and arias (often da capo, i.e. where the opening is repeated at the end), he used new texts, such as those by Salomo Franck, the chief librarian at Weimar, while he usually used biblical texts just for the closing chorales. This innovative strategy allowed him to thoroughly indulge in composition.
In the cantata Barmherziges Herze der ewigen Liebe from 1715, four soloists are accompanied by strings, oboe and – to reinforce the basso continuo – a bassoon. Three arias alternate with two recitatives, and the piece closes with a chorale. The theme of the cantata can be summarised as 'If you want to change the world, start with yourself'. The alto urges a forgiving outlook, following which the bass specifies the message further: don't complain about the mote in your brother's eye, but first remove the beam from your own. It ends with the chorale to Agricola's 'Ich ruf zu dir, Herr Jesu Christ', which was already heralded at the beginning, as the oboe weaves the chorale melody through the delicate duet for soprano and tenor.
BWV

185

Title

Barmherziges Herze der ewigen Liebe

Instrument

oboe

Genre

cantatas

Year

1715

City

Weimar

Lyricist

Salomo Franck

Occasion

Fourth Sunday after Trinity

First performance

14 July 1715

Special notes

performed again in Leipzig on 20 June 1723 (then with clarino instead of oboe) and in 1746/1747
Extra videos
Vocal texts
Original
1. Arie (Sopran, Tenor)
Barmherziges Herze der ewigen Liebe,
errege, bewege mein Herze durch dich;
damit ich Erbarmen und Gütigkeit übe,
o Flamme der Liebe, zerschmelze du mich!

2. Rezitativ (Alt)
Ihr Herzen, die ihr euch
in Stein und Fels verkehret,
zerfliesst und werdet weich,
erwägt, was euch der Heiland lehret,
übt, übt Barmherzigkeit
und sucht noch auf der Erden
dem Vater gleich zu werden!
Ach! greifet nicht durch das verbotne
Richten dem Allerhöchsten
ins Gericht, sonst wird sein Eifer euch zernichten.
Vergebt, so wird euch
auch vergeben;
gebt, gebt in diesem Leben;
macht euch ein Kapital,
das dort einmal
Gott wiederzahlt mit reichen Interessen;
denn wie ihr messt,
wird man euch wieder messen.

3. Arie (Alt)
Sei bemüht in dieser Zeit,
Seele, reichlich auszustreuen,
soll die Ernte dich erfreuen
in der reichen Ewigkeit,
wo, wer Gutes ausgesäet,
fröhlich nach den Garben gehet.

4. Rezitativ (Bass)
Die Eigenliebe schmeichelt sich!
Bestrebe dich,
erst deinen Balken auszuziehen,
denn magst du dich um Splitter auch
bemühen, die in des Nächsten
Augen sein.
Ist gleich dein Nächsten nicht
vollkommen rein,
so wisse, dass auch du kein Engel,
verbessre deine Mängel!
Wie kann ein Blinder mit dem andern
doch recht und richtig wandern?
Wie, fallen sie zu ihrem Leide
nicht in die Gruben alle beide?

5. Arie (Bass)
Das ist der
Christen Kunst:
nur Gott und sich erkennen,
von wahrer Liebe brennen,
nicht unzulässig richten,
noch fremdes Tun vernichten,
des Nächsten nicht vergessen,
mit reichem Masse messen:
das macht bei Gott
und Menschen Gunst,
das ist der
Christen Kunst.

6. Choral
Ich ruf zu dir, Herr Jesu Christ,
ich bitt, erhör mein Klagen,
verleih mir Gnad zu dieser Frist,
lass mich doch nicht verzagen;
den rechten Glauben, Herr, ich mein,
den wollest du mir geben,
dir zu leben,
meinm Nächsten nütz zu sein,
dein Wort zu halten eben.
Translation
1. Aria
Merciful heart of love everlasting,
move and stir my heart through thine;
that I may practise both goodness and
mercy, O flame of love, come melt my heart!

2. Recitative
Ye hearts, who have
changed into stones and rocks,
dissolve and soften,
consider what the Saviour teaches you,
practise, practise charity
and strive while still on earth
to become just like the Father!
Ah! do not obstruct through forbidden judgement
the judgement of the Almighty,
or His zealous wrath will destroy you.
Forgive, and you shall
be forgiven;
give in good measure during this life;
store up a capital
which there one day
God shall repay with ample interest;
for with the same measure that ye mete withal,
it shall be measured to you again.

3. Aria
Be at pains in this life,
O soul, to scatter ample seed,
if the harvest is to gladden you
in rich eternity,
where he who has sown good things
shall gladly gather the sheaves.

4. Recitative
Self-love deceives!
Endeavour first
to pull the beam from your own eye,
then concern yourself
with the mote
in your neighbour's eye.
Though your neighbour
be not wholly pure,
remember, you are no angel either,
reform your failings!
How can one blind man with another
walk along the straight and narrow?
Will they not, to their sorrow,
both fall into the ditch?

5. Aria
This is the
Christian's art:
know God and know oneself,
burn with true love,
do not judge unless authorised,
do not destroy another's work,
do not forget to treat your neighbour
most generously:
this makes for goodwill
with God and man,
this is the
Christian's art.

6. Chorale
I call to Thee, Lord Jesus Christ,
I beg Thee, hear my wailing,
grant me grace at this time
and let me not despair;
I think, O Lord, that Thou
wouldst show me the proper path,
that I might live for Thee,
serve my neighbour well,
in short, uphold Thy word.
Credits
Release date

20 February 2015

Recording date

8 June 2014

Location

Walloon Church, Amsterdam

Oboe and direction

Alfredo Bernardini

Soprano

Julia Doyle

Alto

Tim Mead

Tenor

Jan Kobow

Bass

Dominik Wörner

Violin 1

Shunske Sato

Violin 2

Cecilia Bernardini

Viola

Staas Swierstra

Cello

Lucia Swarts

Double bass

Robert Franenberg

Bassoon

Benny Aghassi

Harpsichord

Siebe Henstra

Church organ

Leo van Doeselaar

Concert production

Marco Meijdam, Imke Deters

Producer

Zoë de Wilde, Frank van der Weij

Film director

MaNOj Kamps, Onno van Ameijde, Jasper Verkaart

Director of photography

Sal Kroonenberg

Camera

Jorrit Garretsen, Joris Kerbosch, Sal Kroonenberg

Film editors

Jasper Verkaart, MaNOj Kamps, Frank van der Weij

Music recording producer

Leo de Klerk

Gaffer

Harm Bredero, Alban Riphagen

Music recording assistants

Jaap Firet, Pim van der Lee, Jaap van Stenis, Bobby Verbakel

Make up

Marloes Bovenlander, Jamila el Bouch

Camera assistant

Izak de Dreu

Music edit and mix

Leo de Klerk, Frank van der Weij

Music edit and mix asssistant

Martijn Snoeren

Colorist

Marlieke Kasten

Acknowledgements

Nienke Meuleman
Help us to complete All of Bach
There are still many recordings to be made before the whole of Bach's oeuvre is online. And we can't complete the task without the financial support of our patrons. Please help us to complete the musical heritage of Bach, by supporting us with a donation!