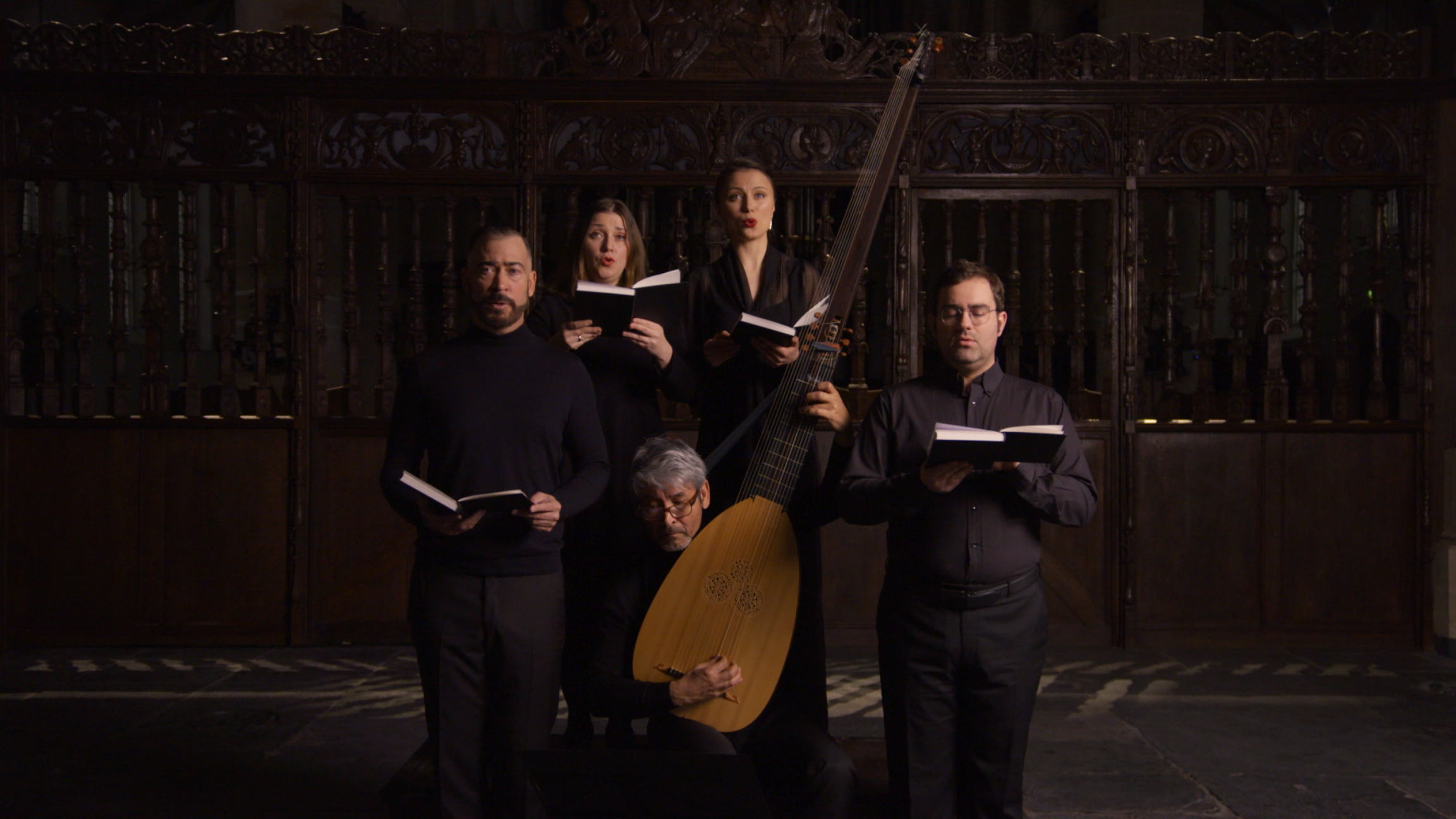 Christus der ist mein Leben
BWV 282 performed by the Netherlands Bach Society
Grote Kerk, Naarden
Extremely expressive
The words make the simple chorale form burst at the seams.
Chorale texts and melodies are an essential part of Bach's work. Besides being a source for countless organ compositions, hymns from Bach's day – both well-known and lesser known – also formed the basis for much of his vocal music. At one end of the spectrum are the large-scale opening choruses of Bach's cantatas. In them, the chorale melody forms the basis for a complex musical structure, in which the original hymn is arranged, decorated, paraphrased, unravelled and combined with itself and with other motifs.
At the other extreme, there are the so-called chorale harmonisations, in which Bach provides chords to a song for four-part ensemble. These versions nearly always follow a fixed pattern: the melody in the upper voice, with the other voices below in more or less the same rhythm. Although a simple form, the most inventive and expressive ideas are often found here, in the harmonies. It is only very occasionally that Bach deviates from this pattern.
So the effect is even greater when he does suddenly deviate, which is precisely what makes this version of Christus der ist mein Leben so special. It starts off like a 'normal' chorale, but on reaching the word 'sterben', the voices suddenly become individual again in a series of expressive chords. It seems as if Bach's interpretation of the words makes the simple chorale form burst at the seams. This creates an extremely expressive effect.
In the opening chorus of a cantata, with a choir and orchestra, precisely the same effect with the same notes would be considerably less remarkable, as that is just where you would expect to find such an expressive moment. Here, we can even check this directly, as BWV 282 is a miniature version of the opening chorus of the cantata BWV 95. Both works have practically the same notes, but the effect is different in each.
BWV

282

Title

Christus der ist mein Leben

Genre

chorales
Vocal texts
Original
Christus der ist mein Leben,
Sterben ist mein Gewinn;
Dem tu ich mich ergeben,
Mit Freud fahr ich dahin.

Alsdann fein sanft und stille,
Herr, lass mich schlafen ein
Nach deinem Rath und Willen
Wenn kommt mein Stündelein.
Translation
My life, O Christ, is in you,
In death I am released;
I give myself unto you,
I pass away in peace.

And so in peace and quiet
Lord, may I find my home,
On your wise will reliant
When my last hour has come.

translation © Ruth van Baak Griffioen, 2020
Credits
Release date

10 December 2020

Recording date

7 March 2020

Location

Grote Kerk, Naarden

Soprano

Marta Paklar

Alto

Sofia Gvirts

Tenor

João Moreira

Bass

Matthew Baker

Theorbo

Mike Fentross

Director

Onno van Ameijde

Music recording

Guido Tichelman, Bastiaan Kuijt, Pim van der Lee

Music edit and mix

Guido Tichelman

Camera

Jesper Blok

Lights

Zen Bloot, Patrick Galvin

Set technique

Justin Mutsaers

Projectmanager team

Ron Vermeulen

Video editing

Bas Wielenga

Assistent music recording

Marloes Biermans

Producer

Jessie Verbrugh
Help us to complete All of Bach
There are still many recordings to be made before the whole of Bach's oeuvre is online. And we can't complete the task without the financial support of our patrons. Please help us to complete the musical heritage of Bach, by supporting us with a donation!