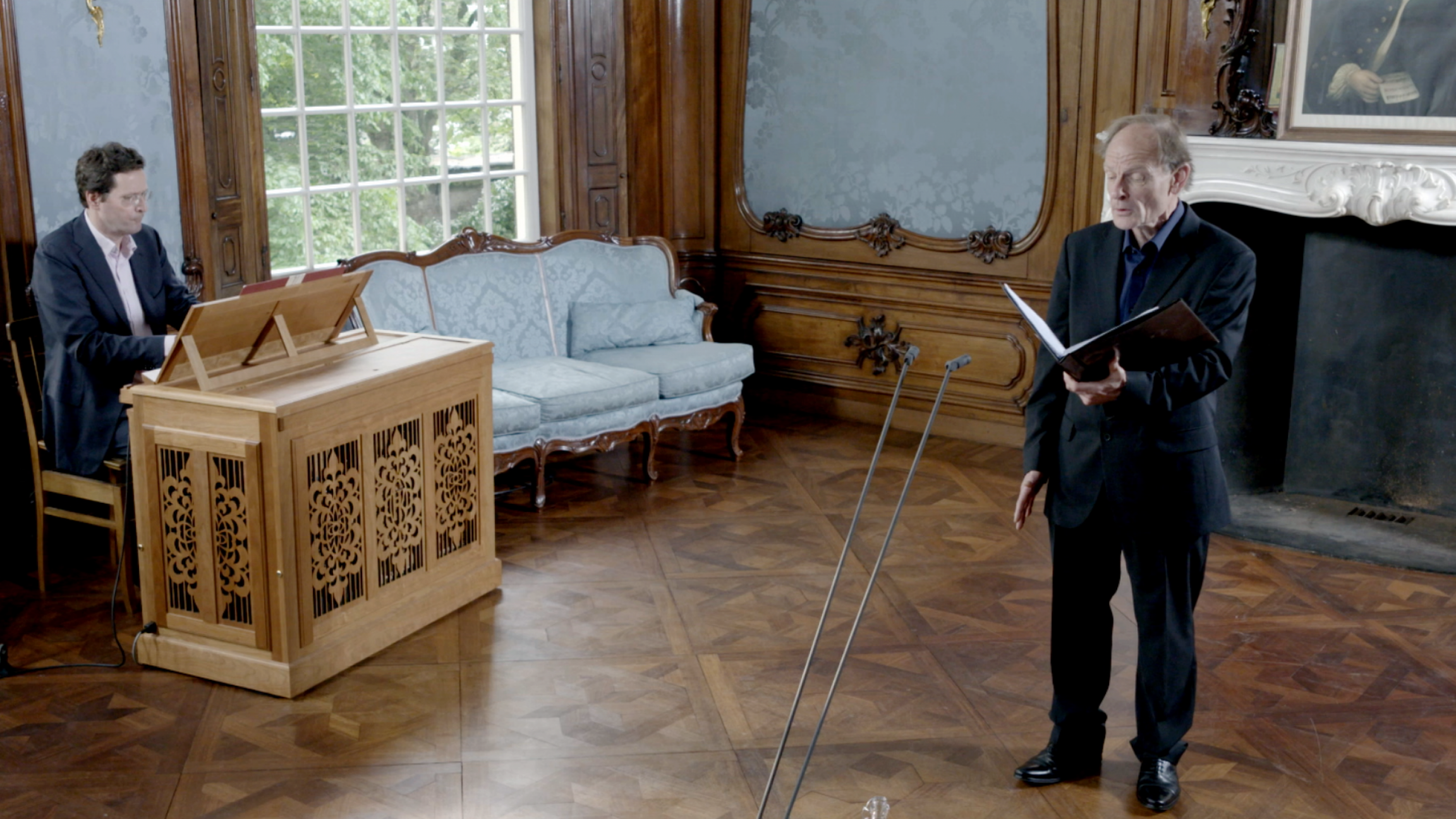 Gib dich zufrieden und sei stille
BWV 512 performed by Charles Daniels and Menno van Delft
at the Bartolotti House, Amsterdam
Story
Extra videos
Texts
Credits
Help is on the way
This hymn was top of the spiritual hit parade in Bach's day.
Poet and theologian Paul Gerhardt (1607-1676) tried to use the horrors of the Thirty Years' War for a spiritual revival. In Bach's day, that was right up the pietists' street. His chorale O Haupt voll Blut und Wunden is nowadays at the top of the spiritual hit parade, but at the time people sang the long poem Gib dich zufrieden at least as often, to many different melodies. Bach chose two of them for the Notenbüchlein. The message is rich yet very practical: even if God seems faraway (after all, life's no picnic), in the end he offers salvation and the day of peace will come.
The Notenbüchlein für Anna Magdalena Bach
Shortly after their arrival in Leipzig in 1723, Johann Sebastian and Anna Magdalena Bach revealed themselves as a cultural power couple. Although Anna Magdalena gave up her successful public singing career, she joined her husband in running a thriving music business, alongside looking after a large and growing family. We have at least two tangible traces of their married life in the form of two Notenbüchlein from 1722 and 1725.
Whereas the first Notenbüchlein was still a sort of notebook, containing things like early versions of five 'French Suites' (and who knows what else, as two-thirds of the pages are missing), the second one was definitely intended as a gift from Johann Sebastian to his wife. In fair copy, he notated two Partitas and all sorts of other music of Anna Magdalena's own choosing, such as the aria from the Goldberg Variations and the song Dir, dir Jehova, as well as music by composers like Couperin and Anna Magdalena's stepson Carl Philipp Emanuel. Together, the Notenbüchlein form a colourful mix of arias, chorales and suites.
BWV

512

Title

Gib dich zufrieden und sei stille

Instrument

tenor

Genre

songs and arias

Serie

Notenbüchlein für Anna Magdalena Bach

Year

1725

City

Köthen/Leipzig
With support from
Stichting Elise Mathilde Fonds
Extra videos
Vocal texts
Original
Gib dich zufrieden und sei stille
in dem Gotte deines Lebens,
in ihm ruht aller Freuden Fülle,
ohn ihn mühst du dich vergebens;
er ist dein Quell
und deine Sonne,
scheint täglich hell
zu deiner Wonne.
Gib dich zufrieden.
Er ist voll Lichtes, Trost und Gnaden,
ungefärbten treuen Herzens,
wo er steht, tut dir keinen Schaden
auch die Pein des größten Schmerzens.
Kreuz. Angst und Not
kann er bald wenden,
ja, auch den Tod
hat er in Händen.
Gib dich zufrieden.
Wie dirs und andern oft ergehe,
ist ihm wahrlich nicht verborgen,
er sieht und kennet aus der Höhe
der betrübten Herzen Sorgen.
Er zählt den Lauf
der heißen Tränen.
und fasst zuhauf
all unser Sehnen.
Gib dich zufrieden.
Lass dich dein Elend nicht bezwingen
halt an Gott, so wirst du siegen,
ob alle Fluten einhergingen,
dennoch musst du oben liegen;
denn wenn du wirst
so hoch beschweret,
hat Gott, dein Fürst,
dich schon erhöret.
Gib dich zufrieden.
Der allen Vöglein in den Wäldern
ihr beschiednes Körnlein weiset,
der Schaf und Rinder in den Feldern
alle Tage tränkt und speiset;
der wird ja auch
dich eingen füllen
und deinen Bauch
zur Notdurft stillen.
Gib dich zufrieden.
Bleibt gleich die Hülf in etwas lange,
wird sie dennoch endlich kommen,
macht dir das Harren angst und bange,
glaube mir, es ist dein Frommen.
Was langsam schleicht,
fasst man gewisser
und was verzeucht,
ist desto süßer.
Gib dich zufrieden.
Es ist ein Ruhetag verhanden,
da uns unser Gott wird lösen,
er wird uns reißen aus den Banden
dieses Leibs und allem Bösen.
Es wird einmal
der Tod herspringen
und aus der Qual
uns sämtlich bringen
Gib dich zufrieden
Er wird uns bringen zu den Scharen
der Erwählten und Getreuen,
die hier mit Frieden abgefahren,
sich auch nun im Friede freuen;
da sie im Grund,
der nicht kann brechen,
den ewgen Mund
selbst hören sprechen:
Gib dich zufrieden.
Translation
Now be contented and seek stillness
In God, daily He renews us,
In Him we find our joy in fullness,
Without Him all plans are useless.
He is your spring,
And sun that's shining
Daily He brings joy
to your living,
Now be contented.
God gives us light, comfort and graces
His heart, faithful and transparent.
Where God is, damage leaves no traces
Nor the pain of life's great torments.
Cross, fear, distress
He can soon alter
Even in death
God will not falter.
Now be contented.
God sees all our life's twists and turning
Nothing's hid from heaven's vision
He knows and understands our burdens
Our heart's troubled indecision.
He tracks each tear
When we are crying,
And gathers dear
All of our sighing.
Now be contented.
Don't let your misery defeat you
Trust in God to overcome it,
If all sorrows flood to meet you
You will surely rise above it.
Just when you groan
Beneath your burden,
That's when you know
That God has heard you.
Now be contented.
He feeds the birds in every forest
Each one finds its little feeding
The sheep and cattle all are nourished
With the food and drink they're needing;
So too will He,
Your belly filling
See to your needs,
Your hunger stilling.
Now be contented.
If help seems long in appearing
You will one day be delivered.
If your waiting makes you fearful,
It is for your good, believe me.
As a long climb
Makes the view greater,
What takes its timeIs
all the sweeter.
Now be contented.
A day of rest is surely coming,
When our faithful God will free us
And release us from the bondage
Of this body and all evils.
A day will come
When death will meet us
And from all pain
Surely relieve us.
Now be contented.
He'll bring us to his congregation
Of the chosen who were faithful,
Who died in peaceful expectation
And praise Him, forever grateful;
For now, secure
So none can sever,
God's voice they hear
Proclaim forever:
Now be contented.
translation © Ruth van Baak Griffioen, 2019
Credits
Release date

2 June 2022

Recording date

12 May 2018

Location

Bartolotti House, Amsterdam

Tenor

Charles Daniels

Organ

Menno van Delft

Director, camera and lights

Gijs Besseling

Music recording

Guido Tichelman, Bastiaan Kuijt

Music edit and mix

Guido Tichelman

Camera, lights

Nina Badoux

Camera and lighting assistant

Eline Eestermans

Interview

Onno van Ameijde, Marloes Biermans

Producer concert

Marco Meijdam

Producer film

Jessie Verbrugh

With support from

Stichting Elise Mathilde Fonds
Help us to complete All of Bach
There are still many recordings to be made before the whole of Bach's oeuvre is online. And we can't complete the task without the financial support of our patrons. Please help us to complete the musical heritage of Bach, by supporting us with a donation!