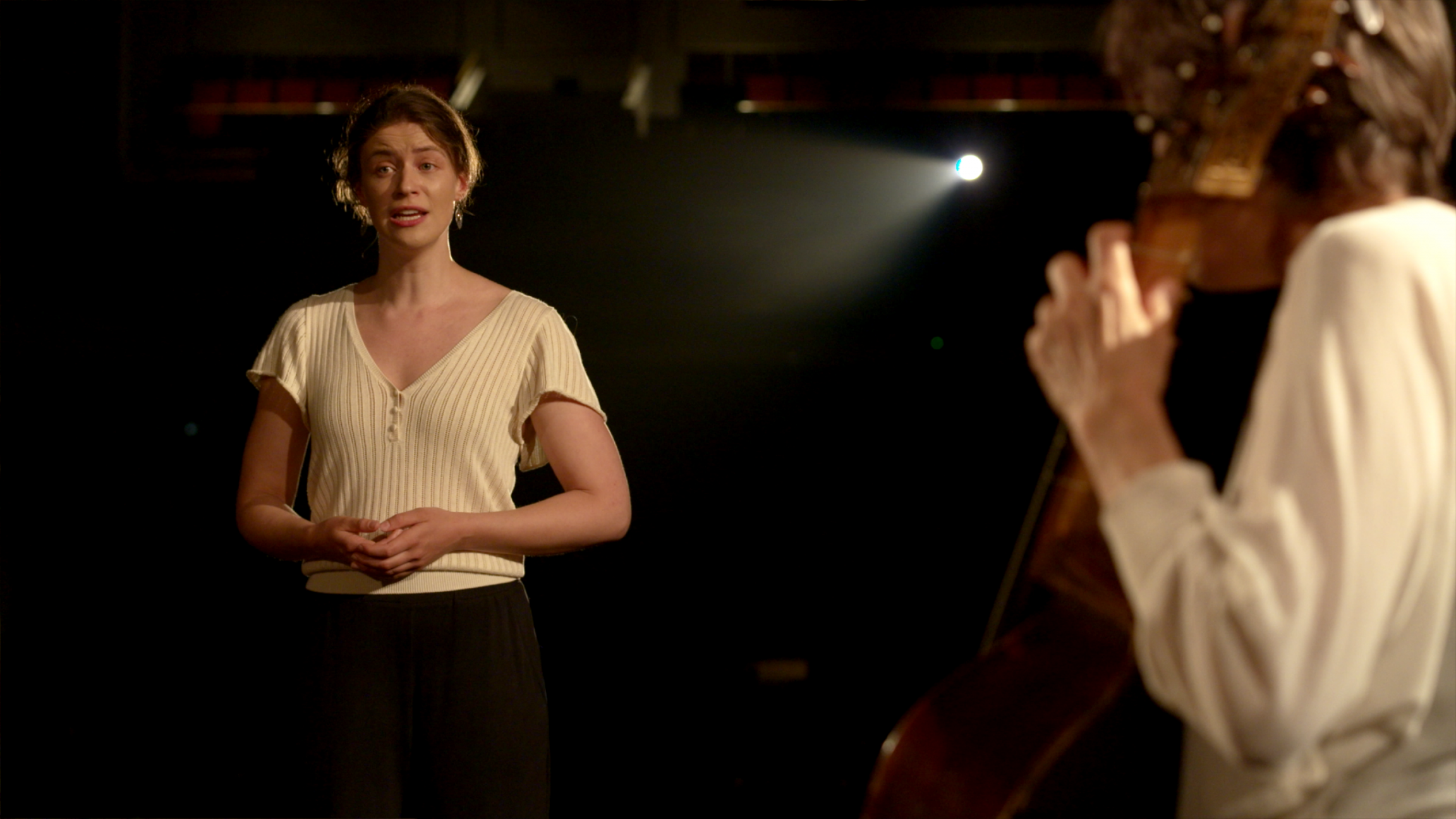 Wie wohl ist mir
BWV 517 performed by Viola Blache,
Mieneke van der Velden en Mike Fentross
Philharmonie, Haarlem
Caged singer
In Leipzig, Anna Magdalena Bach could no longer practice her profession in public.
Nowadays, nobody is surprised to hear women singing Bach's music, though of course we do know it was much less common in the eighteenth century. In Leipzig, the religious cantatas were sung by the boys of the choir of St Thomas Church. The occasional very virtuoso cantata (such as BWV 51) may have been intended for a female singer or a castrato from Dresden. However, working with choirs of only men and boys was not a custom all over Germany. As early as 1715, the Kapellmeister in Hamburg, Johann Mattheson, allowed women to sing in the cathedral choir.
This song, Wie wohl ist mir, is one of the songs in the music book for Anna Magdalena Bach, Johann Sebastian's wife. Bach himself appreciated that Anna Magdalena had a good soprano voice, and she was originally a professional singer. Before the couple moved to Leipzig, she was receiving a good salary as a soprano on the payroll of the court in Köthen. In Leipzig, she had far less opportunity to sing in public, although an exception occurred in 1729, when the Bachs returned to Köthen for the funeral ceremony of Prince Leopold von Anhalt-Köthen. Bach was responsible for the music, for which he reused parts of the St Matthew Passion. Anna Magdalena could now sing the soprano arias, which had not been possible in the church in Leipzig.
The music of Wie wohl ist mir, to words by Johann Christoph Dressler from 1692, is written as a fairly simple chorale for soprano and basso continuo. It is not certain whether it is actually a work by Johann Sebastian. The music could just as well have been composed by Anna Magdalena herself. In any case, she would probably have sung it at home alone, as Mattheson's initiative was slow to gain a following. Years later, women were still not allowed to sing in other churches in Hamburg, and also in Leipzig. Mattheson did not understand it. Priests were initially against wigs as well, whereas they were now wearing them themselves. "So verändern sich die Meinungen", he sighed, although opinions about women in church apparently did not change.
The Notenbüchlein für Anna Magdalena Bach
Shortly after their arrival in Leipzig in 1723, Johann Sebastian and Anna Magdalena Bach revealed themselves as a cultural power couple. Although Anna Magdalena gave up her successful public singing career, she joined her husband in running a thriving music business, alongside looking after a large and growing family. We have at least two tangible traces of their married life in the form of two Notenbüchlein from 1722 and 1725.
Whereas the first Notenbüchlein was still a sort of notebook, containing things like early versions of five 'French Suites' (and who knows what else, as two-thirds of the pages are missing), the second one was definitely intended as a gift from Johann Sebastian to his wife. In fair copy, he notated two Partitas and all sorts of other music of Anna Magdalena's own choosing, such as the aria from the Goldberg Variations and the song Dir, dir Jehova, BWV 452, as well as music by composers like Couperin and Anna Magdalena's stepson Carl Philipp Emanuel. Together, the Notenbüchlein form a colourful mix of arias, chorales and suites.
BWV

517

Title

Wie wohl ist mir

Instrument

viola da gamba, lute, soprano

Genre

songs and arias

Year

ca. 1733-34

City

Leipzig

Lyricist

Wolfgang Christoph Dressler
In loving memory of
Roger, Francine, Margareth
Vocal texts
Original
Wie wohl ist mir, o Freund der Seelen,
wenn ich in deiner Liebe ruh.
Ich steige aus der Schwermuthshöhlen
und eile deinen Armen zu,
da muß die Nacht des Traurens scheiden,
wenn mit so angenehmen Freuden
die Liebe strahlt aus deiner Brust.
Hier ist mein Himmel schon auf Erden,
wer wollte nicht vergnüget werden,
der in dir suchet Ruh und Lust.
Der Tod mag andern düster scheinen,
mir nicht, weil Seele, Herz und Muth
in dir, der du verlässest keinen,
o allerliebstes Leben, ruht.
Wen kann des Weges End erschrecken,
wenn er aus mördervollen Hecken
gelanget in die Sicherheit?
Mein Licht, so will ich auch mit Freuden
aus dieser finstern Wildniß scheiden
zu deiner Ruh der Ewigkeit.
Translation
How blest I am, O friend of spirits,
When I within thy love may rest.
I climb forth from the depths of sadness
And hasten to thine arms' embrace.
Then must the night of sorrow vanish
When with such great joy and gladness
Pure love doth beam from thy dear breast.
Here is on earth now my true heaven,
Who would not rest in full contentment
Who in thee findeth rest and joy.
Death may strike others with its horror;
Not me! For my heart, soul, and mind
In Thee, who leavest none in terror,
O Love belov'd, my rest I find.
Who'd tremble when his journey endeth,
When at the port of rest he landeth,
Now from a murd'rous passage free?
My Light! So I, too, without anguish
This darksome wilderness relinquish
And rest eternally with Thee.
Credits
Release date

7 July 2022

Recording date

4 June 2021

Location

Philharmonie, Haarlem

Sopran

Viola Blache

Viola da gamba

Mieneke van der Velden

Theorbo

Mike Fentross

Director, camera

Robin van Erven Dorens

Music recording

Guido Tichelman, Bastiaan Kuijt

Music edit and mix

Guido Tichelman

Camera

Onno van der Wal

Lights

Ernst-Jan Thieme

Best boy

Jordi Kooij

Data handling

Stefan Ebels

Assistant music recording

Marloes Biermans

Producer

Jessie Verbrugh

In loving memory of

Roger, Francine, Margareth
Help us to complete All of Bach
There are still many recordings to be made before the whole of Bach's oeuvre is online. And we can't complete the task without the financial support of our patrons. Please help us to complete the musical heritage of Bach, by supporting us with a donation!