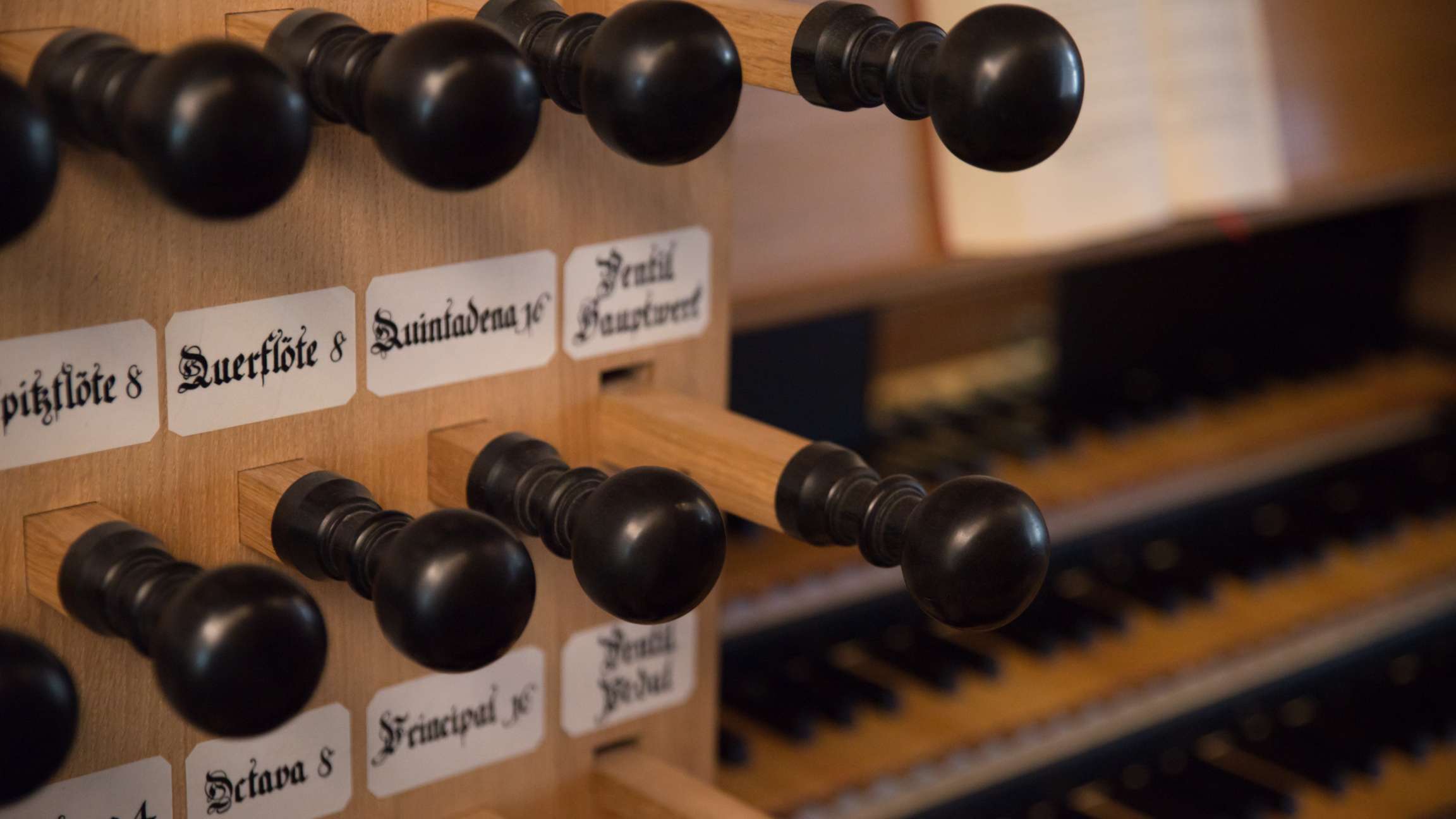 Trio super Herr Jesu Christ, dich zu uns wend
BWV 655 performed by Leo van Doeselaar
St. Catherine's Church, Hamburg
Story
Extra videos
Credits
Bach with a dash of Vivaldi
The quick-paced bass line and jubilant upper parts lend an Italian touch to this trio.
What a concise and airy piece! Unlike his predecessors, Bach did not often arrange chorales as trios. But here he does, and this infectious work for two keyboards and pedal is a nice addition to his six popular organ trios, BWV 525-530. Of course, Bach would not be Bach if he did not bend the rules slightly to suit himself. For instance, he abandons the technique of weaving the song melody throughout the piece in long note values, as was customary up to then. The melody does function as basic material for the two higher parts, even turning up as a salute in the bass at the end of this arrangement. However, this approach gave Bach enough freedom to add a dash of Italian verve. The jubilant upper parts are effectively propelled along by a Vivaldian quick-paced bass line.
Bach made no fewer than five arrangements of this chorale, which indicates the special bond he felt with the text. 'Herr Jesu Christ, dich zu uns wend' is a hymn of praise with no downside – its message is: praise the Lord, as he shows us the way of truth. The climax comes in the third verse, which invites you to sing along with the host of angels and alludes to 'eternal joy and blissful light' in the future. So it comes as no surprise that in order to underline that wonderful future, Bach presents us with several rare high Cs.
18 Choräle/Leipziger Choräle, BWV 651-668
In the last ten years of his life, Bach gathered together and completed a series of chorale arrangements, presumably planning to have them published, just like the third part of the Clavier-Übung in 1739. It concerns a selection of his compositions from much earlier years, when he was working as an organist in Weimar, Arnstadt and Mühlhausen. The collection became known as the 18 Choräle or Leipziger Choräle. Incidentally, 18 Choräle is a misleading title, as the set originally comprised 17 pieces. The eighteenth, Vor deinen Thron tret ich (BWV 668), was added to Bach's manuscript later on.
BWV

655

Title

Trio super: Herr Jesu Christ, dich zu uns wend

Instrument

organ

Genre

organ works

Serie

18 Choräle (organ)

Year

1708-1717/1739-1742

City

Weimar/Leipzig

Special notes

There is also an earlier, more austere version of this composition from the Weimar period: BWV 655a.
Extra videos
Credits
Release date

9 October 2015

Recording date

21 October 2014

Location

St. Catherine's Church, Hamburg

Organist

Leo van Doeselaar

Organ

Various builders between the 15th and 19th century. Restoration: Flentrop 2013

Producer

Frank van der Weij

Film director

Jan Van den Bossche

Director of photography

Sal Kroonenberg

Camera assistants

Andreas Grotevent, Lucas Lütz

Music production, editing and mix

Holger Schlegel

Film editor

Jasper Verkaart

Interview

Onno van Ameijde

Acknowledgements

Vadim Dukart, Andreas Fischer
Help us to complete All of Bach
There are still many recordings to be made before the whole of Bach's oeuvre is online. And we can't complete the task without the financial support of our patrons. Please help us to complete the musical heritage of Bach, by supporting us with a donation!