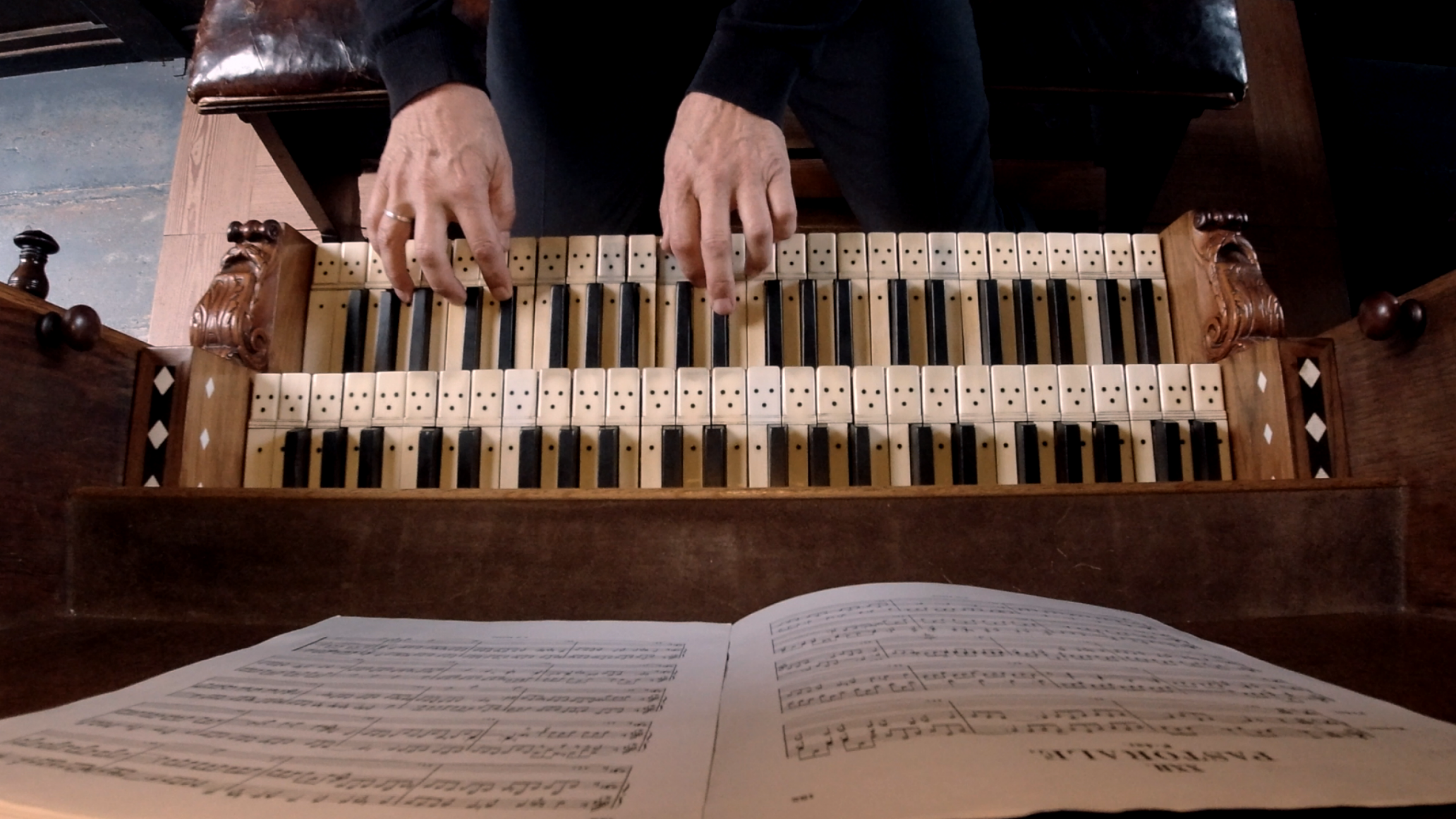 Komm, Gott Schöpfer, Heiliger Geist
BWV 667 performed by Reitze Smits
Jacobikerk, Uithuizen
Story
Extra videos
Credits
Two-part work for the Holy Ghost
Bach brilliantly expands on his own work.
'Come, God the Creator, Holy Ghost, visit the hearts of your mankind', is the opening to Luther's interpretation of the ninth-century hymn Veni creator spiritus. A true classic for Whitsuntide, which turns up in various places in Bach's oeuvre, including the Orgelbüchlein (1713-16), which provided beginner church musicians with inspiration for the whole liturgical year. Years later, when Bach was preparing a new set of chorale preludes, called the Leipziger Choräle, he harked back to that early version of Komm, Gott (BWV 631). Even more strikingly, this chorale arrangement revives the earlier work in its entirety, and then proceeds to take it in a new direction, almost like a variation.
The principle is simple enough: the upper part plays the chorale (almost literally the old Gregorian melody), two middle parts fill in with plenty of runs and figures with leaps, and the foundation is provided by an independent bass. In the first movement, this latter voice keeps entering on the third beat, giving a curious effect whereby it could be heard as the third part of the Trinity: the Holy Ghost. From the closing note of the original chorale prelude, however, Bach begins to weave an inventive texture. One upper part becomes two and the atmosphere becomes fiery. Following a pedal point, the chorale returns, now in the bass, while the other parts jubilantly seek out new harmonies. Right before the ending, very attentive listeners will briefly hear the B-A-C-H motif (the notes B-flat, A, C and B in German 'spelling') in the alto; a logical consequence of the minor/major feeling surrounding the second chorale appearance.
BWV 667 even became a classic in its own right. Busoni, for example, arranged the piece for keyboard, while Schönberg used a complete orchestra, including percussion, which presents the 'limping' bass of the opening with exceptional clarity.
18 Choräle/Leipziger Choräle, BWV 651-668
In the last ten years of his life, Bach gathered together and completed a series of chorale arrangements, presumably planning to have them published, just like the third part of the Clavier-Übung in 1739. It concerns a selection of his compositions from much earlier years, when he was working as an organist in Weimar, Arnstadt and Mühlhausen. The collection became known as the 18 Choräle or Leipziger Choräle. Incidentally, 18 Choräle is a misleading title, as the set originally comprised 17 pieces. The eighteenth, Vor deinen Thron tret ich (BWV 668), was added to Bach's manuscript later on.
BWV

667

Title

Komm, Gott Schöpfer, heiliger Geist

Instrument

organ

Genre

organ works

Serie

18 Choräle (organ)

Year

1708-1717/1739-1742

City

Weimar/Leipzig

Occasion

Whitsuntide

Special notes

Part of a manuscript containing 17 chorale arrangements, BWV 651-667, which Bach collected in the 1740s, and of which the earliest versions sometimes originated in his Weimar period.
Credits
Release date

28 May 2020

Recording date

18 July 2019

Location

Jacobikerk, Uithuizen

Organist

Reitze Smits

Organ

Arp Schnitger, ca. 1700

Director and editor

Robin van Erven Dorens

Music recording

Guido Tichelman, Bastiaan Kuijt

Music edit and mix

Guido Tichelman

Camera

Onno van der Wal

Lights

Gregoor van de Kamp

Data handling

Stefan Ebels

Interview

Robin van Erven Dorens, Marloes Biermans

Producer

Jessie Verbrugh
Help us to complete All of Bach
There are still many recordings to be made before the whole of Bach's oeuvre is online. And we can't complete the task without the financial support of our patrons. Please help us to complete the musical heritage of Bach, by supporting us with a donation!