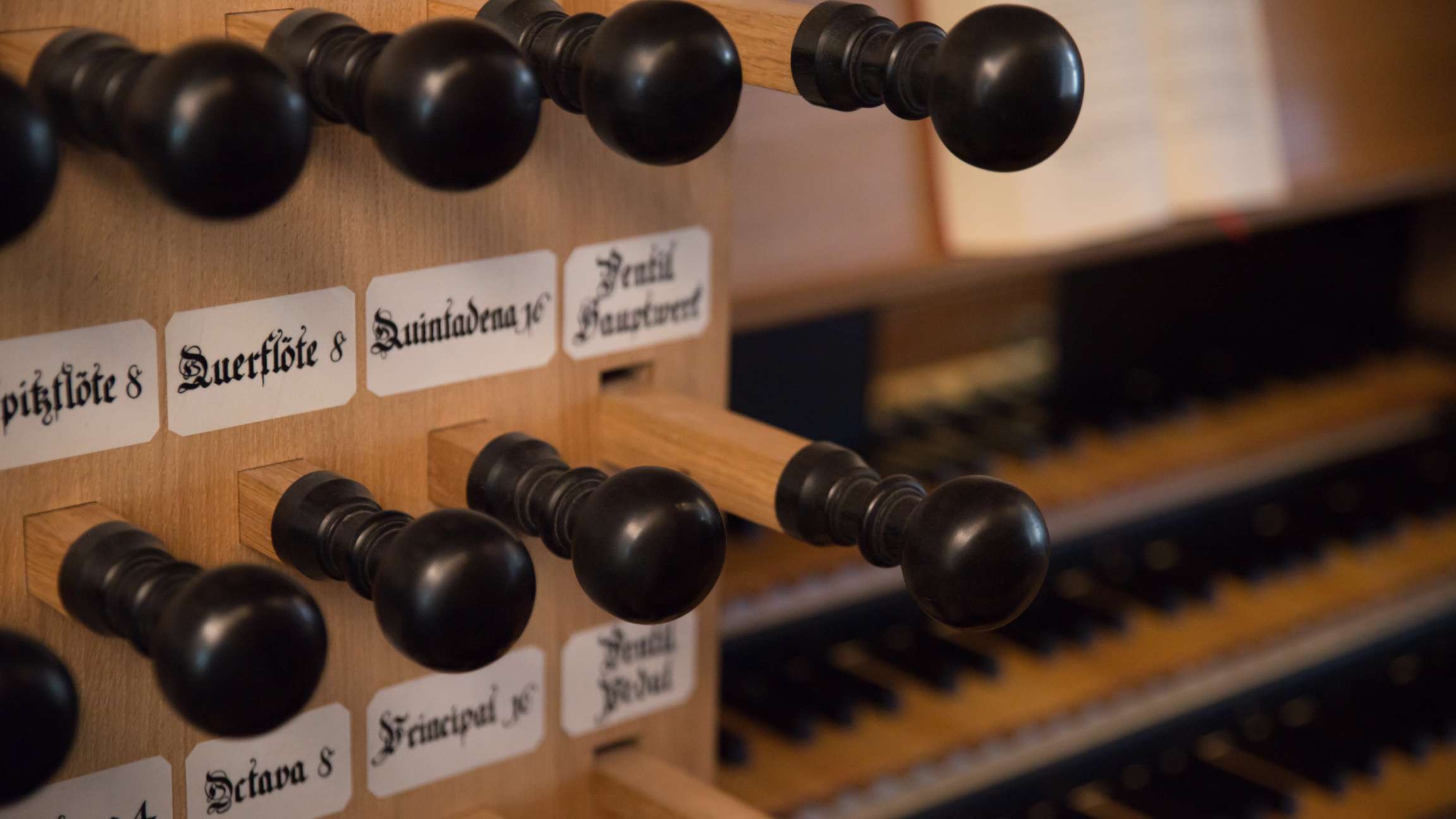 Valet will ich dir geben
BWV 736 performed by Wolfgang Zerer
St. Catherine's Church, Hamburg
Story
Extra videos
Credits
A lesson in positive thinking
Bach's tribute to a man who was more or less on his own during a plague epidemic
Bach must have been particularly moved by the hymn on which this chorale arrangement is based. Valet will ich dir geben is a 'Sterbelied', inspired by heartrending events. The lyricist Valerius Herberger was a clergyman in his hometown; the German Protestant enclave of Fraustadt, in Silesia, Poland, where there was an outbreak of the plague in 1613. A large proportion of the population fell victim to the illness and many fled the town. Herberger remained, however, and in the end he was often the only person, along with the gravedigger, who interred the corpses. His faith must have been an immense support to him and must have propelled him to great heights – his grievous yet hopeful prayer to God at the height of the misery is the only one he ever wrote.
The hymn was published a year later, accompanied by a melody written by the local cantor Melchior Teschner. The extensive subtitle reads: "A reverent prayer with which in the autumn of the year 1613 the reformed citizens of Fraustadt softened the heart of the Lord God, so that he mercifully laid down his ruthless whip, whose strokes had caused two thousand men and women to pass away. It is also a hymn of comfort, in which a devout heart bids this world farewell".
The melody Teschner wrote for the hymn does not really match the emotional charge of the words, as was common in the seventeenth century. How differently Bach sets to work, after citing the first two lines of the melody for form's sake. He wrote an overwhelming composition full of the forceful power of conviction. Here, someone is holding tight to the prospect of a good outcome, not with the courage of desperation, but with all the powers invested in him. It is a lesson in positive thinking that certainly does not come amiss in our day too.
BWV

736

Title

Valet will ich dir geben

Instrument

organ

Genre

organ works

Year

Unknown, probably an early work.

City

Weimar?

Special notes

In various sources, a numbered setting of the chorale has been added after the chorale arrangement. This is probably not by Bach.
Extra videos
Credits
Release date

15 January 2016

Recording date

20 October 2014

Location

St. Catherine's Church, Hamburg

Organist

Wolfgang Zerer

Organ

Various builders between the 15th and 19th century. Reconstruction: Flentrop 2013

Producer

Frank van der Weij

Film director

Jan Van den Bossche

Director of photography

Sal Kroonenberg

Camera assistants

Andreas Grotevent, Lucas Lütz

Music production, editing and mix

Holger Schlegel

Film editor

Jasper Verkaart

Production assistants

Hanna Schreuders

Interview

Onno van Ameijde

Acknowledgements

Vadim Dukart, Andreas Fischer
Help us to complete All of Bach
There are still many recordings to be made before the whole of Bach's oeuvre is online. And we can't complete the task without the financial support of our patrons. Please help us to complete the musical heritage of Bach, by supporting us with a donation!