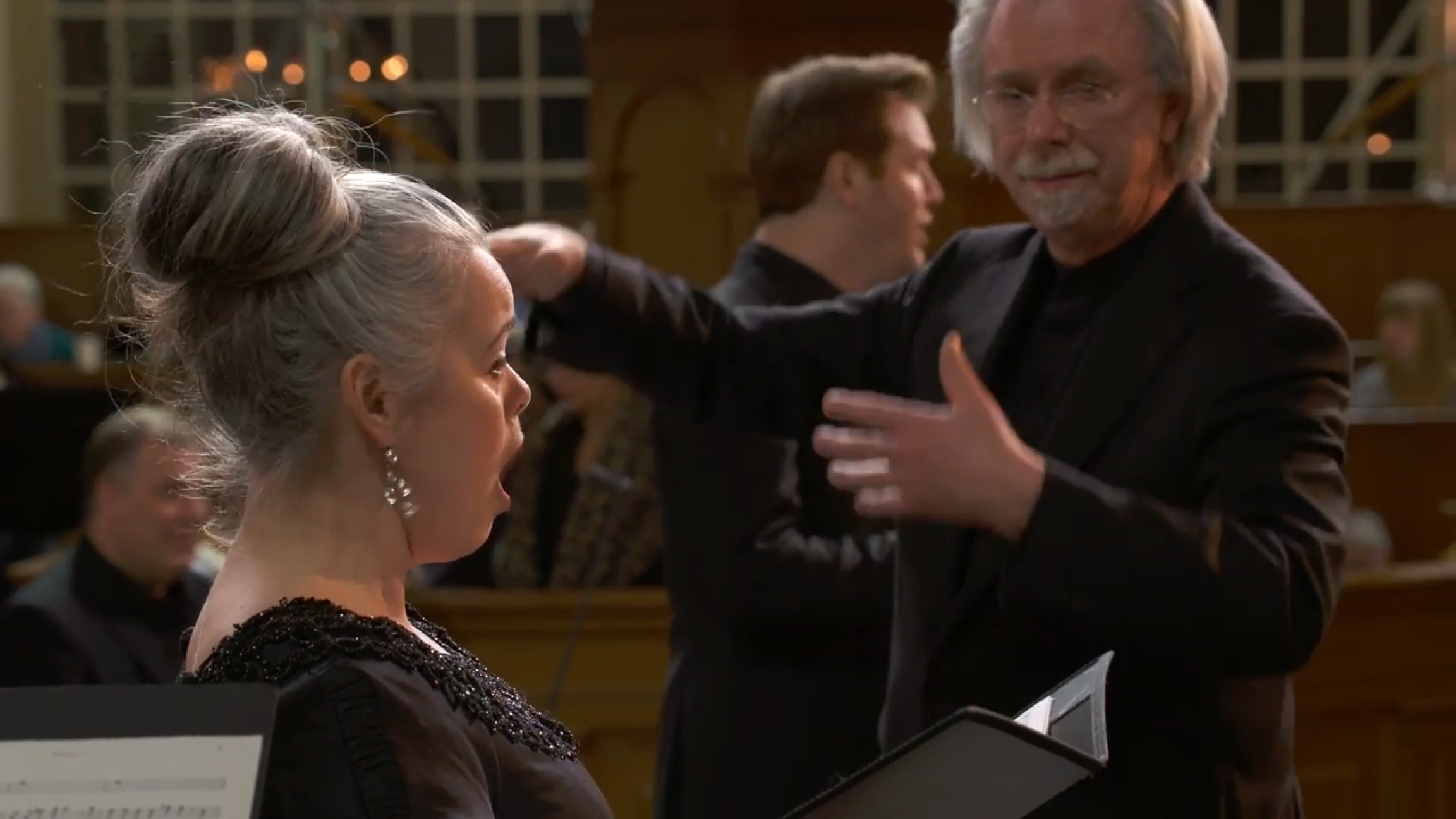 Jesu, der du meine Seele
BWV 78 performed by the Netherlands Bach Society
conducted by Jos van Veldhoven
Walloon Church, Amsterdam
Menu
1. Jesu, der du meine Seele (Chorale)
2. Wir eilen (Duet)
3. Ach! ich bin (Recitative)
4. Dein Blut (Aria)
5. Die Wunden (Recitative)
6. Nun, du wirst (Aria)
7. Herr! ich glaube (Chorale)
Story
Extra videos
Texts
Credits
Focus on the underside
The opening chorus of this cantata resembles a chaconne.
Actually, we should listen more often to the underside of Bach's music. In 1756, Johann Daube wrote in his tract on basso continuo (the constant bass in Baroque music) that Bach had mastered this art "to the highest degree", and that his accompaniment could bring life to an upper voice even if it had none of its own. The opening chorus of this cantata invites you to train your ear more towards the lower orchestral voices: the cello and double bass, and also the organ and harpsichord, as their part in this first movement is constructed on a single chromatically descending line. This means it resembles a chaconne; a musical form in which a short bass line is continually repeated, serving as a foundation for a string of new variations in the upper voices. In this case, Bach takes a slightly freer approach. The bass line recurs very often at various pitches, not only in the bass instruments, but also in the oboes, the singers, and subsequently in the violins. In fact, this whole movement is an ode to the bass.
Afterwards, the lower voices suddenly attract attention in all sorts of ways. In the duet for soprano and alto, Bach has separated the cello and keyboard instruments, for example, from the double bass. The first group is more active, while the double bass plays a calmer, plucked variation. This creates a many-hued bass sound. In the despairing recitative for the tenor, the basso continuo sounds like a harmonic labyrinth. After the tenor aria (once again with a plucked bass part!), Bach actually turns the whole string orchestra in the recitative for bass into a direct derivative of the basso continuo. After all this, our attention in the final aria and the chorale is probably more evenly distributed between the melody and the bass part. And for those who can't get enough of the bass – take a look at the background report, in which singer and bass soloist Matthew Brook talks about his part in this cantata.
BWV

78

Title

Jesu, der du meine Seele

Genre

cantatas

Year

1724

City

Leipzig

Lyricist

unknown, first and last strophe and paraphrase of chorale Jesu, der du meine Seele van Johann Rist (1641)

Occasion

Fourteenth Sunday after Trinity

First performance

10 September 1724

Special notes

Bach also used the passacaglia theme from the opening chorus in BWV 4 (Christ lag in Todesbanden) and BWV 12 (Weinen, Klagen, Sorgen, Zagen) and the Crucifixus from 'Mass in B Minor'.
Extra videos
Vocal texts
Original
1. Choral
Jesu, der du meine Seele
hast durch deinen bittern Tod
aus des Teufels finstern Höhle
und der schweren Seelennot
kräftiglich herausgerissen
und mich solches lassen wissen
durch dein angenehmes Wort,
sei doch itzt, o Gott, mein Hort!
2. Duett (Sopran, Alto)
Wir eilen mit schwachen,
doch emsigen Schritten,
O Jesu, o Meister, zu helfen zu dir.
Du suchest die Kranken
und Irrenden treulich.
Ach höre, wie wir die Stimmen
erheben um Hülfe zu bitten!
Es sei uns dein gnädiges
Antlitz erfreulich!
3. Rezitativ (Tenor)
Ach! ich bin ein Kind der Sünden,
ach! ich irre weit und breit.
Der Sünden Aussatz,
so an mir zu finden,
Verlässt mich nicht in dieser Sterblichkeit.
Mein Wille trachtet nur nach Bösen.
Der Geist zwar spricht:
ach! wer wird mich erlösen?
Aber Fleisch und Blut zu zwingen
und das Gute zu vollbringen,
ist über alle meine Kraft.
Will ich den Schaden nicht verhehlen,
so kann ich nicht,
wie oft ich fehle, zählen.
Drum nehm ich nun der Sünden
Schmerz und Pein
und meiner Sorgen Bürde,
so mir sonst unerträglich würde,
ich liefre sie dir, Jesu, seufzend ein.
Rechne nicht die Missetat,
die dich, Herr, erzürnet hat!
4. Arie (Tenor)
Das Blut, so meine Schuld durchstreicht,
macht mir das Herze wieder leicht
und spricht mich frei.
Ruft mich der Höllen Heer zum Streite,
so stehet Jesus mir zur Seite,
dass ich beherzt und sieghaft sei.
5. Rezitativ (Bass)
Die Wunden, Nägel, Kron und Grab,
die Schläge, so man dort
dem Heiland gab,
sind ihm nunmehro Siegeszeichen
und können mir verneute Kräfte reichen.
Wenn ein erschreckliches Gericht
Den Fluch vor die Verdammten spricht,
so kehrst du ihn in Segen.
Mich kann kein Schmerz
und keine Pein bewegen,
weil sie mein Heiland kennt;
Und da dein Herz vor mich
in Liebe brennt,
so lege ich hinwieder
das meine vor dich nieder.
Dies mein Herz, mit Leid vermenget,
so dein teures Blut besprenget,
so am Kreuz vergossen ist,
geb ich dir, Herr Jesu Christ.
6. Arie (Bass)
Nun du wirst mein Gewissen stillen,
so wider mich um Rache schreit.
Ja, deine Treue wird's erfüllen,
Weil mir dein Wort
die Hoffnung beut.
Wenn Christen an dich glauben,
wird sie kein Feind in Ewigkeit
aus deinen Händen rauben.
7. Choral
Herr, ich glaube, hilf mir Schwachen,
lass mich ja verzagen nicht;
du, du kannst mich stärker machen,
wenn mich Sünd und Tod anficht.
Deiner Güte will ich trauen,
bis ich fröhlich werde
schauen dich, Herr Jesu,
nach dem Streit
in der süssen Ewigkeit.
Translation
1. Chorus (Chorale)
Jesus, who hast wrested my soul
through Thy bitter death
from the devil's dark cavern
and from oppressive anguish
most forcefully,
and hast informed me of this
through Thy pleasant Word,
be even now, O God, my refuge!
2. Aria (Duet)
We hasten with weak
but diligent steps,
O Jesus, O master, to Thee.
Thou seekst to help
the ailing and erring.
Ah, hearken, as we raise our voices,
to beg Thee for help!
May Thy gracious countenance
smile upon us!
3. Recitative
Ah! I am a child of sin.
Ah! I err far and wide.
Leprous sin
is found on me,
it clings to my mortality.
My will only aspires to evil,
yet my soul says:
Ah, who will redeem me?
But to force flesh and blood
to accomplish good
is beyond all my strength.
Though I would not conceal my error,
I cannot count
how often I have sinned.
And so I now take my sinful
grief and pain
and the burden of my sorrow,
which I could otherwise not endure,
and deliver them to Thee, Jesus, with a sigh.
Do not count all the sinful deeds
which, O Lord, have angered Thee!
4. Aria
Thy blood, which cancels my guilt,
makes my heart feel light again
and sets me free.
Though all hell should call me to the fight
Jesus will stand beside me,
that I may take heart and win the day.
5. Recitative
The wounds, the nails, the crown and the grave,
the blows that were dealt
the Saviour there,
are from henceforth signs of triumph
and can endow me with new strength.
When a terrible judge
lays a curse upon the damned,
Thou dost change it into blessing.
No grief nor pain
can affect me,
since my Saviour knows of them;
and as Thy heart burns
for me in love,
I in turn lay down my own
before Thee.
This my heart, marked with the grief
which Thy precious blood did scatter,
which was shed upon the cross,
I give to Thee, Lord Jesus Christ.
6. Aria
Now shalt Thou quieten my conscience,
which cries for vengeance against me;
yes, Thy faithfulness will fulfil it,
because Thy Word
offers me hope.
If Christians believe in Thee,
no foe shall ever
steal them out of Thy hands.
7. Chorale
Lord, I believe, help my weakness,
let me not despair;
Thou, Thou canst make me stronger,
when sin and death assail me.
I shall trust in Thy goodness
till I shall see with gladness
Thee, Lord Jesus,
after the fight,
in that sweet eternity.
Credits
Release date

5 September 2019

Recording date

10 February 2018

Location

Walloon Church, Amsterdam

Conductor

Jos van Veldhoven

Soprano

Maria Keohane

Alto

Tim Mead

Tenor

Daniel Johannsen

Bass

Matthew Brook

Ripieno soprano

Hilde Van Ruymbeke, Marjon Strijk

Ripieno alto

Barnabás Hegyi, Marleene Goldstein

Ripieno tenor

Kevin Skelton, Guy Cutting

Ripieno bas

Drew Santini, Matthew Baker

Violin 1

Shunske Sato, Anneke van Haaften, Pieter Affourtit

Violin 2

Sayuri Yamagata, Lidewij van der Voort, Paulien Kostense

Viola

Staas Swierstra, Jan Willem Vis

Cello

Lucia Swarts, Richte van der Meer

Double bass

Robert Franenberg

Traverso

Marten Root

Oboe

Martin Stadler, Peter Frankenberg

Bassoon

Benny Aghassi

Tromba da tirarsi

Robert Vanryne

Organ

Leo van Doeselaar

Harpsichord

Siebe Henstra

Director and editor

Bas Wielenga

Music recording

Guido Tichelman, Bastiaan Kuijt, Pim van der Lee

Music edit and mix

Guido Tichelman

Camera

Merijn Vrieling, Ivo Palmen, Martin Struijf, Bjorn Tiebout

Lights

Zen Bloot, Henry Rodgers, Patrick Galvin

Assistant director

Ferenc Soeteman

Video engineer

Vincent Nugteren

Set technique

Dennis van Hoek

Data handling

Jesper Blok

Project manager nep

Peter Ribbens

Interview

Onno van Ameijde, Marloes Biermans

Producer concert

Imke Deters

Producer film

Jessie Verbrugh
Help us to complete All of Bach
There are still many recordings to be made before the whole of Bach's oeuvre is online. And we can't complete the task without the financial support of our patrons. Please help us to complete the musical heritage of Bach, by supporting us with a donation!