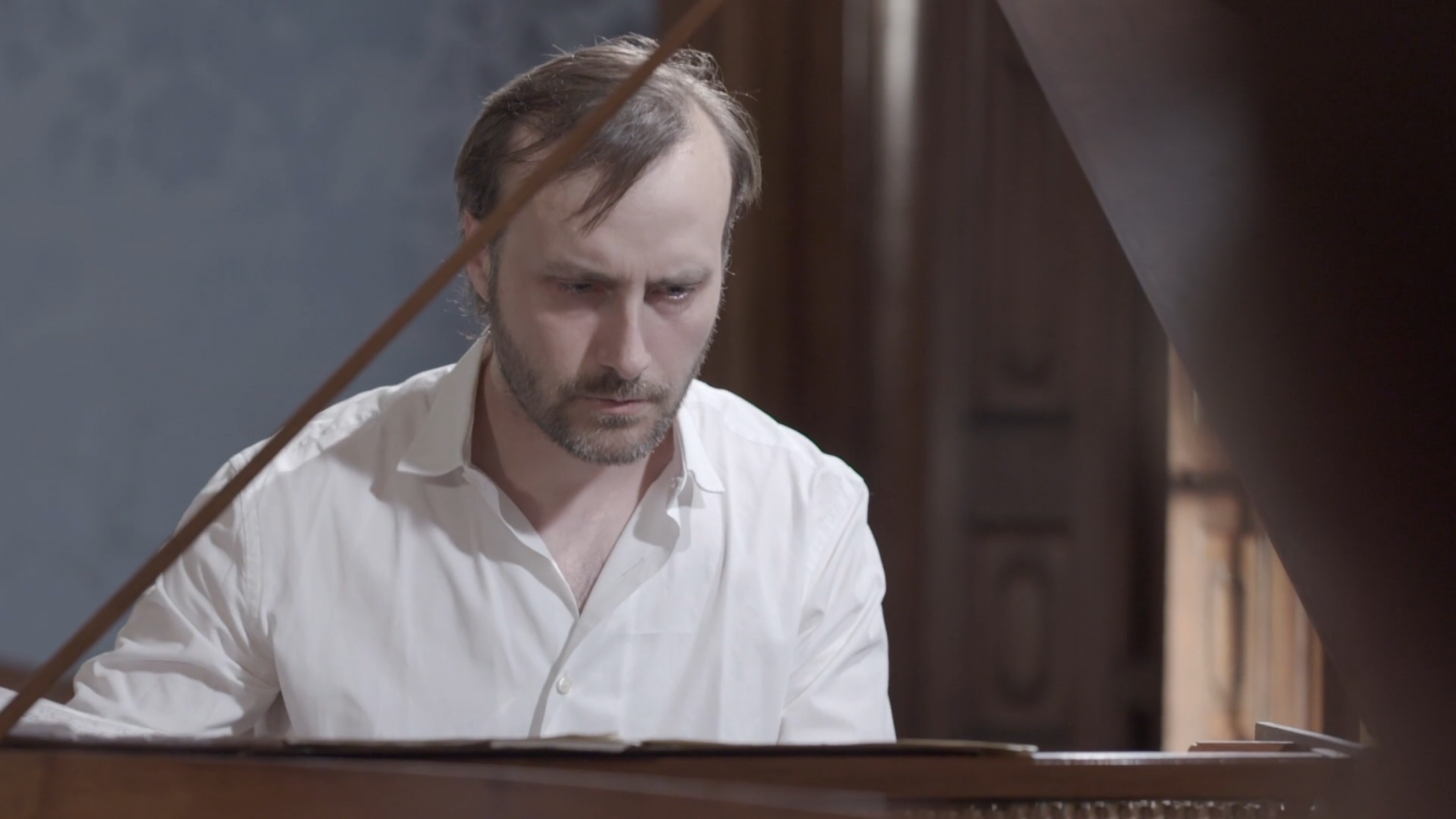 'English' Suite no. 2 in A minor
BWV 807 performed by Bertrand Cuiller
at the Bartolotti House, Amsterdam
Menu
1. Prelude
2. Allemande
3. Courante
4. Sarabande
4a. Les agréments de la même Sarabande
5. Bourrée I & II
6. Gigue
Story
Extra videos
Credits
A homage to A minor
"Bach can never just be dashed off."
The French harpsichordist Bertrand Cuiller has learned to play this 'English suite' especially for All of Bach. Although he had sight-read some of parts of it at home, he had never played the whole work before, let alone in concert.
Like the other 'English' suites, this one also begins with an extensive prelude. Cuiller calls it a real hit, written in the light and accessible style of an Italian concerto. Orchestral passages alternate with solo interventions, although they are all played on the harpsichord. Some harpsichordists choose to differentiate the timbre of these passages by playing them on different keyboards, but Bertrand Cuiller thinks that is too easy. He keeps to the lower keyboard, preferring to create the contrast through his playing.
The character of the Prelude is simple, and in this piece Bach shows us the most cheerful and easygoing side of the key of A minor. According to Cuiller, the whole suite can be regarded as a homage to A minor.
The Sarabande is one of the most expressive written by Bach. He added a version with extensive ornamentation to it. Like most of his colleagues, Cuiller is happy to use the ornamented version for the repeats, as he does not dare to add his own ornamentation to Bach.
The two-part Gigue at the end is also very Italian in character. It is extremely dancy and relatively simple, being the only Gigue in the 'English' suites that is not a fugue. It opens rather like a dance on a village square, says Cuiller. However, its harmonic simplicity does not mean it can just be dashed off. That is hardly ever the case with Bach.
'English' suites, BWV 806-811
The six 'English' suites were probably composed between 1710 and 1720, and in any case before the 'French' suites and the partitas. It remains rather unclear as to why they are called 'English'. According to the first Bach biographer, Forkel, they were dedicated to an English aristocrat whose name is not given. They are also stylistically linked to the six harpsichord suites by the French composer Charles Dieupart, who lived in London. And the title page of the copy belonging to Bach's youngest son, Johann Christian, who also lived in London, states 'fait pour les anglois'.
But just like Bach's other surviving suites for keyboard, the English suites are predominantly a synthesis of German, Italian and French style elements. To a certain extent, they are more French than the so-called 'French' suites. All six begin with an extensive prelude, following the example of French lute suites. The prelude is followed by the classic series of stylised dances: allemande, courante, sarabande and gigue, with a free choice of gavotte, bourrée, passepied or minuet in between the latter two set dances.
The Bartolotti House
We made this recording at The Bartolotti House, at Herengracht 170 and 172. The house at the back of no. 170 was occupied by harpsichordist, organist and conductor Gustav Leonhardt from 1974 to his death in 2012. Leonhardt was one of the pioneers of early music in the Netherlands. As a teacher and performer, he was a source of inspiration to many harpsichord players around the world.
It is one of the most impressive buildings in the old centre of Amsterdam. It was built around 1620 as a residence, on commission from the wealthy businessman Willem van den Heuvel, who had inherited a lot of money from a childless uncle by marriage, called Giovanni Battista Bartolotti, who came from Bologna. The Dutch Renaissance-style design was probably done by the Amsterdam city architect Hendrick de Keyser.
Over the centuries, the house has been split up and has undergone several modernisations. You can still see many wonderful historical decorative features from the various renovations. The two parts of the Bartolotti House came into the possession of Vereniging Hendrick de Keyser, which now has its office there.
BWV

807

Title

Suite in A minor

Epithet

'English' Suite no. 2

Instrument

harpsichord

Genre

harpsichord works

Serie

English Suites (clavier)

Year

1710-1720

City

Cöthen?
Extra videos
Credits
Release date

15 December 2017

Recording date

27 May 2017

Location

Bartolotti House, Amsterdam

Harpsichordist

Bertrand Cuiller

Harpsichord

Bruce Kennedy, 1989 after Michael Mietke

Director and interview

Gijs Besseling

Camera and lights

Danny Noordanus

Data handling

Eline Eestermans

Music recording

Guido Tichelman, Pim van der Lee

Producer

Jessie Verbrugh, Marco Meijdam

Acknowledgement

Vereniging Hendrick de Keyser
Help us to complete All of Bach
There are still many recordings to be made before the whole of Bach's oeuvre is online. And we can't complete the task without the financial support of our patrons. Please help us to complete the musical heritage of Bach, by supporting us with a donation!