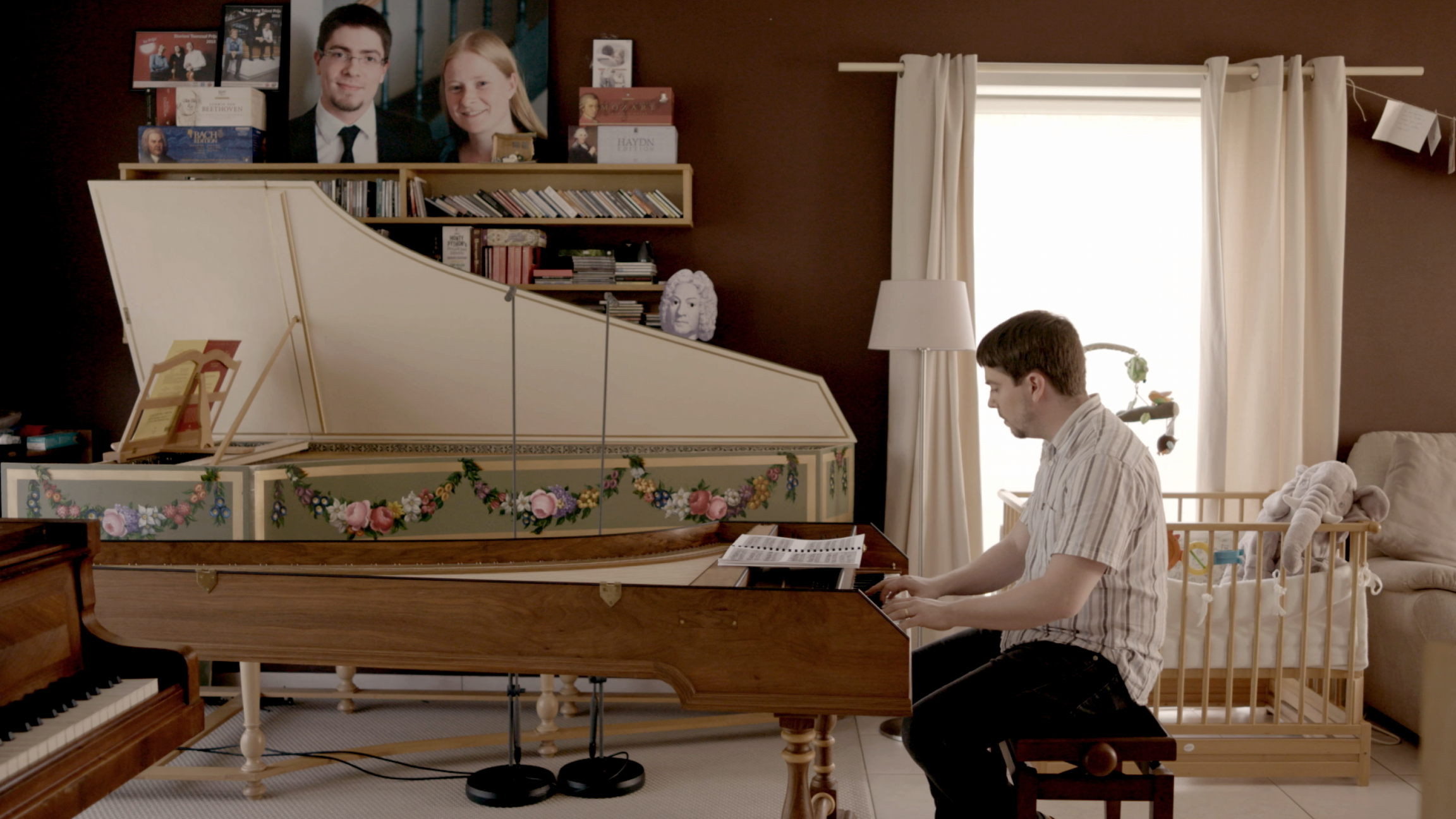 Suite in G minor
BWV 822 performed by Korneel Bernolet
at home in Aalter, Belgium
Menu
1. Ouverture
2. Aria
3. Gavotte en Rondeau
4. Bourrée
5. Menuet I, II & III
6. Gigue
Story
Extra videos
Credits
Finger exercises
In his early suites, Bach learns, tries things out and experiments.
The Wohltemperirte Clavier, the four parts of the Clavier-Übung and the Mass in B minor were all carefully assembled from Bach's 'best of the best'. And although the occasional early work does appear in the context of such an illustrious edition or collection, most of the pieces from Bach's younger years were excluded. Like, for example, this attractive but far from brilliant Suite in G minor, which is known only from a much later source that is full of mistakes. The good news is that Bach was already an excellent master of the basic Baroque composition technique – see Korneel Bernolet's explanation of partimento! – although he had yet to achieve the great heights of his later suites. Here we see a composer who is still searching for his voice and carefully exploring the boundaries of his musical ambition, undoubtedly inspired by the Italian and French music to which he had been introduced around 1700, both on paper and live (performed by the French court orchestra in Celle).
The first movement of this Suite is an ouverture modelled on those of Lully and D'Anglebert, with a slow, stately introduction followed by a fugue. It all proceeds nicely by the book, until in a few short bars Bach modulates brusquely via a steep harmonic ascent to G-flat minor – dangerously close to the main key of G. The highlight of the suite is the Aria, which is still completely in line with the seventeenth-century German and Italian keyboard traditions. Bernolet's decision to keep playing the bass first on the lute register of the harpsichord further underlines the beautiful lilting quality of the melody. The Aria is followed by a Gavotte, an untitled Bourrée/Rigaudon, three Menuets (of which the first two are identical, only with the parts inverted) and finally a simple Gigue.
BWV

822

Title

Suite in G minor

Instrument

harpsichord

Genre

harpsichord works

Year

ca. 1705-1707

Special notes

The first source of this work dates from 1743
Extra videos
Credits
Release date

18 November 2021

Recording date

21 May 2018

Location

Aalter, Belgium

Harpsichordist

Korneel Bernolet

Harpsichord

Alan Gotto, 2012

Director and interview

Jan Van den Bossche

Music recording, edit and mix

Guido Tichelman

Camera

Gijs Besseling

Producer

Jessie Verbrugh
Help us to complete All of Bach
There are still many recordings to be made before the whole of Bach's oeuvre is online. And we can't complete the task without the financial support of our patrons. Please help us to complete the musical heritage of Bach, by supporting us with a donation!