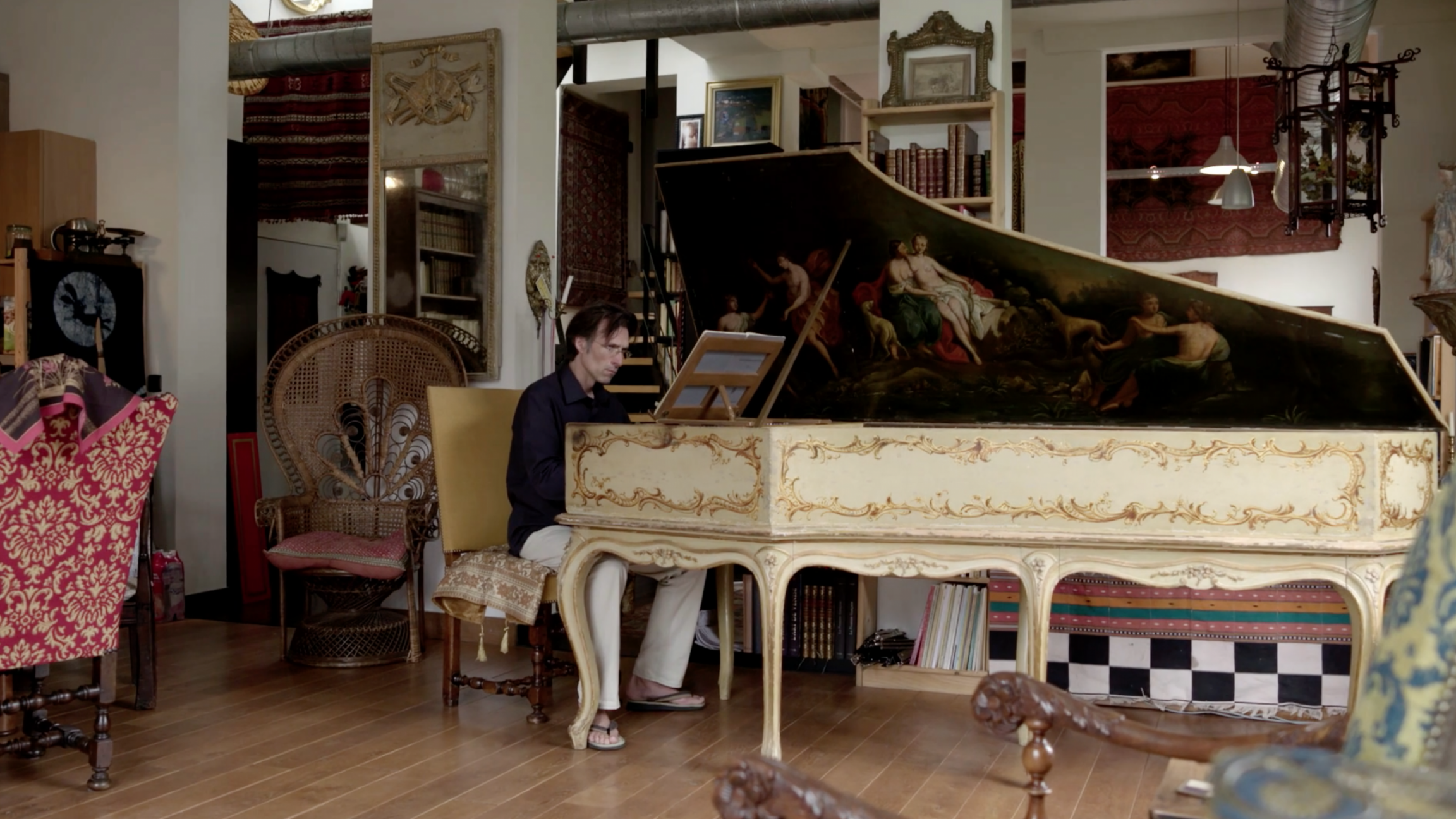 The Well-Tempered Clavier I No. 10 in E minor
BWV 855 performed by Frédérick Haas
at home in Brussels, Belgium
Story
Extra videos
Credits
Maelstrom in a minor key
Although there is a glimmer of hope, it is intended to mislead us.
This prelude and fugue has an oppressive feel to it. Often, you see that what Bach asserts in one hand is contradicted by the other, but here there is no trace of that at all. Both hands wallow in this mood wholeheartedly. Indeed, the bass is the evil demon in this case, as halfway through the prelude it suddenly drags along the upper part, which has been lyrical up to then, in a mad whirl. That is the point when you begin to suspect that this ominous maelstrom in a minor key will not be blessed with a happy ending. Although a glimmer of hope does dawn in a major chord at the end of the prelude, it is intended to mislead us, as we realise as soon as the frenzied fugue begins. The strange parallel octaves that suddenly pop up even lend a hint of something flattened or dead to the atmosphere. It is clear: those who are stricken by E minor are driven mad.
Das Wohltemperirte Clavier, BWV 846-893
Composing 48 keyboard pieces in all 24 keys was the sort of challenge Bach enjoyed. In each of the two parts of the Wohltemperirte Clavier, he brought together the musical couple prelude and fugue 24 times; twelve in minor keys and twelve in major. In the preludes, he gave free rein to his imagination, and demonstrated mathematical tours de force in the fugues. In contrast to the iron discipline Bach had to apply to his church compositions, here he could abandon himself to intellectual Spielerei without worrying about deadlines.
The first part of the Wohltemperirte Clavier dates from 1722, although it contains some music that was written in the preceding five years. There is less clarity about the history of part two. Bach compiled this second manuscript only around 1740, although once again some of the preludes and fugues it contains date from a much earlier period. Bach described the target group for this collection of pieces as follows: 'Zum Nutzen und Gebrauch der Lehr-begierigen Musicalischen Jugend, als auch dere in diesem studio schon habil seyenden besonderem ZeitVertreib' (For both the education of the industrious musical youngster and the enjoyment of those well-versed in this material').
BWV

855

Title

Prelude en fugue in E minor

Epithet

no. 10 from The Well-Tempered Clavier I

Instrument

harpsichord

Genre

harpsichord works

Serie

Das Wohltemperirte Clavier I

Year

1722 or earlier

City

Cöthen (or Weimar?)
With support from
Prins Bernhard Cultuurfonds
Extra videos
Credits
Release date

1 January 2016

Recording date

17 August 2015

Location

Brussels

Harpsichordist

Frédérick Haas

Harpsichord

Henri Hemsch, 1751

Film directors

Jan Van den Bossche, Hanna Schreuders

Camera

Gijs Besseling

Music recording

Guido Tichelman

Producers

Hanna Schreuders, Jessie Verbrugh

With support from

Prins Bernhard Cultuurfonds
Help us to complete All of Bach
There are still many recordings to be made before the whole of Bach's oeuvre is online. And we can't complete the task without the financial support of our patrons. Please help us to complete the musical heritage of Bach, by supporting us with a donation!