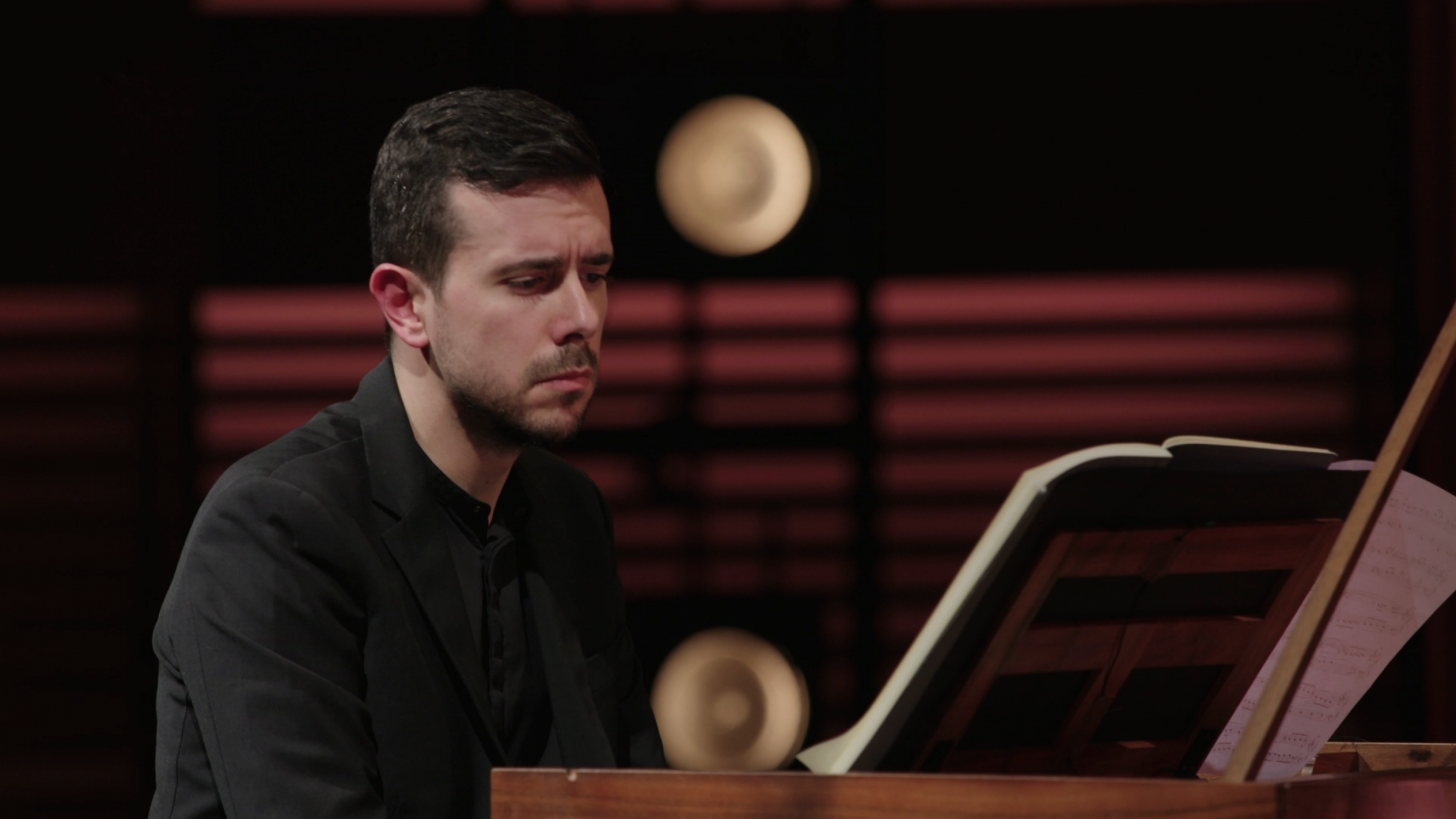 Fantasia and fugue in A minor
BWV 904 performed by Francesco Corti
Muziekgebouw aan 't IJ, Amsterdam
Menu
1. Fantasia
2. Fugue
Story
Extra videos
Credits
Descending lines
Modest luxury, rather than dexterous virtuosity.
Harpsichordist Francesco Corti describes this Fantasia and fugue in A minor as 'unusual'. As is often the case with Bach, little is known about the origins of the piece. It is not even clear whether he intended it for organ, clavichord or harpsichord. In his interview about the work, Francesco Corti explains why he thinks the harpsichord is more suitable than the organ.
The Fantasia begins with a series of descending notes in the bass, and descending lines continue to dominate the rest of the piece. The Fugue builds up steadily to a four-part web of harmonies. Then halfway through, there is a chromatically descending line as a second theme, which takes the idea of the descending bass in the Fantasia one step further. And then Bach weaves both themes together to form a rich harmonic whole. Rather than dexterous virtuosity, this is modest luxury - rather like eighteenth-century, ungilded, mahogany carving.
BWV

904

Title

Fantasia and fugue in A minor

Instrument

Harpsichord

Genre

harpsichord works

Year

unknown

City

Köthen or Leipzig
Extra videos
Credits
Release date

25 May 2018

Recording date

3 February 2017

Location

Muziekgebouw aan 't IJ, Amsterdam

Harpsichordist

Francesco Corti

Harpsichord

Bruce Kennedy, 1989 after Michael Mietke

Director and editor

Lucas van Woerkum

Assistant director

Stijn Berkhouwer

Music recording

Guido Tichelman, Bastiaan Kuijt, Pim van der Lee

Music edit and mix

Guido Tichelman

Camera

Jochem Timmerman, Rene Holbrugge, Kenneth Dirkzwager

Intern camera

Klazina Westra

Lights

Zen Bloot

Set technique

Justin Mutsaers

Data handling

Jesper Blok

Project manager nep

Peter Ribbens

Interview

Onno van Ameijde

Producer concert

Marco Meijdam

Producer film

Jessie Verbrugh
Help us to complete All of Bach
There are still many recordings to be made before the whole of Bach's oeuvre is online. And we can't complete the task without the financial support of our patrons. Please help us to complete the musical heritage of Bach, by supporting us with a donation!