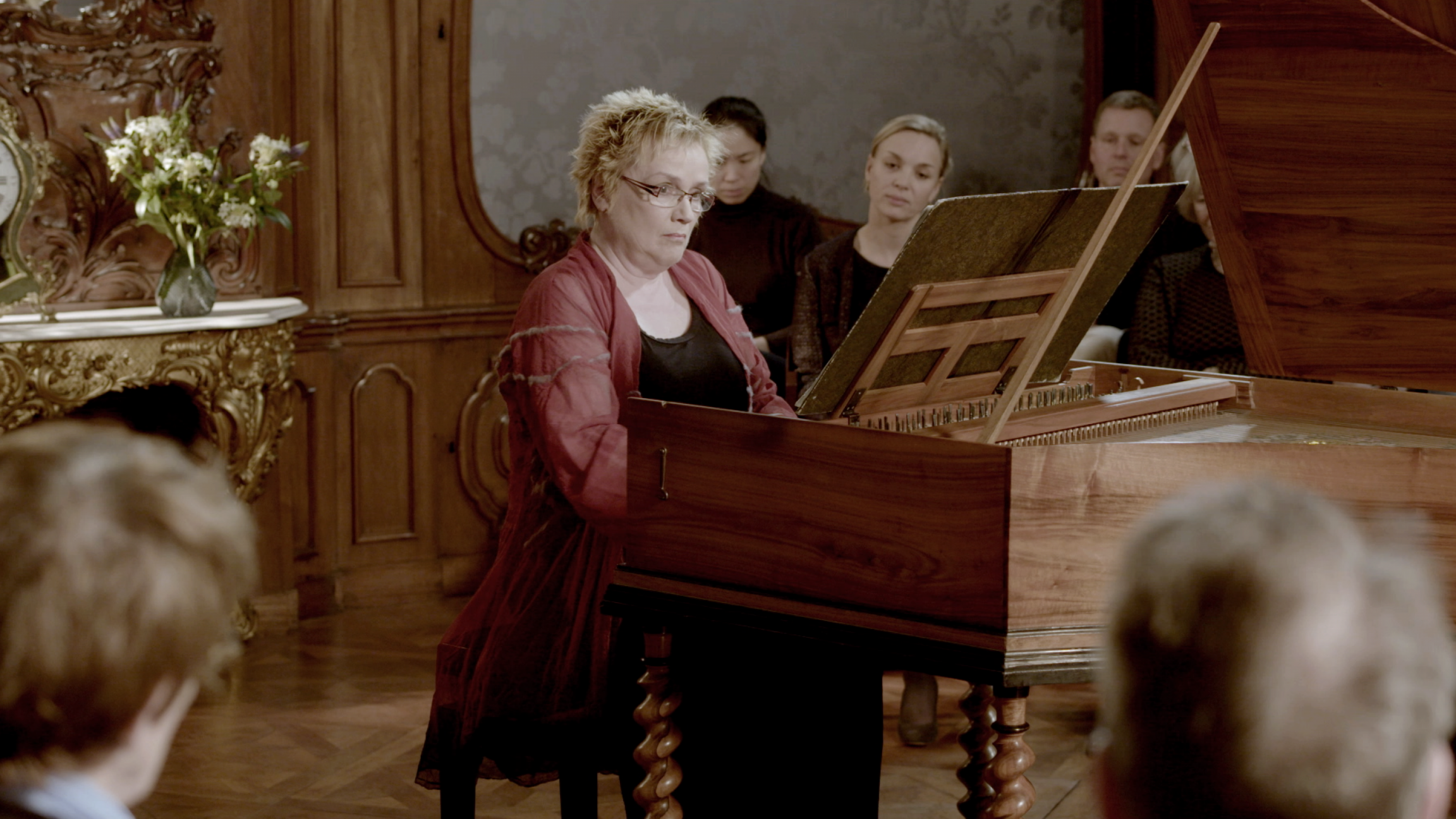 Toccata in C minor
BWV 911 performed by Christine Schornsheim
at the Bartolotti House, Amsterdam
Menu
1. [Toccata]
2. Adagio
3. [...]
4. Adagio
5. Adagio / Presto
Full of surprises
Taking a fanciful stroll down unusual paths.
This toccata is one of the set of keyboard toccatas written by Bach in his younger years. Three other toccatas from the same series are BWV 912, BWV 913 and BWV 914. They are the best examples in Bach's music of what was known in his day as the stylus phantasticus: an imaginative and fanciful way of composing that was full of surprises. Fantasy had the upper hand, rather than the rules of the art form.
The kapellmeister and music theorist Johann Mattheson couldn't pin down the style precisely in his Der vollkommene Capellmeister, from 1739, stating, "this style is the freest and least structured way of composing, singing and playing imaginable". He wrote that musicians could use it to demonstrate their skill, "as all sorts of unusual paths, hidden embellishments, ingenious turns and ornaments are produced, without really observing the beat and key, […] without a theme or subject being developed; now fast, then slow; now in one voice, then in four".
And this is precisely what happens in BWV 911. Bach opens with an agitated, monophonic quasi-improvisation that seems to have no time signature, continues in polyphony and comes to a halt again soon afterwards. Then a four-part adagio unfolds, which revolves around harmonic timbres and unusual paths. This is followed by a no-nonsense fugue theme, which dominates the rest of the piece. Bach combines and alternates it with other musical ideas. Just as everything is well under way, the fugue thins out to a monophonic string of notes and the conclusion seems to have been reached.
But wait! Bach's imagination has not run dry so soon. The fugue starts up again and moves through a stream of ingenious turns and ornaments, filled with fierce self-confidence, towards the end. "Whoever can bring to bear the most artful embellishments and the rarest inventions does the best", Mattheson wrote later about the stylus phantasticus. Bach appears to have had the same idea years earlier.
Seven toccatas, BWV 910-916
The seven toccatas by Bach can be regarded as a conclusion to his early period as a keyboard composer. He did not conceive of them as a collection himself; that only happened after his death. Yet they do show a clear relationship, with regard to both form and style. They are extensive works with multiple sections. But unlike the later suites and partitas, the sections flow more or less seamlessly into one another. Here, Bach still has one foot firmly in the seventeenth century.
BWV

911

Title

Toccata in C minor

Instrument

harpsichord

Genre

harpsichord works

Serie

Seven Toccatas (clavier)

Year

ca. 1710
Credits
Release date

28 April 2022

Recording date

15 February 2019

Location

Bartolotti House, Amsterdam

Harpsichordist

Christine Schornsheim

Harpsichord

Bruce Kennedy, 1989 after Michael Mietke

Director, camera and lights

Gijs Besseling

Music recording

Guido Tichelman, Bastiaan Kuijt

Music edit and mix

Guido Tichelman

Camera, lights

Nina Badoux

Data handling, camera and lighting assistant

Eline Eestermans

Producer

Jessie Verbrugh

Acknowledgement

Vereniging Hendrick de Keyser
Help us to complete All of Bach
There are still many recordings to be made before the whole of Bach's oeuvre is online. And we can't complete the task without the financial support of our patrons. Please help us to complete the musical heritage of Bach, by supporting us with a donation!