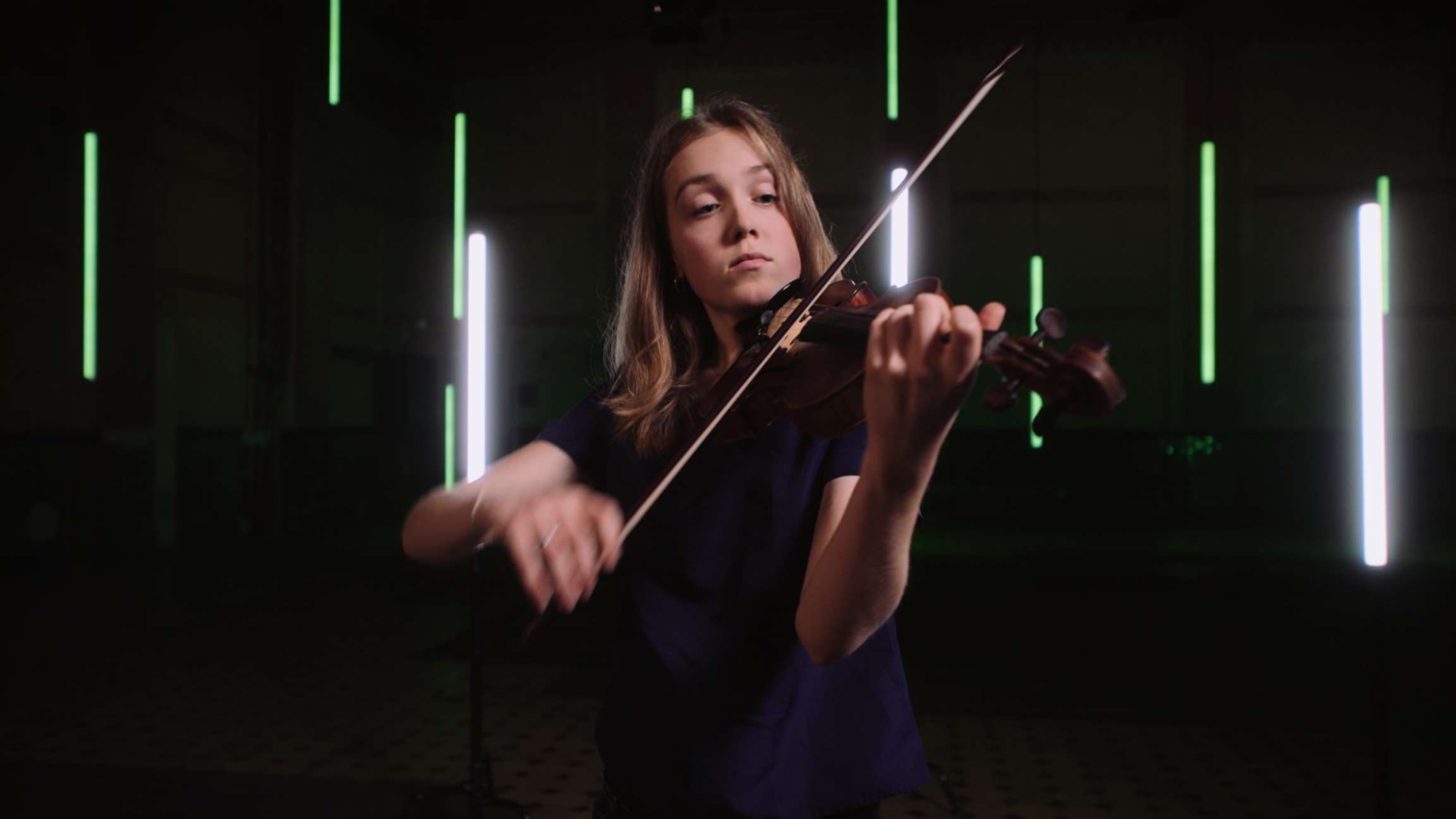 Largo from Violin Sonata no. 3 in C major
BWV 1005 uitgevoerd door Yente Lottman
Lichtfabriek, Haarlem
Story
Extra videos
Credits
Largo from Violin Sonata no. 3
For Yente Lottman (17), playing with a Baroque bow is a totally new experience. She is playing the Largo from Violin Sonata no. 3 with a Baroque bow built by Luis Emilio Rodriguez in The Hague, in 2008. The more often she plays the Largo, the more secure she feels and the more freedom and possibilities she discovers in the piece. After secondary school, she would like to go on to study at the conservatoire.
In connection with the recordings of Bach's Violin Sonatas and Partitas, the Netherlands Bach Society has organised a talent development project for the violinists and Baroque violinists of the future. Seven talented Dutch youngsters, aged thirteen to eighteen, were selected at auditions to take part in two masterclasses by Shunske Sato on Bach's works for violin solo and the Baroque violin, which were held in the spring of 2019. Each young musician chose their own movement to rehearse and record for All of Bach.
This project was created in collaboration with the Netherlands Violin Competition. It received support from the Dutch Musical Instruments Foundation, which provided the violinists with Baroque violins and bows, so that they could explore the new possibilities of these instruments and the Baroque style, under the guidance of Shunske Sato.
The recordings took place in the Lichtfabriek (Light Factory), a former power station in Haarlem.
BWV

1005/3

Title

Largo from Violin Sonata no. 3 in C major

Instrument

Violin

Genre

chamber music

Serie

Six partitas and sonatas for violin

Year

ca. 1720

City

Köthen, Weimar
Extra videos
Credits
Release date

22 October 2019

Recording date

24 June 2019

Location

Lichtfabriek, Haarlem

Violin

Yente Lottman

Director and editor

Onno van Ameijde

Music recording

Daan van Aalst, Pim van der Lee

Music edit and mix

Guido Tichelman, Lilita Dunska

Camera

Jeroen Simons, Marijn Zurburg

Lights

Zen Bloot

Grip

Jasper Leeman

Data handling

Eline Eestermans

Interview

Onno van Ameijde, Marloes Biermans

Producer

Jessie Verbrugh
Help us to complete All of Bach
There are still many recordings to be made before the whole of Bach's oeuvre is online. And we can't complete the task without the financial support of our patrons. Please help us to complete the musical heritage of Bach, by supporting us with a donation!