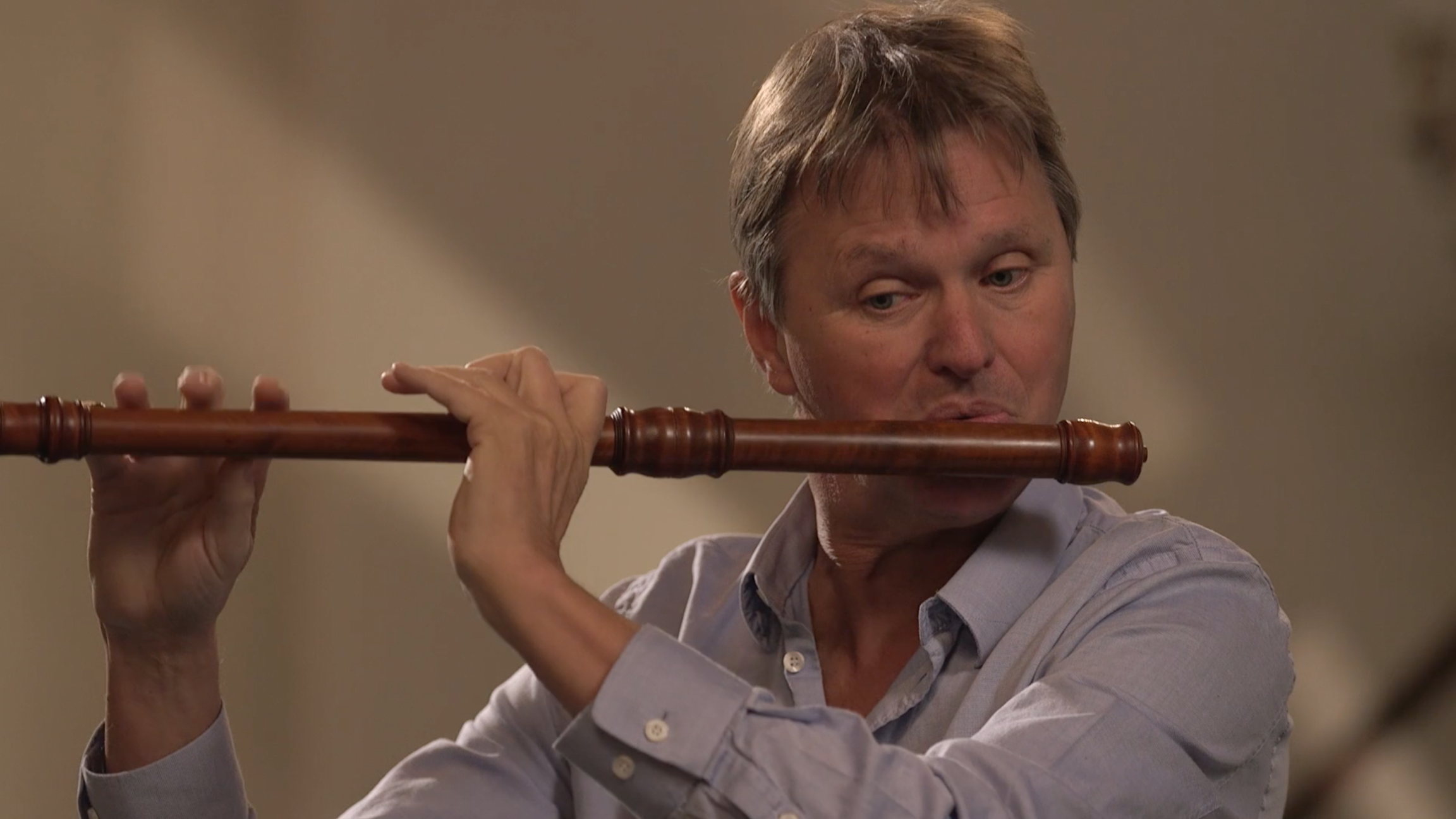 Flute Partita in A Minor
BWV 1013 performed by Marten Root
Oude Dorpskerk, Bunnik
Menu
1. Allemande
2. Courante
3. Sarabande
4. English Bourrée
Story
Extra videos
Credits
Only for flute
Whereas violinists and cellists have six suites, flautists have to make do with one.
This suite is Bach's only known work for flute solo. The piece consists of four stylised dances. The Allemande is directly reminiscent of the cello suites and violin partitas, so this piece probably originated in the same period, namely Bach's years at the court in Köthen. When Bach was still working in Weimar, he met the French flautist Pierre Gabriel Buffardin on a visit to Dresden. His playing undoubtedly inspired Bach, who wrote this suite with him in mind.
At this time, the flute was still very much under development. Flutes could consist of three or four different parts and sometimes had extra extensions, which were interchangeable connecting pieces that varied in length, called corps de rechange. A flute was therefore not just one instrument, but actually a kit of several pieces that made up a variety of lengths, allowing the flautist to play in different keys.
This suite lets the flautist show off all his techniques: rapid fingering changes, big leaps and little time to catch his breath. The piece ranges from the lowest possible note to the glorious high A at the end of the Allemande. It is also has a Sarabande, which has to be played slowly and expressively. After all, according to the most famous player in Germany, Johann Joachim Quantz, not only did a flautist have to "get his lips, tongue and fingers in the right place", but he also had to "develop his taste".
BWV

1013

Title

Partita in A minor

Epithet

Solo pour la Flûte traversière par J.S. Bach

Instrument

traverso

Genre

chamber music

Year

ca. 1717-1723?

City

Köthen?

Special notes

The manuscript copy is written at the end of a collective manuscript which contains a complete copy of the Sonatas and Partitas for violin solo, BWV 1001–1006. The heading seems to read: Solo pour la Flûte traversière par J.S. Bach. The copyist of the violin works is probably Emanuel Leberecht Gottschalck.
Extra videos
Credits
Release date

14 October 2016

Recording date

28 November 2015

Location

Oude Dorpskerk, Bunnik

Flute player

Marten Root

Traverso

Fridtjof Aurin after Pierre Naust, ca. 1700

Director

Jonas Sacks

Music recording

Guido Tichelman, Bastiaan Kuijt

Camera

Jonas Sacks, Ype Poortinga

Gaffer

Ype Poortinga

Music edit and mix

Guido Tichelman

Audio post processing interview

Chris Everts

Production

Imke Deters
Help us to complete All of Bach
There are still many recordings to be made before the whole of Bach's oeuvre is online. And we can't complete the task without the financial support of our patrons. Please help us to complete the musical heritage of Bach, by supporting us with a donation!