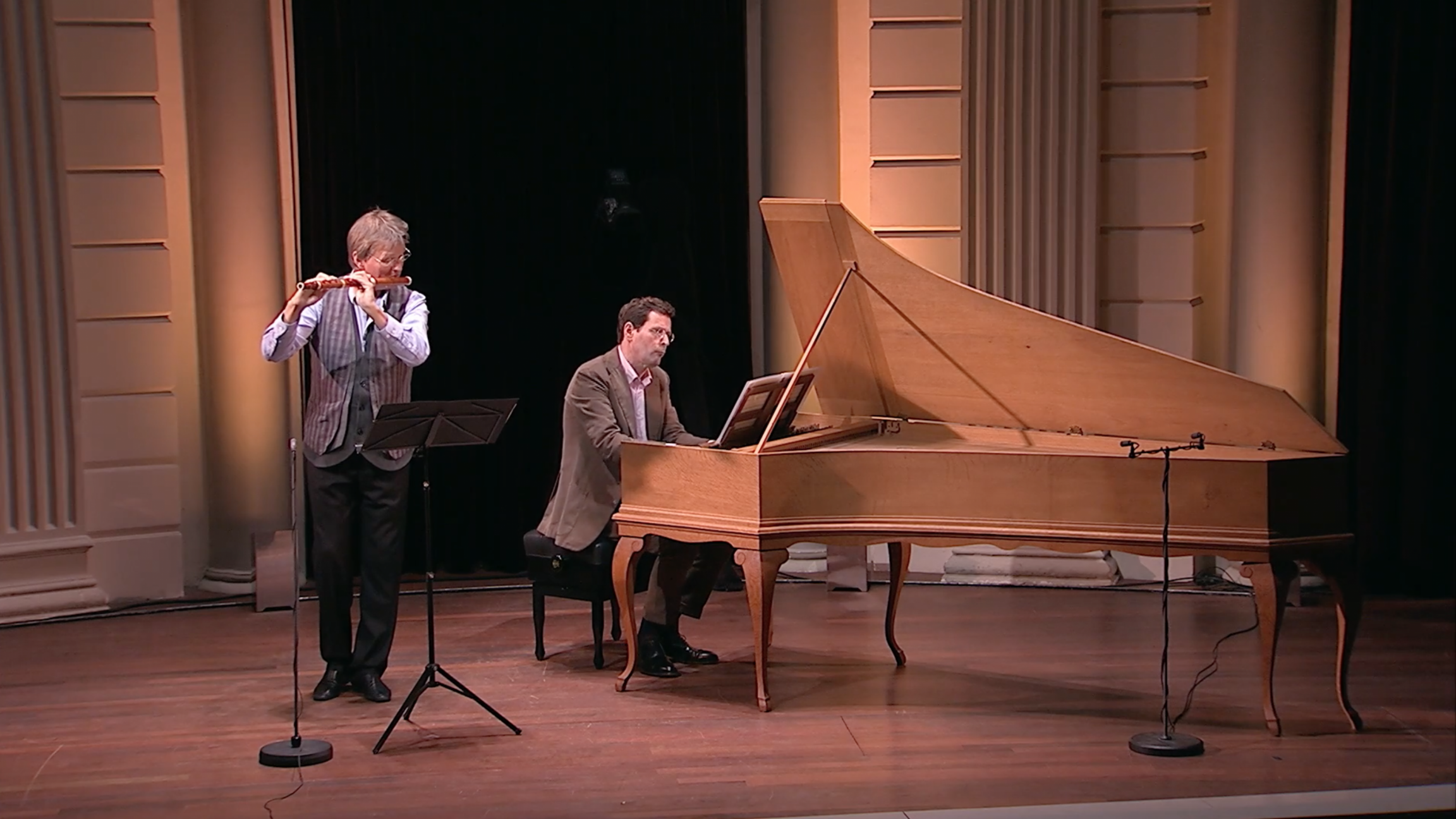 Flute sonata in B minor
BWV 1030 performed by Marten Root and Menno van Delft
Concertgebouw, Amsterdam
Menu
1. Andante
2. Largo e dolce
3. Presto
Story
Extra videos
Credits
A bit of a libertine
Bach may have written this sonata for the black sheep of the family.
We know of only a handful of flute sonatas by Bach, and of those only the Sonata in B minor has survived intact in a manuscript by Bach himself. The identity of the flautist Bach envisaged in 1736/37 for this demanding piece filled with subtleties is shrouded in mystery. But there is no doubt whatsoever that it must have been written for an excellent musician. In 1724, it took a passing virtuoso – Gabriel Buffardin – to tempt Bach into using the instrument in one of his cantatas for the first time in Leipzig.
For the weekly concerts with his Collegium Musicum, Bach often called on the cream of Leipzig University's music students. One of them was flautist Jacob von Staehlin, a fellow student of Carl Philipp Emanuel. Von Staehlin left for St Petersburg in 1735, so he probably did not play this sonata. But a later letter shows that he had really enjoyed playing flute duets in Leipzig with Carl's younger brother Johann Gottfried Bernhard. This third Bach son, born in 1715, is barely mentioned in the Bach literature. This is hardly surprising, as he died young and no compositions are known by him. But it is not inconceivable that this son of Bach may have been the performer of the Sonata in B minor at the age of about twenty-one.
The fact is that although Johann Gottfried was very gifted musically, he also had a problematic character. Fifty years later, Von Staehlin referred to him in his letter as 'windig', i.e. a bit of a libertine. Johann Gottfried left his post as organist in Mühlhausen, after only a year and a half, leaving behind debts that his father cleared for him. Bach then found a new job for his son in Sangerhausen, from which he fled after a year, this time to an unknown destination, once again leaving debts behind him. Things did not turn out well for the black sheep of the family. In January 1739, Johann Gottfried enrolled as a law student in Jena, but he died four months later. Who knows how many more flute works Bach might have written had his son lived longer?
BWV

1030

Title

Sonata in B minor

Instrument

traverso

Genre

chamber music

Year

finished around 1736/37

City

Köthen/Leipzig

Special notes

Probably an arrangement of a sonata created in Köthen in the 1720's for another instrument than the flute. A version of the harpsichord part in G minor has also survived.
Extra videos
Credits
Release date

17 June 2016

Recording date

17 October 2015

Location

Concertgebouw, Amsterdam

Traverso player

Marten Root

Harpsichordist

Menno van Delft

Traverso

Fridtjof Aurin after Jacob Denner, ca. 1720

Harpsichord

Geert Karman after J.H. Gräbner, 1774

Film director and editor

Dick Kuijs

Music production, editing and mix

Everett Porter

Camera

Martine Rozema, Caroline Nutbey

Camera assistant

Marijn Kooy

Gaffer

Tim Groot

Interview

Gijs Besseling, Kasper Koudenburg

Producer concert

Imke Deters

Producer film

Jessie Verbrugh
Help us to complete All of Bach
There are still many recordings to be made before the whole of Bach's oeuvre is online. And we can't complete the task without the financial support of our patrons. Please help us to complete the musical heritage of Bach, by supporting us with a donation!