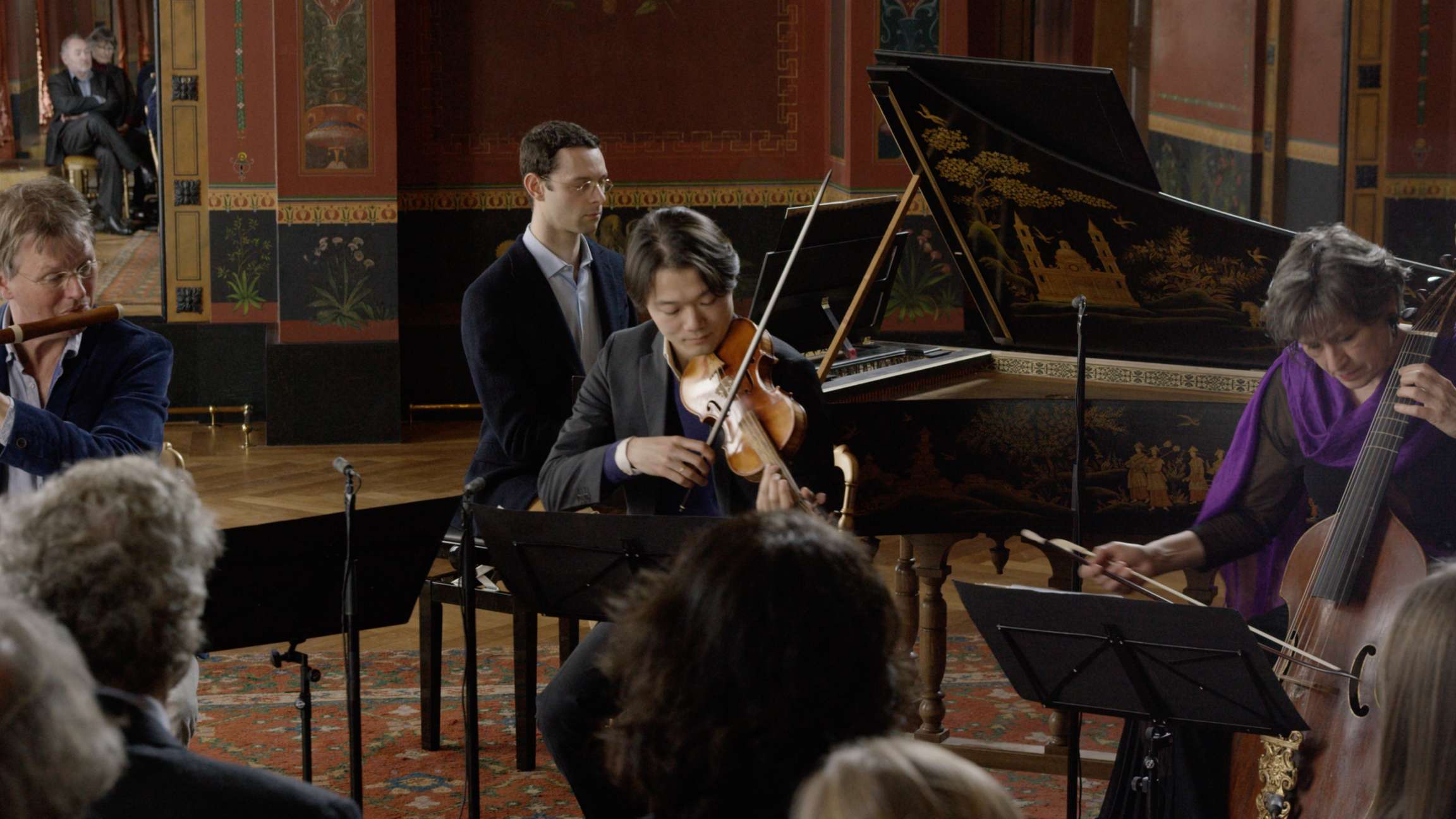 Trio sonata in G major
BWV 1038 performed by Marten Root, Shunske Sato,
Mieneke van der Velden, Benjamin Alard
Paushuize, Utrecht
Menu
1. Largo
2. Vivace
3. Adagio
4. Presto
Story
Extra videos
Credits
Instrumental music for a coffee house
Bach used the collegium musicum for experimenting
When Bach got the opportunity to take over the leadership of the most important collegium musicum in Leipzig, in 1729, he did so without a moment's hesitation. The weekly concerts by the student music association in the coffee house of Gottfried Zimmermann gave him exactly the artistic elbow room he lacked in his post as cantor. There, for over ten years, Bach presented mainly chamber music to an educated audience, experimenting to his heart's content with new instrumental genres. He was able to push forward his pupils (and of course his own sons) as soloists, who then got the chance to shine.

With one or two exceptions, there is no record of what exactly was performed at the 500 or so concerts. But the dating of the scores gives reason to believe that many sonatas, concertos and suites were created in this period. The Trio sonata in G major for transverse flute, violin and basso continuo (scores of which exist in Bach's own hand) was most probably performed at such a coffee house concert. Despite the lack of a name on the score, the four-movement sonata with alternate slow and fast movements is regarded by Bach researchers as an authentic work by the master.
Yet there is something remarkable about the piece. Whereas in this period Bach enthusiastically highlighted the harpsichord as a solo instrument, this sonata has an ordinary continuo part. What's more, the part displays great similarities to that of the Violin sonata, BWV 1021. As the authenticity of that piece has been ascertained, while its melody line is totally different to that of BWV 1038, one might conclude that this concerns an exercise in composition for a pupil. This assumption is further confirmed by the fact that the violin part of 1038 has to be performed 'scordatura', or with some strings tuned differently. The advantage of this tuning is not obvious in this piece. However, the different tuning does affect the sound, as violinist Shunske Sato explains in the interview.
BWV

1038

Title

Trio sonata in G major

Genre

chamber music

Year

1732-35

City

Leipzig

Special notes

The violin sonata in G major, BWV 1021, from ca. 1720, has a similar bass part. The violin sonata in F major, BWV 1022, is an arrangement of BWV 1038 from the period 1732-35 and has a solo part for harpsichord.
Extra videos
Credits
Release date

24 July 2015

Recording date

1 March 2015

Location

Paushuize, Utrecht

Traverso

Marten Root

Violin

Shunske Sato

Viola da gamba

Mieneke van der Velden

Harpsichord

Benjamin Alard

Film director and editor

Lucas van Woerkum

Music recording producers

Guido Tichelman, Bastiaan Kuijt

Camera

Robert M. Berger

Camera assistants

Stef van Wijk, Uriel Matahelumual

Grip

Jeroen de Haan, Thijme de Zoet

Gaffer

Zen Bloot

Best boy

Thomas Jeninga

Interview

Onno van Ameijde

Producer concert

Erik van Lith

Producer film

Jessie Verbrugh

Acknowledgements

Lex Martens and Provincie Utrecht
Help us to complete All of Bach
There are still many recordings to be made before the whole of Bach's oeuvre is online. And we can't complete the task without the financial support of our patrons. Please help us to complete the musical heritage of Bach, by supporting us with a donation!