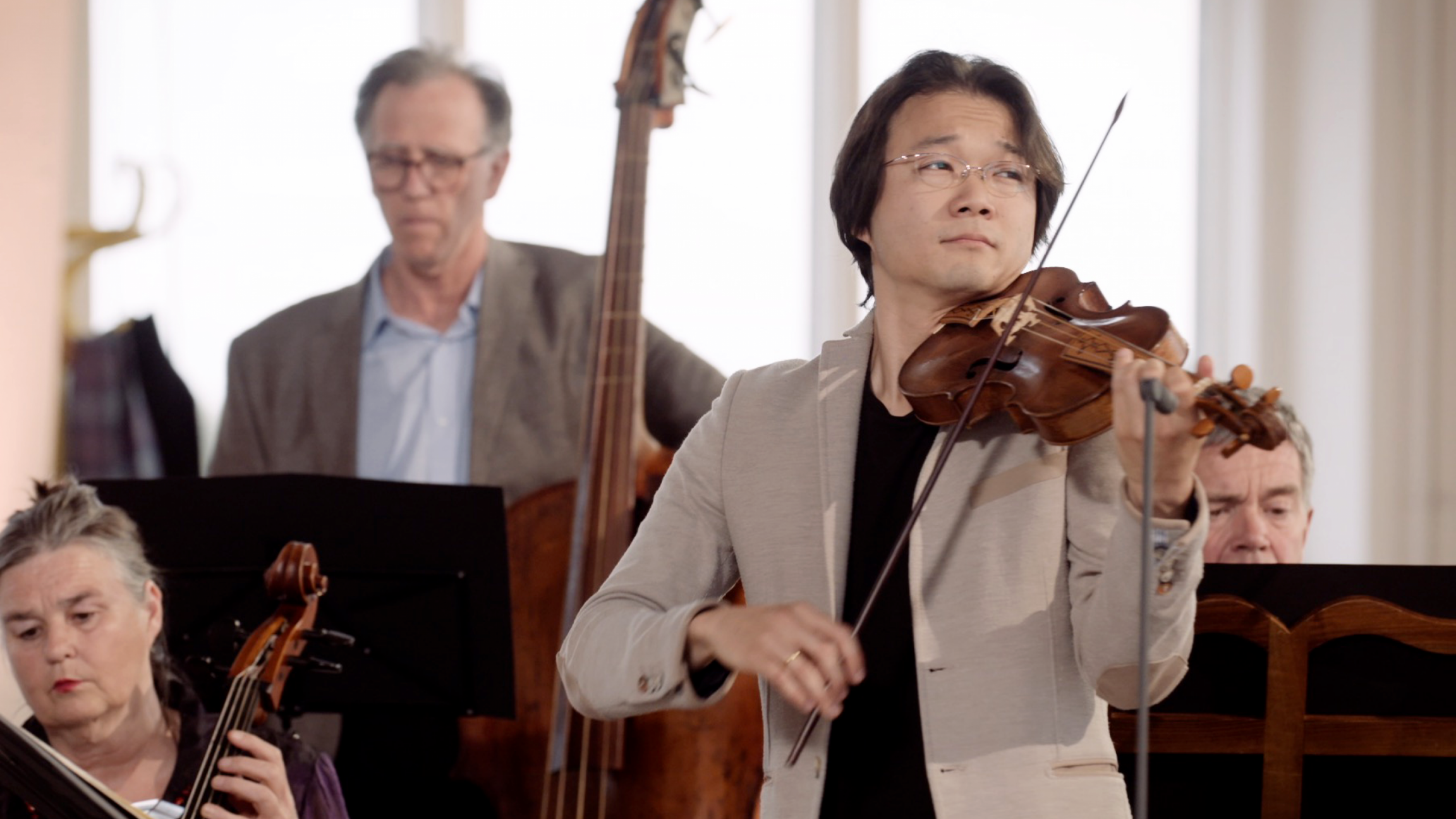 Violin concerto in A minor
BWV 1041 performed by Shunske Sato
and the Netherlands Bach Society
Radio Kootwijk
Menu
1. [...]
2. Andante
3. Allegro assai
Story
Extra videos
Credits
The supreme violin concerto
This is just about the first concerto you encounter as a talented violinist.
Many listeners will recognise this Violin Concerto in A minor immediately, and even identify it with a specific violinist. In contrast to many of Bach's other works, it never disappeared completely from the repertoire. At the end of the eighteenth century, it was already circulating in Berlin, and it continued to do so. In December 1840, Felix Mendelssohn asked his sister Fanny in Berlin for copies of this concerto, in preparation for a series of 'historical concerts' with the Gewandhausorkest in Leipzig. In January 1841, she sent him the music. In the end, the work was not performed in the concert series, but on 19 January the concertmaster of the Gewandhausorkest, Ferdinand David (1810-1873), received the score as a gift from Mendelssohn (the manuscript is now in the United States).
Mendelssohn started these concerts of 'early music' in 1838, but he was not the first to do so. The conductor Peter Joseph von Lindpaintner (1791-1856) did the same in Stuttgart, as early as 1824. A second series took place in 1838, in response to Mendelssohn's concerts. For instance, Bach's Violin Concerto in A minor was performed in Stuttgart on 4 December by the outstanding violinist Bernhard Molique (1802-1869). The music was printed for the first time in 1852, followed by new performances. On 31 March 1860, Bach's birthday, Julius Eichberg (1824-1893) played the concerto for the first time in the United States. One critic regretted the choice, writing "Bach's concerto may be learned, but it is very heavy and uninspired". It was regrettable that such a good violinist as Eichberg selected to play "some antiquated compositions which have little beside antiquity to commend them".
In April 1945, in the darkest days of the war, the long-standing Nazi opponent Adolf Busch (1891-1952) made a moving recording of the concerto in a former German beer hall (!) in New York, by which he seems to have wanted to save Bach from the hands of the Nazis. And thus each violinist and each generation puts their own stamp on the concerto. "This concerto is just about the first one you encounter, as a young talented violinist", says artistic director and concertmaster of the Bach Society, Shunske Sato. "It's a long time since this music was first placed on my stand. In recent years, thanks to historically informed performance practices, the concerto has burrowed deeper into my soul – it has become bigger and more important. I've grown to understand Bach's idiom better and developed an instinct for his music".
BWV

1041

Title

Concerto in A minor

Instrument

violin

Genre

orchestral works

Year

ca. 1720?

City

Köthen
With support from
Eleven Floawers Foundation
Extra videos
Credits
Release date

18 March 2021

Recording date

16 May 2019

Location

Radio Kootwijk

Violin and direction

Shunske Sato

Violin 1

Pieter Affourtit

Violin 2

Lidewij van der Voort

Viola

Femke Huizinga

Cello

Lucia Swarts

Double bass

Robert Franenberg

Harpsichord

Siebe Henstra

Director

Bas Wielenga

Music recording

Guido Tichelman, Bastiaan Kuijt, Pim van der Lee, Lucas van Eck

Music edit and mix

Guido Tichelman

Camera

Gijs Besseling, Onno van Ameijde, Nina Badoux

Camera assistant and data handling

Indra Besenbun

Lights

Zen Bloot, Henry Rodgers, Fiona Verkleij

Assistant director

Ferenc Soeteman

Video editing

Onno van Ameijde

Assistant music recording

Marloes Biermans

Producer concert

Imke Deters

Producer film

Jessie Verbrugh

With support from

Eleven Floawers Foundation
Help us to complete All of Bach
There are still many recordings to be made before the whole of Bach's oeuvre is online. And we can't complete the task without the financial support of our patrons. Please help us to complete the musical heritage of Bach, by supporting us with a donation!