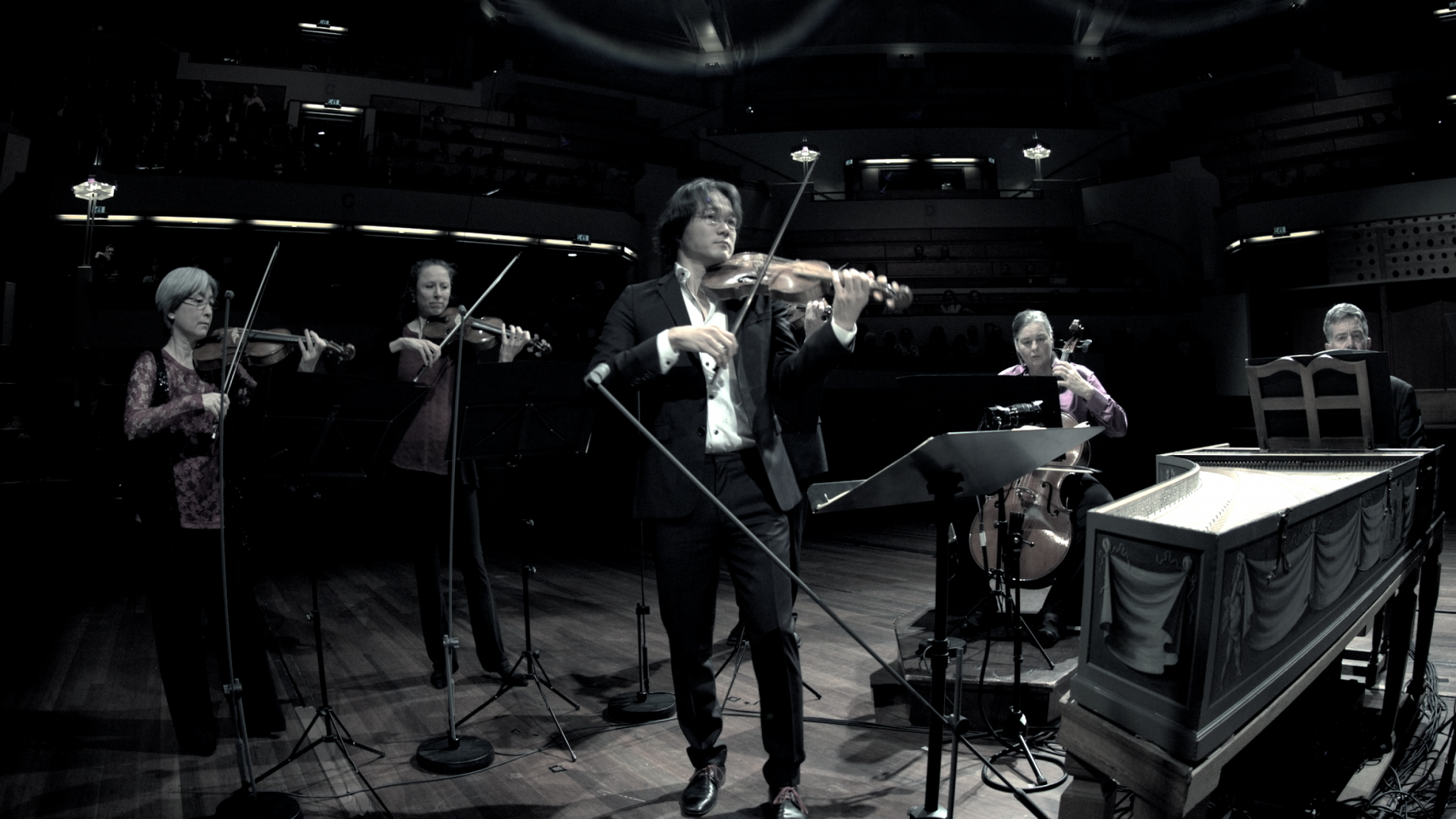 'Brandenburg' Concerto No. 2 in F major
BWV 1047 performed by the Netherlands Bach Society
conducted by Shunske Sato
TivoliVredenburg, Utrecht
Menu
1. Allegro
2. Andante
3. Allegro assai
Story
Extra videos
Credits
A starring role for the trumpet player
Bach gives everyone a chance to shine.
Like the set of 'Brandenburg' concertos as a whole, this concerto is also a piece for several instruments: a quartet of trumpet, oboe, recorder and violin is accompanied by a string ensemble and continuo group. The notes on paper would suggest that all four soloists are equal. And of course it all revolves around playing together and a measured balance. Yet one of the soloists is 'more equal' than the others, as the trumpet definitely attracts most attention.
The trumpet part has been a tricky issue for centuries – tricky from both a musicological and a technical viewpoint. What sort of trumpet was the part actually written for? And at what pitch were the notes played? In any case, the part was for a truly virtuoso player of the clarino, the high Baroque trumpet (without finger holes!). So in Bach's day, the trumpet player would undoubtedly have been the star of this concerto. In the background video, trumpet player Mark Geleen explains more about the instrument (and the modern version – with finger holes – that is used nowadays).
The rapid disappearance of this virtuoso trumpet art led to problems soon after Bach's death. Around 1755 already, when the musician Christian Friedrich Penzel was copying out separate parts, he wrote on the title page of the trumpet part: "Tromba o corno conc." (trumpet or concert horn), and even more explicitly above the third movement: "Tromba o vero corna da caccia" (either trumpet or hunting horn).
Despite the starring role for the trumpet player, Bach did ensure that the equilibrium was not upset too much. In the slower middle movement, the trumpet player can catch his breath again and the focus shifts to the other three soloists. And even double bass player Robert Franenberg doesn't feel left out, as he tells in the accompanying documentary. Every so often, Bach moves a musical 'solo theme' with fast notes down to the basses. So everyone gets a chance to shine.
Brandenburg concertos, BWV 1046-1051
In March 1721, Bach sent a manuscript from Köthen to Berlin entitled 'Six concertos with several instruments' (Six concerts avec plusieurs instruments), dedicated to Christian Ludwig (1677-1734), Margrave of Brandenburg-Schwedt. In the preface, Bach stated that he had played for the margrave 'a couple of years ago' and had promised to send him 'some of his compositions'. That was probably during a visit to Berlin in March 1719, when Bach had travelled to the Prussian capital to take receipt of a new harpsichord for the court in Köthen. The music that he sent to the margrave a couple of years later (which subsequently became known as the 'Brandenburg' Concertos) was Bach's ultimate view of the most important large-scale instrumental genre of his day: the concerto.

A concerto nearly always involves a solo instrument (or combination of solo instruments) and an ensemble. The key idea is the alternation between one or more soloists and the whole ensemble, in a sort of light-hearted competition. In the six 'Brandenburg' Concertos, Bach explores every facet of this genre, with regard to both instrumentation and the way in which he handles the form. All the traditionally used string and wind instruments and the harpsichord appear as soloists, the musical forms range from court dances to near-fugues, and the relationship between the solos and tutti instruments is always shifting. Together, the six concertos thus form a virtuoso sample sheet of the Baroque concerto.
BWV

1047

Title

Concerto in F major

Epithet

'Brandenburg' Concerto No. 2

Instrument

trumpet

Genre

orchestral works

Serie

Brandenburg concertos

Year

1719-1720

City

Köthen (but maybe even earlier in Weimar)

Occasion

Dedicated in 1721 to Margrave Christian Ludwig van Brandenburg
Extra videos
Musicians on Brandenburg concertos
"In the Brandenburg concertos there's a certain equality between the strings, brass, winds. Everyone has a very important role to play."
Credits
Release date

14 October 2021

Recording date

2 October 2018

Location

TivoliVredenburg, Utrecht

Violin and direction

Shunske Sato

Trumpet

Neil Brough

Oboe

Emma Black

Recorder

Pedro Castro

Violin 1

Sayuri Yamagata

Violin 2

Anneke van Haaften

Viola da gamba

Staas Swierstra

Cello

Lucia Swarts

Double bass

Robert Franenberg

Bassoon

Eyal Streett

Harpsichord

Siebe Henstra

Director and editor

Lucas van Woerkum

Music recording

Guido Tichelman, Bastiaan Kuijt, Pim van der Lee

Music edit and mix

Guido Tichelman

Camera

Robert Berger, Nina Badoux, Joas Burggraaf, Jasper Gheluwe

Lights

Zen Bloot

Assistant director

Stijn Berkhouwer

Assistant music recording

Marloes Biermans

Set technique

Alex de Gier

Project manager videobrix

Peter Hazenberg

Producer concert

Marco Meijdam

Producer film

Jessie Verbrugh

In honor of

Albert Sheen. Albert has been an admirer of classical music with Bach counting among the favorites. He chose to put his vital energy into an English and later law degree, as well as wine education, but along his life's trajectory, he has also been a frequent visitor of Southern California classical music institutions. Many a night he has spent hedonistically and gratefully listening to the releases of Netherlands Bach Society and exchanging his observations with like-minded close friends. Albert was diagnosed with stage 4 stomach cancer three years ago and deployed seemingly every available scientific treatment to beat his odds. Two weeks ago, he made a choice to enter palliative care in a hospice, where he continues to be uplifted by beauty in visual, auditory end emotional forms. Poignantly, since he lost the ability to eat, beauty remains his metaphorical - and real - sustenance.
Help us to complete All of Bach
There are still many recordings to be made before the whole of Bach's oeuvre is online. And we can't complete the task without the financial support of our patrons. Please help us to complete the musical heritage of Bach, by supporting us with a donation!