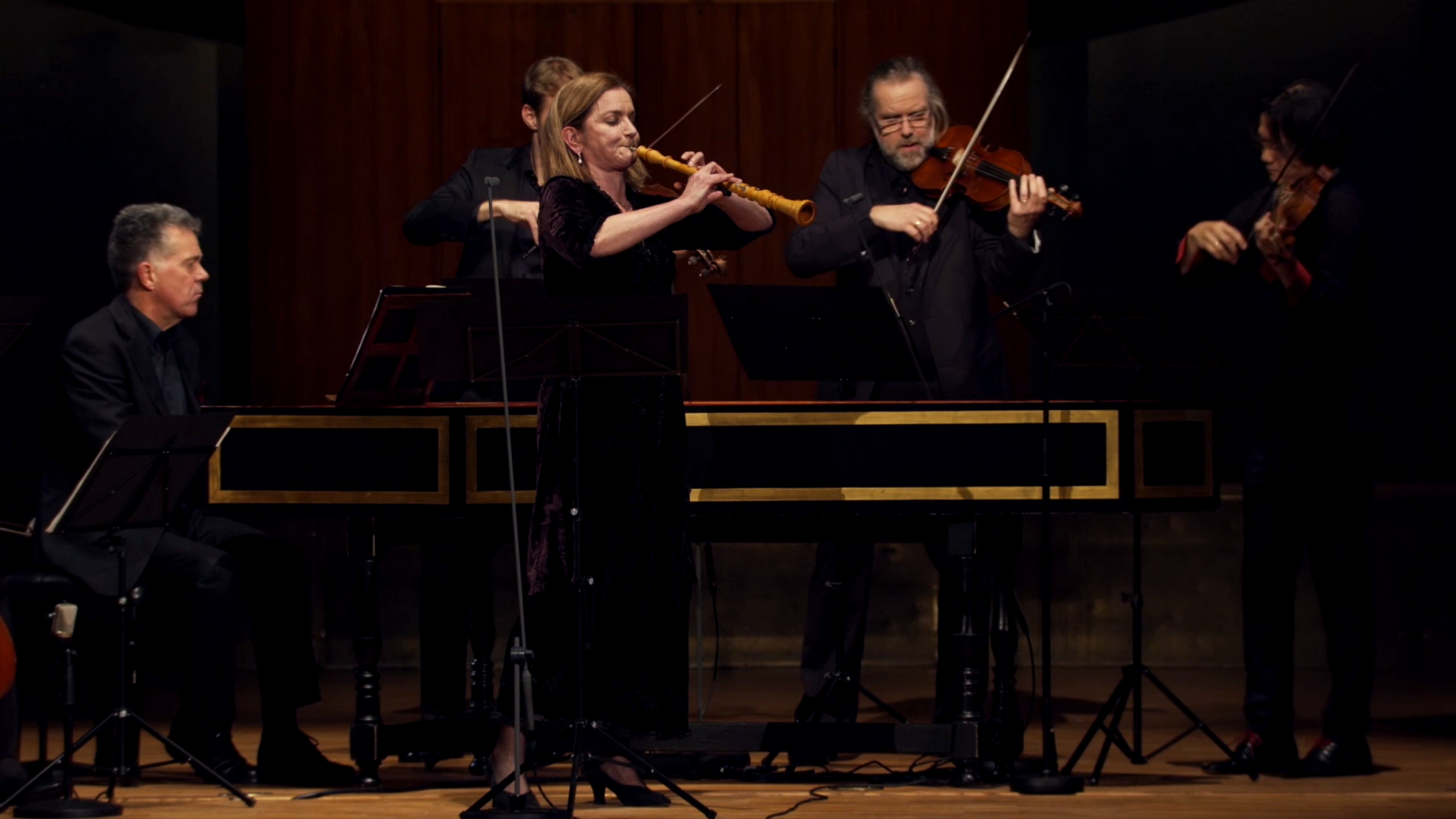 Oboe Concerto in F major
BWV 1060r performed by Emma Black
and the Netherlands Bach Society
Stadsgehoorzaal, Leiden
Menu
1. Allegro
2. Siciliano
3. Allegro
Story
Extra videos
Credits
A concerto, but for which instrument?
Hunting down a solo work for oboe.
Oboists did fairly well out of Bach, as his oeuvre contains more than two hundred oboe solos. They often concern one or two oboes in opening choruses and arias in the cantatas. But the true solo repertoire is sparse. There is no music written just for oboe, analogous to the suites and partitas for violin, cello and flute. Neither is there any chamber music – suites or sonatas with basso continuo – let alone solo concertos for oboe. That's amazing when you think that the oboe was not an unusual instrument and that Bach had excellent oboists at his disposal wherever he worked.
Here and there, we catch a glimpse of what an oboe concerto by Bach would have sounded like. For instance, cantata BWV 156 opens with a Sinfonia that would look quite at home as the slow movement of an oboe concerto. The same applies to the instrumental Adagio in the Easter Oratorio BWV 249, in which the solo instrument was originally an oboe, before the role was given to the flute in a later version.
These 'hidden' movements give us clues, and there are other indications that Bach did indeed compose oboe concertos, whose manuscripts and parts have been lost over the years. For a complete oboe concerto, however, we have to rely on reconstructions (hence the "r" in BWV 1053r and BWV 1060r). The concertos Bach wrote for one or more harpsichords and string instruments during his years in Leipzig, for the local Collegium Musicum, are often thought to be arrangements of concertos he had written earlier for other solo instruments. But which instruments? Numerous suggestions have been made, on the basis of transposing the works to various keys, judging how playable those keys are for different instruments, and seeing whether the lowest and highest notes are within the instruments' range.
BWV 1053 appears to work best as a concerto for oboe d'amore in D major or, as in this case, an oboe concerto in F major. For every 'solution', however, question marks and problems remain, and nothing is certain. But that's actually a good thing, as then other instrumentalists can always come up with different reconstructions.
BWV

1053r

Title

Oboe Concerto in F major

Instrument

oboe

Genre

orchestral works

Special notes

This concerto is a reconstruction of an oboe concerto, based on the keyboard concerto in E major, BWV 1053.
Credits
Release date

21 January 2021

Recording date

6 December 2019

Location

Stadsgehoorzaal, Leiden

Oboe

Emma Black

Violin 1

Shunske Sato

Violin 2

Pieter Affourtit

Viola

Manuel Visser

Cello

Lucia Swarts

Double bass

Hen Goldsobel

Harpsichord

Siebe Henstra

Director

Gerbrand van Oudenaarden

Music recording

Guido Tichelman, Bastiaan Kuijt, Pim van der Lee

Music edit and mix

Guido Tichelman

Camera

Alex de Waal, Dagmar Scheeres, Martin van den Brink

Lights

Zen Bloot

Assistant director

Ferenc Soeteman

Video editing

Bas Wielenga

Shading

Wouter van Teerling

Technical assistance

Mart van Bree

Assistant music recording

Marloes Biermans

Producer concert

Imke Deters

Producer film

Jessie Verbrugh

With support from

L.C.M. Gieles
Help us to complete All of Bach
There are still many recordings to be made before the whole of Bach's oeuvre is online. And we can't complete the task without the financial support of our patrons. Please help us to complete the musical heritage of Bach, by supporting us with a donation!