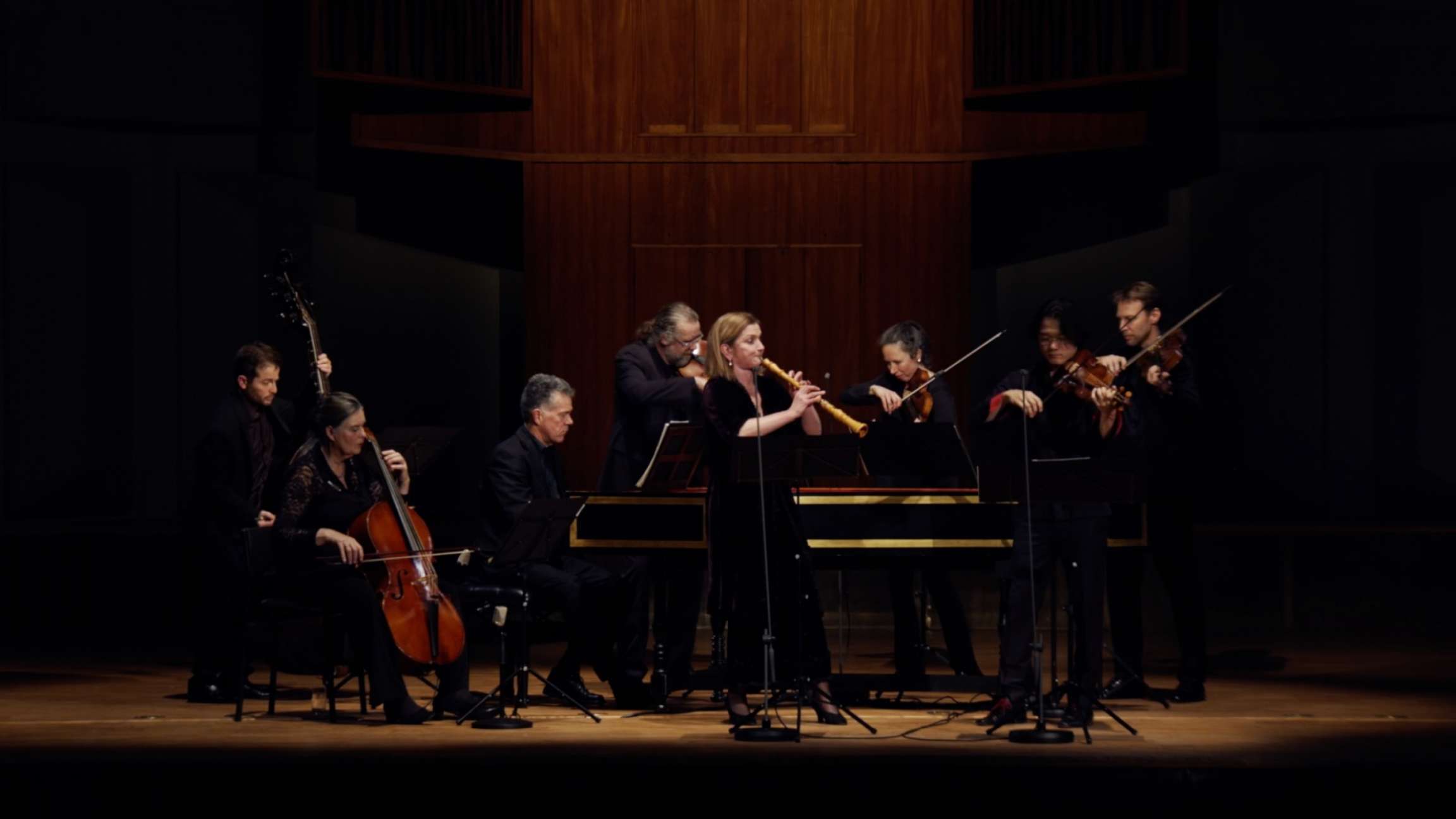 Concerto for oboe and violin in C minor
BWV 1060r performed by Emma Black, Shunske Sato
and the Netherlands Bach Society
Stadsgehoorzaal, Leiden
Menu
1. Allegro
2. Adagio
3. Allegro
Story
Extra videos
Credits
Each with their own voice
In search of the original behind a keyboard concerto.
Around 1700, a new wind from the south blew through the music world. The 'Vivaldian' solo concerto had crossed the Alps and was causing a stir everywhere, including German-speaking Europe. Bach and his contemporaries looked at the model from all sides before adapting it to local customs and talents, especially for the ubiquitous violin. Of which, incidentally, there was no lack of virtuoso players. In Weimar and Köthen, Bach was able to compose for exceptional performers like Prince Johann Ernst of Saxe-Weimar and concertmaster Joseph Spieß, not to mention himself. So it is highly likely that there were once many more violin concertos by Bach.
In the ninteteenth century, when in contrast to the Baroque era 'original' was clearly more highly esteemed than 'arrangement', people started seeing Bach's 14 keyboard concertos in a new light. The same applied to this work, which was handed down in a version for two harpsichords. Wilhelm Rust, who was involved with the Leipziger Bach-Gesellschaft from the start in 1850, suspected the existence of an original for two violins in 1874 already, while the physicist and amateur Bach buff Woldemar Voigt proposed this setting for violin and oboe in 1886.
In this version, each instrument makes full use of its own timbre and characteristics. And the imprint of the original is easy to see in the keyboard version, as Bach copied the solo lines almost exactly. In the finale, the violin clearly gets more scope than the oboe to show off its most virtuoso side, while in the second movement – a rocking Siciliano – both instruments become closely entangled.
BWV

1060r

Title

Concerto for oboe and violin in C minor

Instrument

oboe, violin

Genre

orchestral works

Year

ca. 1719

City

Köthen?

Special notes

This is a reconstruction of the supposed original form of the concerto for two harpsichords in C minor, BWV 1060.
Extra videos
Credits
Release date

11 June 2020

Recording date

6 December 2019

Location

Stadsgehoorzaal, Leiden

Violin and direction

Shunske Sato

Oboe

Emma Black

Violin 1

Pieter Affourtit

Violin 2

Anneke van Haaften

Viola

Manuel Visser

Cello

Lucia Swarts

Double bass

Hen Goldsobel

Harpsichord

Siebe Henstra

Director

Gerbrand van Oudenaarden

Music recording

Guido Tichelman, Bastiaan Kuijt, Pim van der Lee

Music edit and mix

Guido Tichelman

Camera

Alex de Waal, Dagmar Scheeres, Martin van den Brink

Lights

Zen Bloot

Assistant director

Ferenc Soeteman

Video editing

Bas Wielenga

Shading

Wouter van Teerling

Technical assistance

Mart van Bree

Producer concert

Imke Deters

Producer film

Jessie Verbrugh

With support from

L.C.M. Gieles
Help us to complete All of Bach
There are still many recordings to be made before the whole of Bach's oeuvre is online. And we can't complete the task without the financial support of our patrons. Please help us to complete the musical heritage of Bach, by supporting us with a donation!