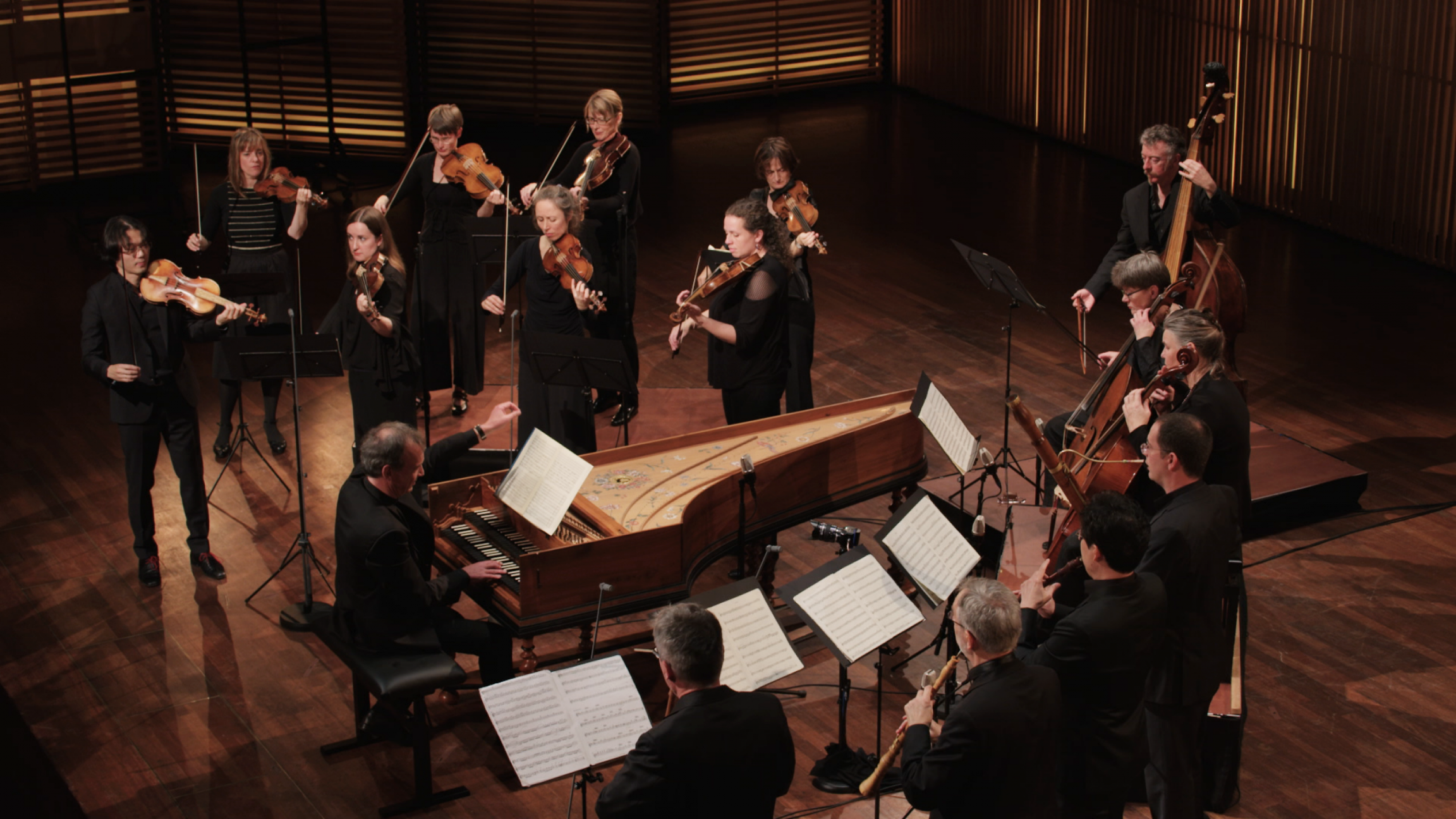 Orchestral Suite No. 4 in D major
BWV 1069 performed by the Netherlands Bach Society
conducted by Lars Ulrik Mortensen
Muziekgebouw aan 't IJ, Amsterdam
Menu
1. Ouverture
2. Bourrée I & II
3. Gavotte
4. Menuet I & II
5. Réjouissance
Story
Extra videos
Credits
Dancing to a borrowed tune
Bach makes the best (literally) of a set of strict rules.
A performance of this Orchestral Suite no. 4, a regal piece, usually involves trumpets and timpani. But this is not how we play it, which is a deliberate decision by harpsichordist and conductor Lars Ulrik Mortensen, who says, "For years, it has been accepted that this piece started life without trumpets and timpani. The musicologist Joshua Rifkin wrote about it in 1997. If you compare the score to other pieces by Bach, you see that elsewhere the brass instruments always have a high degree of independence compared to the rest, and that this independence is lacking in the Orchestral Suite no. 4. Here, the trumpets are a supplement; no more than a colourful addition".
The first version of the Orchestral Suite no. 4 undoubtedly dates from Bach's early years in Weimar or Köthen. The piece seems to have held a special place in Bach's heart, as he revived the top-heavy opening section, the Overture, in 1725, as the Sinfonia in the cantata BWV 110, Unser Mund sei voll Lachens, which is when he added the trumpets and timpani.
After the opening section, with the strings and woodwind in opposition, Bach takes a surprising turn. Instead of the 'standard dances' the allemande and courante, he jumps straight into bourrées, a gavotte and minuets. And the ending is not a dance at all, but a Réjouissance, which means rejoicing.
Orchestral Suites, BWV 1066-1069
Although it is tempting to talk of the Four Orchestral Suites, it could well be the case that Bach wrote another one or two, or even ten of them. Because unlike the 'Brandenburg' Concertos, these Four Orchestral Suites are not related to one another. Specialists like Joshua Rifkin even regard them as arrangements of pieces from other genres. Bach simply wrote presentable festive music for the wealthy courts of Weimar and Cöthen; occasional music that later found a new home in the repertoire of the Collegium Musicum.
Bach's Suites (series of stylised dances) exude the style and atmosphere of the dance music written by Lully at the court of Louis the Fourteenth. Nowadays, we call this a suite, but at the time it was known as an Overture, or opening piece. As a tribute to the king, such a succession of dances began with a stately opening that had a remarkably staccato rhythm – to which the king could make his entrance – followed by a somewhat faster, fugal middle section.
One interesting hypothesis about the relative dearth of suites by Bach is that he could not master the genre sufficiently. The model came directly from the Paris of Lully and would brook no competition. Particularly the pompous overture – with its slow-quick-slow, fugal middle section and 'French' rhythms – is typical… and maybe too restrictive for our young German Kapellmeister.
BWV

1069

Title

Ouverture in D major

Epithet

Orchestral Suite No. 4

Instrument

harpsichord

Genre

orchestral works

Serie

Orchestral suites

Year

unknown

City

Weimar/Cöthen?
Credits
Release date

27 April 2018

Recording date

15 October 2017

Location

Muziekgebouw aan 't IJ, Amsterdam

Harpsichord and direction

Lars Ulrik Mortensen

Violin 1

Shunske Sato, Emily Deans, Lidewij van der Voort

Violin 2

Anneke van der Haaften, Paulien Kostense, Annabelle Ferdinand

Viola

Deirdre Dowling, Femke Huizinga

Cello

Lucia Swarts, Barbara Kernig

Double bass

James Munro

Oboe

Martin Stadler, Peter Frankenberg, Yongcheon Shin

Bassoon

Benny Aghassi

Director

Lucas van Woerkum

Music recording

Guido Tichelman, Bastiaan Kuijt, Pim van der Lee

Music edit and mix

Guido Tichelman

Camera

Jochem Timmerman, Martin Struijf, Thijs Struick

Lights

Zen Bloot

Assistant director

Stijn Berkhouwer

Set technique

Dennis Hoek

Data handling

Jesper Blok

Project manager nep

Peter Ribbens

Interview

Onno van Ameijde, Marloes Biermans

Producer concert

Marco Meijdam

Producer film

Jessie Verbrugh
Help us to complete All of Bach
There are still many recordings to be made before the whole of Bach's oeuvre is online. And we can't complete the task without the financial support of our patrons. Please help us to complete the musical heritage of Bach, by supporting us with a donation!