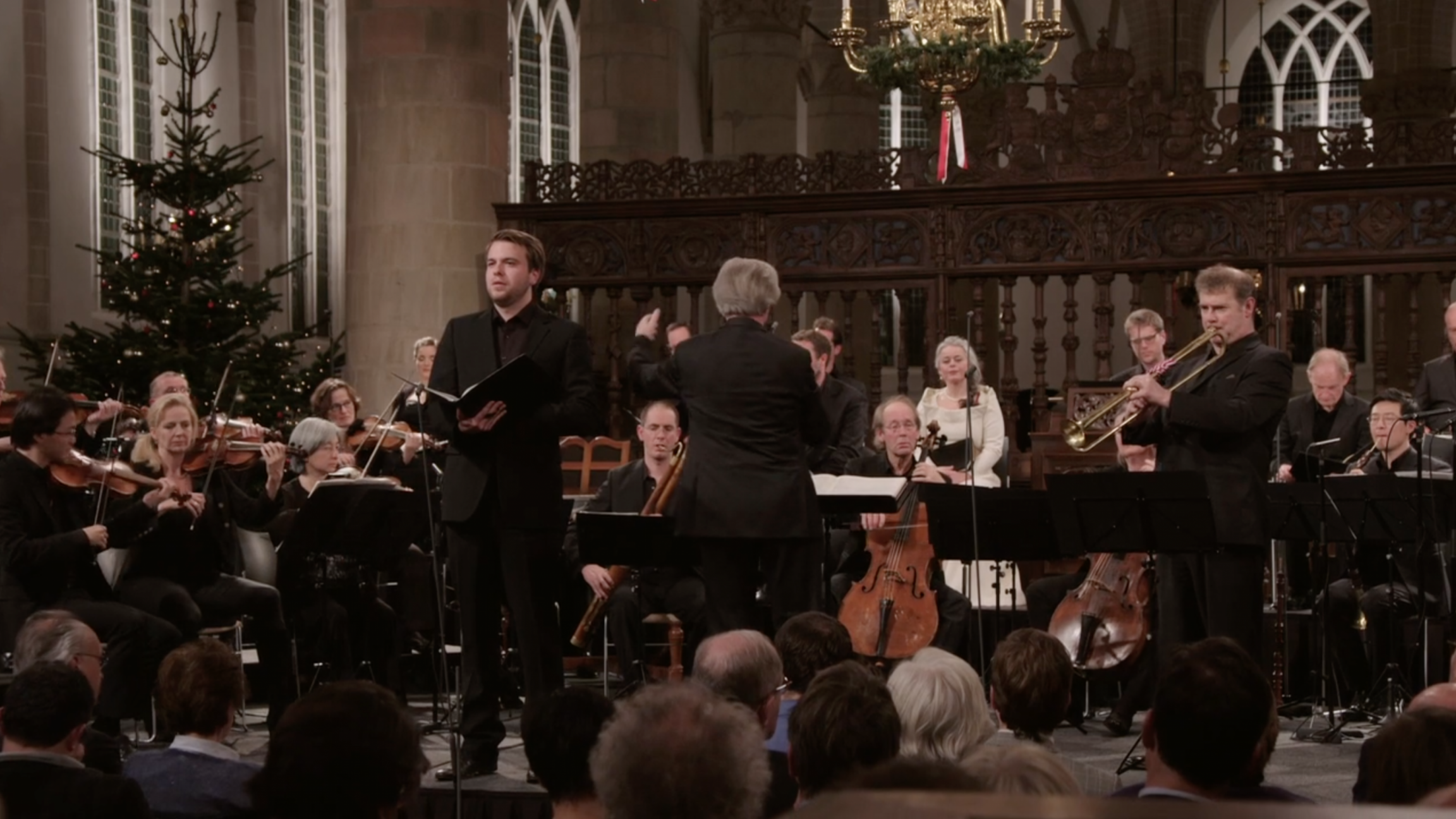 Unser Mund sei voll Lachens
BWV 110 performed by the Netherlands Bach Society
conducted by Jos van Veldhoven
Grote Kerk, Naarden
Menu
1. Unser Mund sei voll Lachens (Chorus)
2. Ihr Gedanken und ihr Sinnen (Aria)
3. Dir, Herr, ist niemand gleich (Recitative)
4. Ach Herr, was ist ein Menschenkind (Aria)
5. Ehre sei Gott in der Höhe (Aria)
6. Wacht auf, ihr Adern (Aria)
7. Halleluja! Halleluja! (Chorale)
Story
Extra videos
Texts
Credits
Glorious music
Bach greets the newborn Child in festive spirit.
The opening chorus of this cantata immediately draws all the attention. Bach reused the music from his Orchestral Suite no. 4 in D major, BWV 1069, but added another choir and four soloists to it, to greet the newborn Child in festive spirit. Another interesting fact about this opening chorus, from conductor Jos van Veldhoven, is that it is one of the few pieces where Bach gives instructions for the alternation of solo and tutti sections.
The words of this cantata are a wonderful description of how God in his glory wants to get close to humble mankind on earth. The music fits the words perfectly. The glory, for example, is obviously heard in the opening chorus, but also in the recitative and the powerful aria 'Wacht auf' by the bass with a trumpet solo. In the heart of the cantata, the alto meditates on the wonders of the Christmas message: God giving up his own son in order to suffer for the salvation of mankind. The operative word here is love, so the oboe d'amore plays a prominent role alongside the alto. For the duet 'Ehre sei Gott', Bach refers back to the 'Virga Jesse' from his Magnificat of one year earlier. The austere final chorale is also particularly effective, providing a contrast with the grandeur of the preceding bass aria.
BWV

110

Title

Unser Mund sei voll Lachens

Genre

cantatas

Year

1725, revivals in 1728 and 1731

City

Leipzig

Lyricist

Georg Christian Lehms, 1711

Occasion

Christmas Day

First performance

25 December 1725

Special notes

For the opening chorus, Bach used the Ouverture from his Orchestral Suite no. 4, BWV 1069, and for the 5th movement one of the 'Einlagen' (Virga Jesse) from the Magnificat.
Extra videos
Vocal texts
Original
1. Chor
Unser Mund sei voll Lachens
und unsre Zunge voll Rühmens.
Denn der Herr hat
Grosses an uns getan.

2. Arie (Tenor)
Ihr Gedanken und ihr Sinnen,
schwinget euch anitzt von hinnen,
steiget schleunig himmelan
und bedenkt, was Gott getan!
Er wird Mensch, und dies allein,
dass wir Gottes
Kinder sein.

3. Rezitativ (Bass)
Dir, Herr, ist niemand gleich.
Du bist gross,
und dein Name ist gross
und kannst's mit der Tat beweisen.

4. Arie (Alt)
Ach Herr, was ist ein Menschenkind,
dass du sein Heil
so schmerzlich suchest?

Ein Wurm, den du verfluchest,
wenn Höll und Satan um ihn sind;
doch auch dein Sohn, den Seel und Geist
aus Liebe seinen Erben heisst.

5. Arie (Sopran, Tenor)
Ehre sei Gott in der Höhe
und Friede auf Erden
und den Menschen ein Wohlgefallen!

6. Arie (Bass)
Wacht auf, ihr Adern und ihr Glieder,
und singt dergleichen Freudenlieder,
die unserm Gott gefällig sein.
Und ihr, ihr andachtsvollen Saiten,
sollt ihm ein solches Lob bereiten,
dabei sich Herz und Geist erfreun.

7. Choral
Alleluja! Alleluja! Gelobt sei Gott,
singen wir all aus unsers
Herzens Grunde.

Denn Gott hat heut gemacht
solch Freud,
die wir vergessen solln zu
keiner Stunde.
Translation
1. Chorus
Let our mouth be full of laughter
and our tongue of singing.
For the Lord hath done
great things for us.

2. Aria
All you thoughts and meditations,
soar aloft at once,
climb swiftly heavenwards
and think what God has done!
He becomes man, merely
that we might be
heaven's children.

3. Recitative
There is none like unto Thee, O Lord.
Thou art great,
and Thy name is great
in might.

4. Aria
Ah, Lord, what is man
that Thou, through such pain,
would redeem him?

A worm, whom Thou dost curse,
when hell and Satan surround him;
but yet Thy Son, whom soul and spirit
out of love call their inheritance.

5. Aria
Glory to God in the highest,
and on earth peace,
good will toward men!

6. Aria
Awake, you veins and limbs,
and sing those songs of joy
which are pleasing to our God.
And you, you strings of deep devotion,
should offer Him such praise,
that heart and soul rejoice.

7. Chorale
Alleluia! Alleluia! All praise to God,
let us all sing from the
depths of our hearts.

For God today has
wrought such joy,
that we shall
always remember.
Credits
Release date

25 December 2016

Recording date

17 December 2015

Location

Grote Kerk, Naarden

Conductor

Jos van Veldhoven

Soprano

Maria Keohane

Alto

Alex Potter

Tenor

Charles Daniels

Bass

Matthias Winckhler

Ripieno soprano

Lucie Chartin, Marie Heeschen

Ripieno alto

Elsbeth Gerritsen, Michaela Riener

Ripieno tenor

Immo Schröder, Yves van Handenhove

Ripieno bass

Jelle Draijer, Michiel Meijer

Violin 1

Shunske Sato, Annelies van der Vegt, Anneke van Haaften, Lidewij van der Voort

Violin 2

Sayuri Yamagata, Pieter Affourtit, Paulien Kostense

Viola

Staas Swierstra, Jan Willem Vis

Cello

Lucia Swarts, Richte van der Meer

Double bass

Robert Franenberg

Traverso

Frank Theuns, Doretthe Janssens

Oboe

Martin Stadler, Peter Frankenberg, Yongcheon Shin

Bassoon

Benny Aghassi

Trumpet

Robert Vanryne, Stephen Keavy, Mark Geelen

Timpani

Luuk Nagtegaal

Harpsichord

Siebe Henstra

Organ

Pieter-Jan Belder

Director

Joost Honselaar

Assistant director

Ferenc Soetman

Music recording

Guido Tichelman, Bastiaan Kuijt, Micha de Kanter

Audiomontage -en mix

Guido Tichelman

Camera

Jochem Timmerman, Rene Holbrugge, Martin Struif, Chris Reichgelt

Lights

Zen Bloot

Lighting assistant

Patrick Galvin

Video engineer

Justin Mutsaers

Set technique

Glenn van den Eerden

Data handling

Charlotte Storm

Project manager nep

Peter Ribbens

Interview

Onno van Ameijde

Producer concert

Marco Meijdam

Producer film

Jessie Verbrugh, Imke Deters

Acknowledgements

Angela Mast
Help us to complete All of Bach
There are still many recordings to be made before the whole of Bach's oeuvre is online. And we can't complete the task without the financial support of our patrons. Please help us to complete the musical heritage of Bach, by supporting us with a donation!