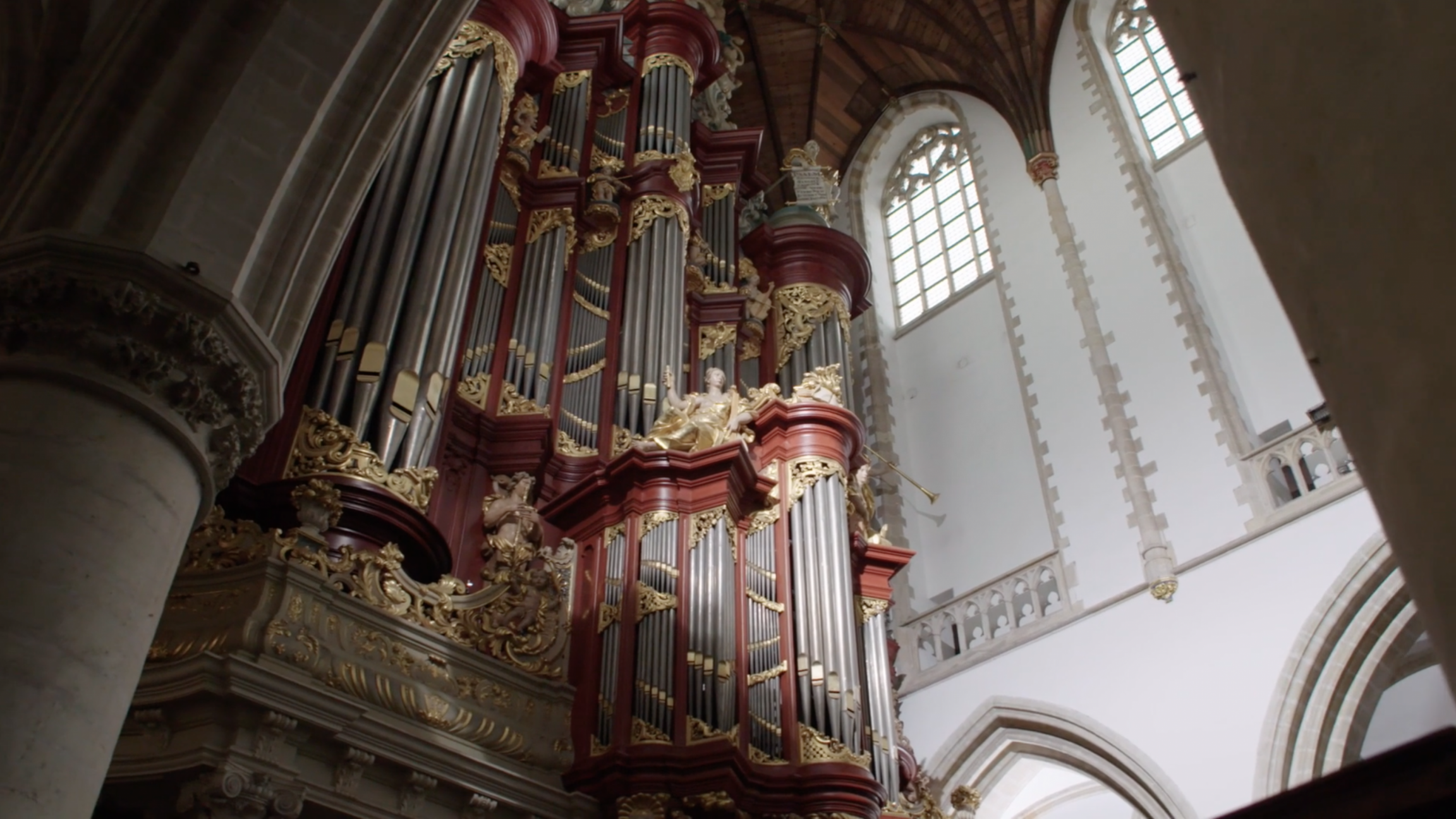 Herr Jesu Christ, du höchstes Gut
BWV 1114 performed by Bart Jacobs
St Bavo's Church, Haarlem
Story
Extra videos
Credits
Of pain, arrows and mercy
Helpless melancholy barely turns into hope.
The sinner staggers slowly in the direction of Jesus, the 'Brunnquell aller Gnaden', with pain in his mind and 'aimless arrows' in his soul. For this supplication, Bach chose the key of F minor – melancholy, depressing and black. The major final chord sounds almost as if its creator hardly dares hope for salvation. It is a chorale arrangement for the darker days.

The Neumeister Collection, in which this work is included, shows Bach in his most youthful years, experimenting with forms and techniques, some of which he developed and others he left alone. Herr Jesu Christ, du höchstes Gut, for instance, has two moods, which is a rarity for the usually consistent composer. The figured melody gets going with difficulty, hovering like an aria on its own keyboard above the lower parts. Tenor and bass provide an accompaniment of 'fore-imitation': an old technique whereby chorale material takes on a life of its own. After four lines, however, the melody joins the tutti, now without ornamentation, and runs of semiquavers take over the movement. The tension thus rises towards the last line of the chorale, once again in the dissonant mood of the opening, and to the surprising ending.

It is precisely that tension that makes this one of Bart Jacobs' favourite pieces in the Neumeister Collection. Although it is experimental, it still shows more of the serious composer than of the young, wild Bach.
Neumeister Sammlung, BWV 1090-1120
At the end of 1984, the Bach world was turned upside down. In that year, no fewer than 31 undiscovered organ works by Bach turned up in the library of Yale University. They are included in a manuscript compiled by organist Johann Gottfried Neumeister (1756-1840), which ended up in the United States via Christian Heinrich Rinck and Lowell Mason. It is therefore known as the 'Neumeister collection'.

Neumeister copied the larger part of his collection in 1790 from a much older manuscript that has been lost. He selected a variety of popular organ chorales that he could play himself for ordinary church services. The majority are works by two of Bach's cousins, Johann Michael and Johann Christoph, as well as by Bach himself. There are also arrangements by Friedrich Wilhelm Zachow and Johann Pachelbel, among others. So in his collection, Neumeister gives an idea of the repertoire that would have been familiar to Bach in his younger years. Bach's own compositions in the Neumeister collection are very old, dating mostly from before 1708 and probably even from around 1700, when Bach was about fifteen years old. Later, Neumeister added a further five chorales that were much newer, written by his own teacher Georg Andreas Sorge.
Organ
This recording was made on the famous Müller organ in the Great or St. Bavo Church, in Haarlem. It is a very special instrument from 1738. Both Georg Friedrich Händel and Wolfgang Amadeus Mozart travelled to Haarlem to play this organ! Händel was particularly delighted by the unusual Vox Humana register. The organ has over 5000 pipes, divided over 64 registers, with three manuals and a pedal.
BWV

1114

Title

Herr Jesu Christ, du höchstes Gut

Instrument

organ

Genre

organ works

Serie

Neumeister Sammlung (organ)

Year

circa 1700

City

Ohrdruf? Arnstadt?
Extra videos
Credits
Release date

8 September 2017

Recording date

22 September 2016

Location

St Bavo's Church, Haarlem

Organist

Bart Jacobs

Organ

Christian Müller, 1738

Director

Bas Wielenga

Music recording

Guido Tichelman, Bastiaan Kuijt

Music edit and mix

Guido Tichelman

Camera

Bas Wielenga, Jeroen Simons

Lights

Gregoor van de Kamp

Interview

Onno van Ameijde, Marloes Biermans

Producer

Jessie Verbrugh
Help us to complete All of Bach
There are still many recordings to be made before the whole of Bach's oeuvre is online. And we can't complete the task without the financial support of our patrons. Please help us to complete the musical heritage of Bach, by supporting us with a donation!