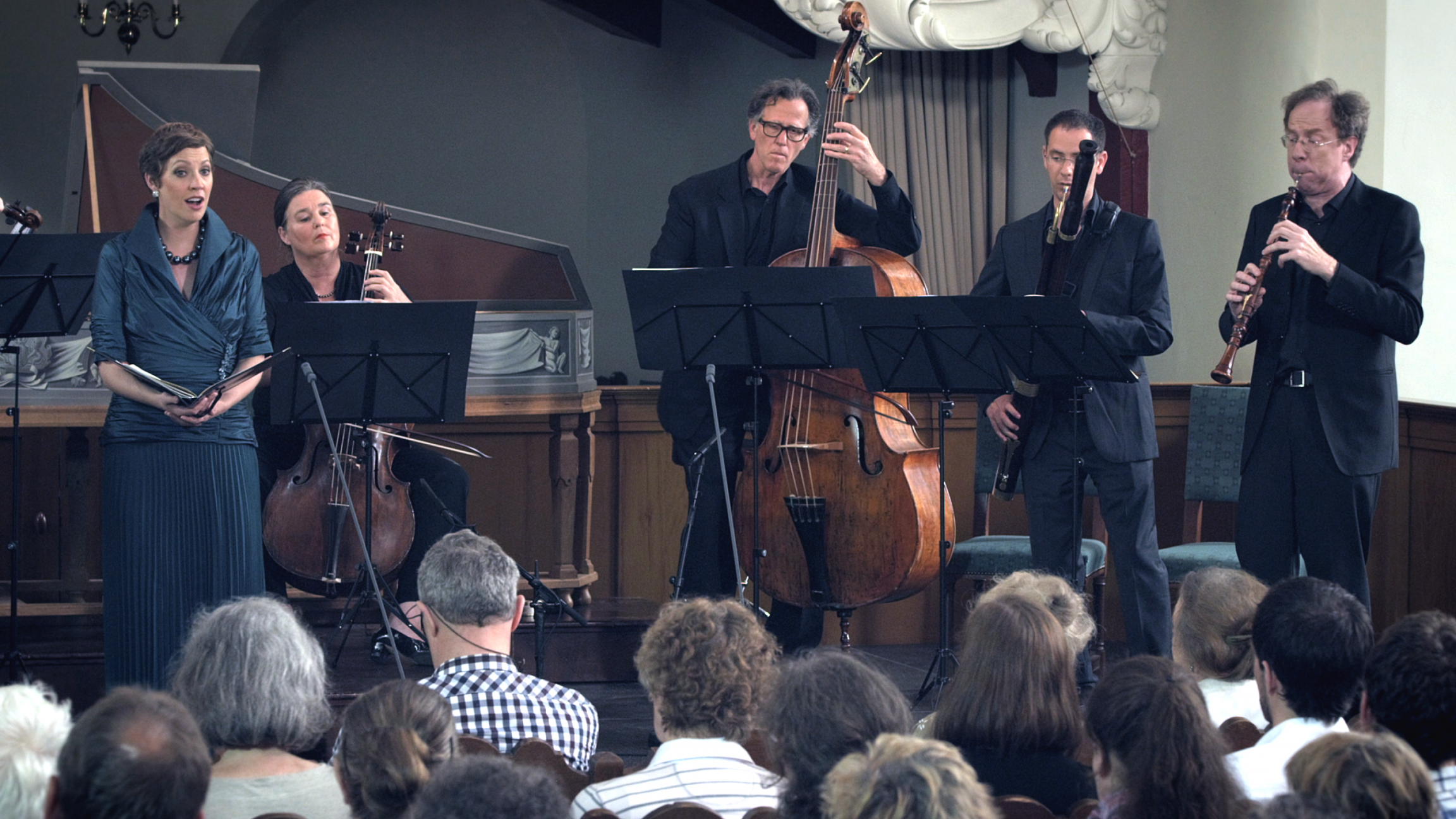 Bereitet die Wege, bereitet die Bahn
BWV 132 performed by the Netherlands Bach Society
conducted by Alfredo Bernardini
Walloon Church, Amsterdam
Menu
Bereitet die Wege (Aria)
Willst du dich (Recitative)
Wer bist du? (Recitative)
Ich will, mein Gott (Recitative)
Christi Glieder, ach bedenket (Aria)
Ertöt uns durch deine Güte (Chorale)
Story
Extra videos
Texts
Credits
Hot off the press
Salomo Franck's poetry, good musicians and his new position as Konzertmeister provided Bach with fresh inspiration.
A better salary and more musical elbow room – these were the ambitions of the young Bach after barely a year as the organist at Blasiuskirche, in Mühlhausen. He had taken up the position there because of the express requirements for an organist who was good at vocal composition. But in practice, the opportunities turned out to be disappointing. Things took a turn for the better in mid-1708, however, when Duke Wilhelm Ernst of Weimar invited Bach to come and inspect the renovated organ in his court chapel. The elderly court organist there fell ill, so Bach was able to perform the inauguration recital in his place. The recital was so successful that he was immediately offered the double post of court organist and chamber musician. Here, he could work with professional musicians for the first time, which was important to Bach, as his ultimate goal was to provide 'well-organised church music' – for which, of course, he wanted to compose all the music himself.
All in all, it was not until 1714 that Bach was promoted to Konzertmeister and could start to make his vocal dreams come true. He then decided, however, to launch straight into compositional innovations. The emphasis shifted from formal settings of biblical texts to recitatives and da capo arias, written to new lyrics and supplemented only incidentally with a chorale. Suppliers of this new poetry included Salomo Franck, chief librarian in Weimar, who published his anthology Evangelisches Andachts-Opffer in 1715. Bach set music to many of his poems hot off the press. He used no fewer than ten of them in the year they were published, including Bereitet die Wege, bereitet die Bahn.
Three arias are alternated with two recitatives, and the work finishes off with a chorale. There are festive arias for the soprano, the alto and the bass, with a starring role for a different instrument each time. The oboe presents itself in the long opening aria and the ultra-short closing chorale. Bach gives the cello an obligato passage in the bass aria, and the alto is surrounded by dazzling notes from the violin. Both the vocal and the instrumental parts are very demanding and give an indication of the standard of the musicians with whom Bach could work in Weimar. The final movement of this cantata has not survived. The closing chorale from cantata BWV 164 is usually played in its place.
BWV

132

Title

Bereitet die Wege, bereitet die Bahn

Genre

cantatas

Year

1715

City

Weimar

Lyricist

Salomo Franck

Occasion

Fourth Sunday in Advent

First performance

22 December 1715
Extra videos
Soprano Julia Doyle
"It's strings and strings of semiquavers, with nowhere to breathe at all" - Julia Doyle on the opening aria of this cantata."
Conductor Alfredo Bernardini
"Conductor and oboist Alfredo Bernardini discusses the different pitches that were used in Bach's time."
Vocal texts
Original
1. Arie (Sopran)
Bereitet die Wege,
bereitet die Bahn!
Bereitet die Wege
und machet die Stege
im Glauben und Leben
dem Höchsten ganz eben,
Messias kömmt an!

2. Rezitativ (Tenor)
Willst du dich Gottes Kind
und Christi Bruder nennen,
so müssen Herz und Mund
den Heiland frei bekennen.
Ja, Mensch, dein ganzes Leben
muss von dem Glauben Zeugnis geben!
Soll Christi Wort und Lehre
auch durch dein Blut versiegelt sein,
so gib dich willig drein!
Denn dieses ist der Christen
Kron und Ehre.
Indes, mein Herz, bereite
noch heute
dem Herrn die Glaubensbahn
und räume weg die Hügel und die Höhen,
die ihm entgegen stehen!
Wälz ab die schweren Sündensteine,
nimm deinen Heiland an,
dass er mit dir im Glauben sich vereine!

3. Arie (Bass)
Wer bist du? Frage dein Gewissen,
da wirst du sonder Heuchelei,
ob du, o Mensch, falsch oder treu,
dein rechtes Urteil hören müssen.
Wer bist du?
Frage das Gesetze,
das wird dir sagen, wer du bist,
ein Kind des Zorns in Satans Netze,
ein falsch und heuchlerischer Christ.

4. Rezitativ (Alt)
Ich will, mein Gott, dir frei heraus bekennen,
ich habe dich bisher nicht recht bekannt.
Ob Mund und Lippen gleich dich Herrn und Vater nennen,
hat sich mein Herz doch von dir abgewandt.
Ich habe dich verleugnet mit dem Leben!
Wie kannst du mir ein gutes
Zeugnis geben?
Als, Jesu, mich dein Geist und Wasserbad
gereiniget von meiner Missetat,
hab ich dir zwar stets feste Treu versprochen;
Ach! aber ach! der Taufbund ist gebrochen.
Die Untreu reuet mich!
Ach Gott, erbarme dich,
ach hilf, dass ich mit unverwandter Treue
den Gnadenbund im Glauben stets erneue!

5. Arie (Alt)
Christi Glieder, ach bedenket,
was der Heiland euch geschenket
durch der Taufe reines Bad!
Bei der Blut- und Wasserquelle
werden eure Kleider helle,
die befleckt von Missetat.
Christus gab zum neuen Kleide
roten Purpur, weisse Seide,
diese sind der Christen Staat.

6. Choral
Ertödt uns durch deine Güte;
erweck uns durch deine Gnad;
den alten Menschen kränke,
dass der neu' leben mag
wohl hie auf dieser Erden,
den Sinn und all Begehrden
und G'danken habn zu dir.
Translation
1. Aria
Prepare the ways,
prepare the path!
Prepare the ways
and level the paths
of faith and life
for the Highest;
the Messiah draws nigh!

2. Recitative
If you will call yourself a child of God
and Christ's own brother,
you must freely acknowledge the Saviour
in your heart and mouth.
Yea, throughout your life
you must give testimony of your faith!
If Christ's own words and teaching
are to be sealed through your blood too,
then accept this gladly!
For this is the Christian's
crown and glory.
Meanwhile, my heart, prepare
even today
the way of faith to the Lord,
and remove the hills and the mountains
which stand in the way!
Roll back the heavy stones of sin,
receive your Saviour,
that He may be united with you in faith!

3. Aria
Who are you? Question your conscience,
you shall have to, without hypocrisy,
hear your impartial sentence,
whether you are false or true.
Who are you?
Consult the Commandments,
they will tell you who you are,
a child of wrath in Satan's clutches,
a false and hypocritical Christian.

4. Recitative
I shall, my God, confess to Thee openly,
I have till now not known Thee properly.
Although my mouth and lips
have called Thee Lord
and Father,
my heart has turned away from Thee.
I have denied Thee by my life!
How canst Thou speak well of me?
O Jesus, when Thy spirit and the water
cleansed me from my misdeeds,
I did in truth swear constant faith to Thee;
alas! but alas! baptism's bond has been broken.
I rue my faithlessness.
O God, be merciful!
Help me, that with steadfast fidelity
I may ever renew through faith the covenant of Grace!

5. Aria
Members of Christ, ah consider
what the Saviour has given you
through baptism's unsullied water!
Through the springs of blood and water
your clothes have been cleansed,
that had been stained by sin.
Christ gave you new clothes,
dressed you in crimson and white silk,
such is a Christian's finery.

6. Chorale
Mortify us through Thy goodness,
awaken us through Thy grace;
chasten in us the old man,
that the new may live
here upon this earth,
turning his mind and desires
and his thoughts to Thee.
Credits
Release date

19 December 2014

Recording date

8 June 2014

Location

Walloon Church, Amsterdam

Oboe and direction

Alfredo Bernardini

Soprano

Julia Doyle

Alto

Tim Mead

Tenor

Jan Kobow

Bass

Dominik Wörner

Violin 1

Shunske Sato

Violin 2

Cecilia Bernardini

Viola

Staas Swierstra

Cello

Lucia Swarts

Double bass

Robert Franenberg

Bassoon

Benny Aghassi

Harpsichord

Siebe Henstra

Church organ

Leo van Doeselaar

Concert production

Marco Meijdam, Imke Deters

Producer

Zoë de Wilde, Frank van der Weij

Film director

MaNOj Kamps, Onno van Ameijde, Jasper Verkaart

Director of photography

Sal Kroonenberg

Camera

Jorrit Garretsen, Joris Kerbosch, Sal Kroonenberg

Film editors

Jasper Verkaart, MaNOj Kamps, Frank van der Weij

Music recording producer

Leo de Klerk

Gaffer

Harm Bredero, Alban Riphagen

Music recording assistants

Jaap Firet, Pim van der Lee, Jaap van Stenis, Bobby Verbakel

Make up

Marloes Bovenlander, Jamila el Bouch

Camera assistant

Izak de Dreu

Music edit and mix

Leo de Klerk, Frank van der Weij

Music edit and mix asssistant

Martijn Snoeren

Colorist

Marlieke Kasten

Acknowledgements

Nienke Meuleman
Help us to complete All of Bach
There are still many recordings to be made before the whole of Bach's oeuvre is online. And we can't complete the task without the financial support of our patrons. Please help us to complete the musical heritage of Bach, by supporting us with a donation!