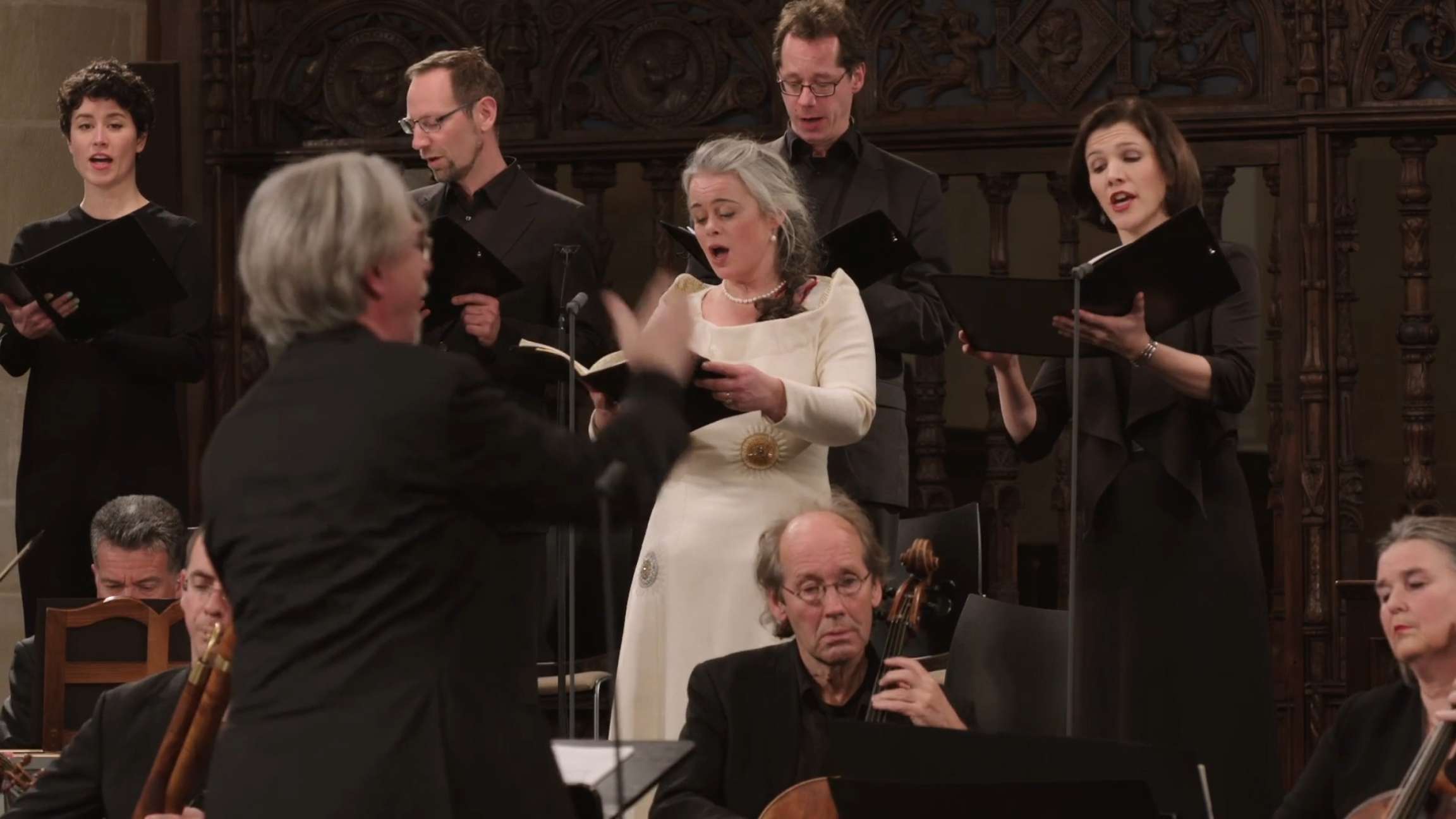 Gloria in excelsis Deo
BWV 191 performed by the Netherlands Bach Society
conducted by Jos van Veldhoven
Grote Kerk, Naarden
Menu
1. Gloria in excelsis Deo (Coro)
2. Gloria Patri et Filio (duetto)
3. Sicut erat in principio (Coro)
Story
Extra videos
Texts
Credits
Extremely flexible
Bach did not shy away from reusing his own notes, and did so in a variety of ways.
Leipzig was lucky. This festive gloria was actually part of a short mass that Bach presented as a gift to the Elector of Dresden. So the music was not intended for Leipzig and was not supposed to be performed there. A pity, and maybe Bach thought so too. We do not know precisely why and when he rewrote the gloria from the mass as a cantata. It is remarkable that Bach chose to use a Latin text for his Leipzig arrangement as well, as Latin church music was not common in Leipzig, even on Christmas day. But evidently an occasion presented itself, and Leipzig could thus enjoy Christmas music in regal style. The piece is written for five parts, as was usual in Dresden. The instrumentation is also regal – a variety of colours have been added to the orchestra: oboes, flutes and bassoon, as well as trumpets and timpani.
It is interesting to see how creatively Bach deals with his own composition here. The words and the music of the first movement are almost exactly the same as those of the mass. So it fits like a glove. The dancing angels' singing is heavenly, and we come peacefully down to earth in the 'Et in terra pax'.
In the duet for tenor and soprano, although he did copy his own notes, Bach set new words to them. Rather than the 'Domine Deus' that follows in the gloria of a mass, we hear 'Gloria Patri' – the beginning of the doxology; a formula with which psalms are rounded off. He scrapped the second part of the duet.
Bach had much more rigorous work to do in the third movement, replacing the original 'Cum Sancto Spiritu in gloria Dei Patris, amen' with 'Sicut erat in principio et nunc et semper et in secula seculorum, amen'. As this had too many syllables, Bach added an extra six bars of music. He also gave the flutes a much more independent part, as well as making other changes to the instrumentation.
Unintentionally, Bach thus gave a sort of demonstration of how flexibly he could deal with his own scores. He did not shy away from reusing his own notes. Sometimes this might have gained him time – as in the first movement here – but the third movement might even have cost him more energy in rewriting the existing music to fit the new words.
BWV

191

Title

Gloria in Excelsis Deo

Genre

Latin church music

Year

ca. 1743-46

City

Leipzig

Lyricist

Luke 2:14 and short doxology

Occasion

Christmas day

First performance

unknown, possibly on 25 December 1745

Special notes

The music of all three movements originates from the Kyrie and Gloria in B minor, BWV 232a, which Bach was later to expand to a complete Mass in B minor, the 'Hohe Messe'. This composition may have been prompted by the peace treaty between Saxony and Prussia, which was celebrated on Christmas day 1745 by a special service in St Paul's Church at the university.
Extra videos
Vocal texts
Original
1. Coro
Gloria in excelsis Deo,
et in terra pax hominibus bonae voluntatis.

Post orationem

2. Duetto (Soprano, Tenore)
Gloria Patri et Filio
et Spiritui sancto.

3. Coro
Sicut erat in principio
et nunc et semper
et in saecula saeculorum, amen



Translation
1. Choir
Glory to God in the highest,
and peace on earth to men of good will.

After the sermon

2. Duet
Glory to the Father and the Son
and the Holy Spirit.

3. Choir
As it was in the beginning
and now and always
and in the age of ages, amen.



Credits
Release date

9 December 2016

Recording date

17 December 2015

Location

Grote Kerk, Naarden

Conductor

Jos van Veldhoven

Soprano i

Maria Keohane

Soprano ii

Michaela Riener

Alto

Alex Potter

Tenor

Charles Daniels

Bass

Matthias Winckhler

Ripieno soprano i

Lucie Chartin, Marijke van der Harst

Ripieno soprano ii

Marie Heeschen

Ripieno alto

Elsbeth Gerritsen

Ripieno tenor

Yves van Handenhove, Immo Schröder

Ripieno bas

Michiel Meijer, Jelle Draijer

Violin 1

Shunske Sato, Annelies van der Vegt, Anneke van Haaften, Lidewij van der Voort

Violin 2

Sayuri Yamagata, Anneke van Haaften, Paulien Kostense

Viola

Staas Swierstra, Jan Willem Vis

Cello

Lucia Swarts, Richte van der Meer

Violone

Robert Franenberg

Traverso 1

Frank Theuns

Traverso 2

Doretthe Janssens

Oboe 1

Martin Stadler

Oboe 2

Peter Frankenberg

Trumpet 1

Robert Vanryne

Trumpet 2

Stephen Keavy

Trumpet 3

Mark Geelen

Timpani

Luuk Nagtegaal

Harpsichord

Siebe Henstra

Organ

Pieter-Jan Belder

Director

Joost Honselaar

Assistant director

Ferenc Soeteman

Music recording

Guido Tichelman, Bastiaan Kuijt, Micha de Kanter

Music edit and mix

Guido Tichelman

Camera

Jochem Timmerman, Rene Holbrugge, Martin Struif, Chris Reichgelt

Lights

Zen Bloot

Lighting assistant

Patrick Galvin

Video engineer

Justin Mus

Set technique

Glenn van den Eerden

Datahandling

Charlotte Storm

Projectmanager NEP

Peter Ribbens

Producer

Marco Meijdam, Imke Deters
Help us to complete All of Bach
There are still many recordings to be made before the whole of Bach's oeuvre is online. And we can't complete the task without the financial support of our patrons. Please help us to complete the musical heritage of Bach, by supporting us with a donation!