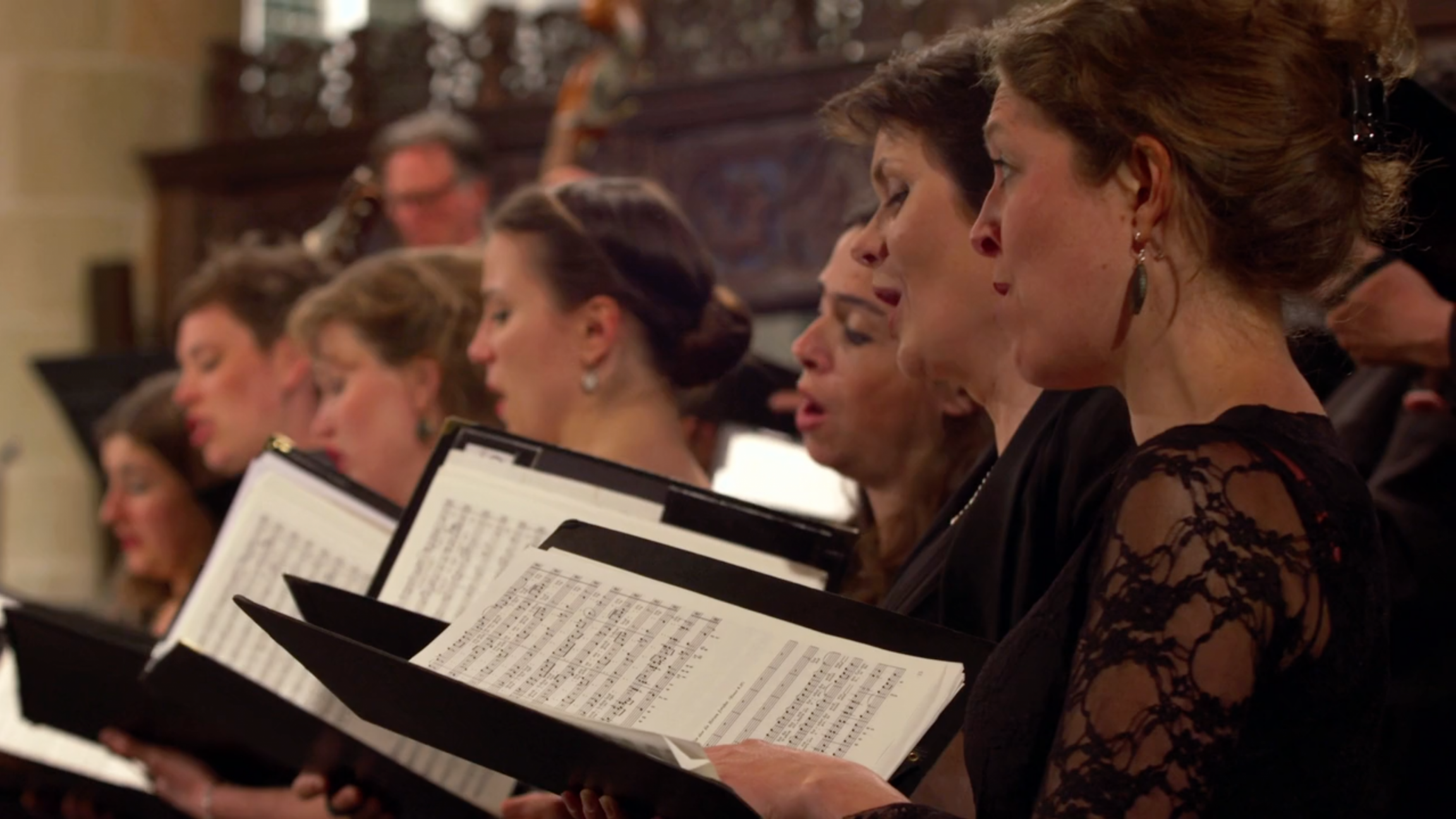 Der Geist hilft unsrer Schwachheit auf
BWV 226 performed by the Netherlands Bach Society
conducted by Stephan MacLeod
Grote Kerk, Naarden
Story
Extra videos
Texts
Credits
Whitsun fire by the graveside
Bach's original manuscript gives answers… and raises new questions.
If we did not know the precise circumstances of this motet, you might easily think that Bach wrote it for a cheerful Whitsun service. It is hard to sit still during the light-hearted passepied rhythm and the jubilant exclamations of 'Der Geist hilft!'. In addition, there are the decorative strings of notes with which the Holy Ghost traditionally makes his appearance and a comforting verse from Luther's Whitsun chorale Komm, heiliger Geist. But it was not a festive occasion that prompted Bach to spring into action. On the contrary, Der Geist hilft unser Schwachheit auf was composed for a solemn memorial service and was probably carefully prepared in collaboration with the dying man himself, the Thomasschule headmaster Johann Heinrich Ernesti (1652-1729).
It is exceptional that we still have nearly all the originals: both Bach's working score and the vocal and instrumental parts that were written out at home with the help of Anna Magdalena and Carl Philipp Emanuel, among others. These sources give us a glimpse of Bach's working process, such as the difference between composing and writing out a 'neat' copy. But did he reuse older music – for example, a soprano duet for the opening section? Was the chorale maybe heard (in the parts rather than in the score) not at the same time as the other parts? Did Ernesti die sooner than expected, thus turning it into a rush job? It would be a wonder if Bach had managed to get such a complex work on paper and rehearsed for a high society event like this in just a few days. The history of its creation remains guesswork.
The meaning of this motet, however, is crystal clear. The words place the emphasis on supplication and prayer, and on God's comfort and intercession, thus corresponding closely to the funeral oration, which spoke of the help of the Holy Ghost in our final hours, hoping for eternal life. Bach accentuated all sorts of nice details: sharp dissonants as two voices cross over on 'Schwachheit', big leaps on 'hilft auf', sighing motifs on 'unaussprechlichem Seufzen', or the spirited double fugue, with separate themes for 'Der aber die Herze forschet' (strictly in the old style) and 'denn er vertritt die Heiligen' (lighter and more Baroque). The chorale, to a melody from before the Reformation, then resolves all the tension, with the gaze turned confidently towards heaven.
Motets, BWV 225-231, 118 and Anh159
Cantatas were Bach's daily bread and a regular part of his weekly tasks as Cantor of St Thomas's. His motets were a different case entirely. Apart from the cantata, hardly any new music was played in Leipzig (music was selected instead from the motet collection Florilegium Portense). This gave Bach scope for writing commissioned works for private occasions, often funerals. Unfortunately, probably dozens of these works have been lost. The pieces that did survive have stayed on the repertoire since their composition, unlike Bach's other vocal works.
The surviving authentic motets – nine works, although research continues – build on a genre with an impressive pedigree. Against the background of strict Renaissance polyphony, the generation of Schütz (1585-1672) borrowed elements from the opulent, polychoral works of Giovanni Gabrieli and gave them a Central-German, Lutheran twist. In Bach's case, too, the content focused on chorales and biblical passages, whereby worldly madrigalism (or put simply: portraying the words) served only to reinforce the expression of the religious genre.
BWV

226

Title

Der Geist hilft unsrer Schwachheit auf

Genre

motets

Year

1729

City

Leipzig

Lyricist

Romans 8:26-27 and chorale by Martin Luther (1525)

Occasion

funeral of the headmaster of Thomasschule: Johann Heinrich Ernesti

First performance

20 October 1729
Extra videos
Vocal texts
Original
Der Geist hilft unser Schwachheit auf,
denn wir wissen nicht,
was wir beten sollen,
wie sich's gebühret;
sondern der Geist selfst vertritt
uns aufs beste
mit unaussprechlichem Seufzen.
Der aber die Herzen forschet,
der weiss, was des Geistes
Sinn sei;
denn er vertritt die Heiligen,
nach dem das Gott gefället.

Du heilige Brunst, süsser Trost,
nun hilf uns, fröhlich und getrost
in deine Dienst beständig bleiben,
die Trübsal uns nicht abtreiben.
O Herr, durch dein Kraft uns bereit
und stärk des Fleishces Blödigkeit,
dass wir hie ritterlich ringen,
durch Tod und Leben zu dir dringen.
Halleluia!


Translation
The Spirit helpeth our infirmities,
for we know not
what we should pray for
as we ought:
but the Spirit itself maketh
intercession for us
with groanings which
cannot be uttered.
And he that searcheth the hearts
knoweth what is the mind of the Spirit,
because he maketh intercession for the
saints according to the will of God.

O heavenly ardour, sweet comfort,
help us now with joy and confidence
to remain steadfast in thy service,
and not to be deflected by affliction.
O Lord, prepare us by Thy might
and strengthen the feeble flesh
that we may strive valiantly here
to attain to Thee through death and life.
Alleluja!


Credits
Release date

26 May 2017

Recording date

14 May 2016

Location

Grote Kerk, Naarden

Conductor

Stephan MacLeod

Soprano

Orlanda Velez Isidro, Klaartje van Veldhoven, Griet de Geyter, Aleksandra Lewandowska, Marjon Strijk, Hilde van Ruymbeke, Stephanie Pfeffer, Marta Paklar

Alto

Barabás Hegyi, Gemma Jansen, Elena Pozhidaeva, Bernadett Nagy, Marine Fribourg, Victoria Cassano McDonald

Tenor

Adriaan de Koster, Wolfgang Frisch, Guy Cutting, Diederik Rooker, Immo Schröder, Ronald Threels

Bass

Matthew Baker, Sebastian Myrus, Pierre-Guy Le Gall White, Martijn de Graaf Bierbrauwer, Michiel Meijer, Jelle Draijer

Violin

Shunske Sato, Sayuri Yamagata

Viola

Staas Swierstra

Cello

Lucia Swarts

Double bass

Robert Franenberg

Oboe

Martin Stadler, Peter Frankenberg

Alto oboe

Yongcheon Shin

Bassoon

Benny Aghassi

Organ

Pieter-Jan Belder

Harpsichord

Siebe Henstra

Director

Simon Aarden

Assistant director

Ferenc Soetman

Geluid

Guido Tichelman, Bastiaan Kuijt, Micha de Kanter

Gaffer

Zen Bloot, Patrick Galvin

Camera

Bart ten Harkel, Merijn Vrieling, Merlijn Dielemans, Chris Reichgelt, Martijn Struijf

Project manager

Peter Ribbens

Technics

Marco Korzelius, Niels Cnossen

Datamanagement

Jesper Blok

Producer

Marco Meijdam
Help us to complete All of Bach
There are still many recordings to be made before the whole of Bach's oeuvre is online. And we can't complete the task without the financial support of our patrons. Please help us to complete the musical heritage of Bach, by supporting us with a donation!