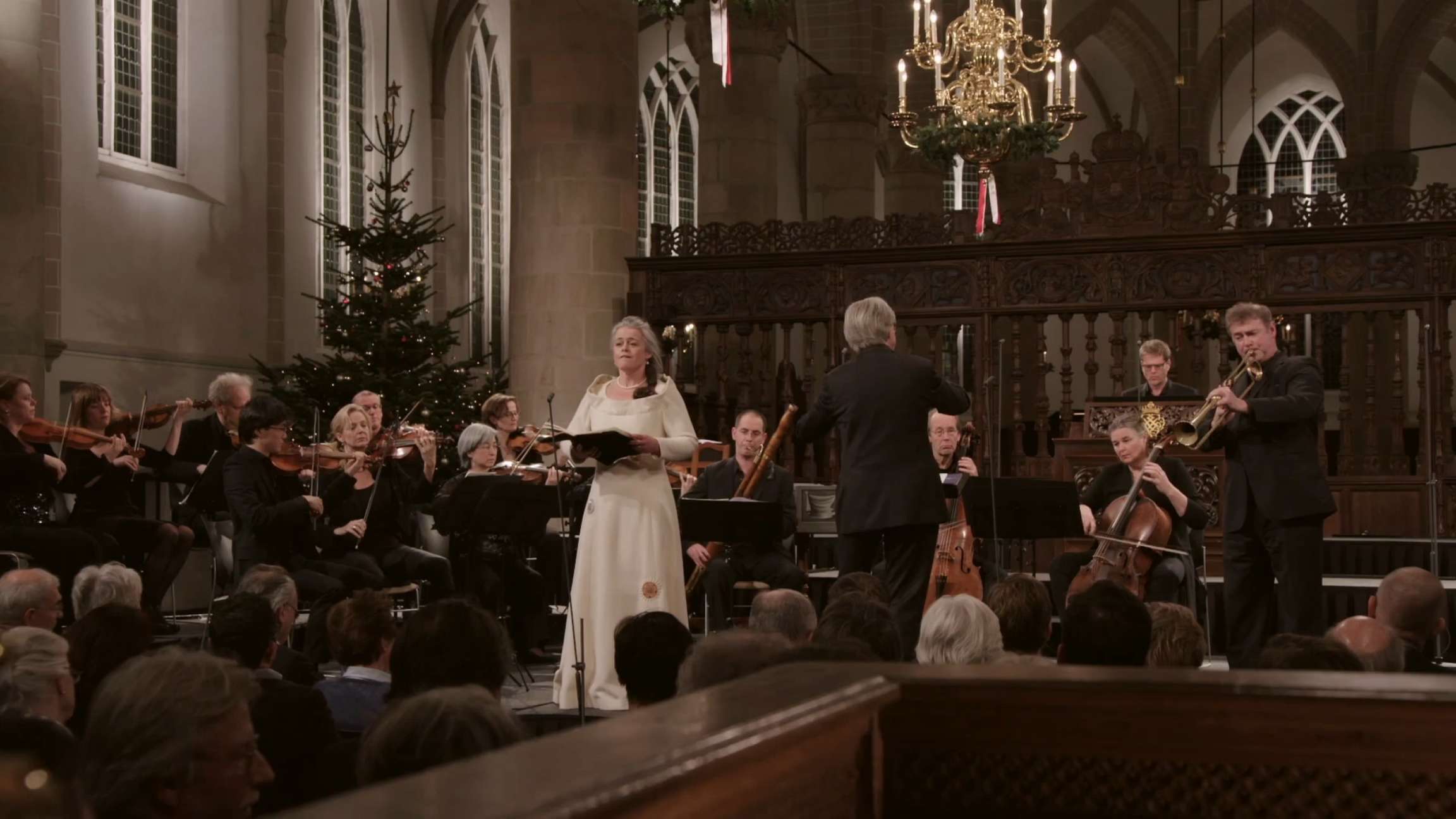 Jauchzet Gott in allen Landen
BWV 51 performed by the Netherlands Bach Society
conducted by Jos van Veldhoven
Grote Kerk, Naarden
Menu
1. Jauchzet Gott in allen Landen! (Aria)
2. Wir beten zu dem Tempel an (Recitative)
3. Höchster, mache deine Güte (Aria)
4. Sei Lob und Preis mit Ehren (Chorale)
5. Alleluja! (Aria)
Story
Extra videos
Texts
Credits
Everything is wonderful
This music is brimming with optimism.
The trumpet comes straight to the point, creating the ecstatic mood of this cantata, which revolves around jubilation and gratitude. Bach probably composed this music for the fifteenth Sunday after Trinity, but later wrote on the score that the piece could also be used on other Sundays. The text paraphrases excerpts from various books of the New and Old Testament. In his arrangement, Bach emphasises the jubilant mood right from the start, with the rapidly repeated notes and the way in which he illustrates the word 'jauchzet'. We then keep hearing a sort of rotating music, derived from the rhetorical figure 'circulatio'. The trumpet plays a prominent role in both the opening aria and the closing 'Alleluia'.
The expression of the words about 'lallen' (chatter) in the second movement is very effective, as is the final rich Italianate string accompaniment in the chorale 'Sei Lob und Preis mit Ehren'. There is doubt as to whether there was a boy soprano in Leipzig who could manage the high notes and demanding solo passage in this cantata. This is partly why musicologist Klaus Hofmann assumes that Bach composed this festive, virtuoso cantata around 1730 for the Weissenfels court, to the south-west of Leipzig, where he held an unpaid but prestigious position as honorary Kapellmeister. Another possibility is that he wrote this work for one of the Italian opera singers who settled in Dresden that year.
BWV

51

Title

Jauchzet Gott in allen Landen

Instrument

Soprano

Genre

cantatas

Year

1730

City

Leipzig

Lyricist

unknown

Occasion

fifteenth Sunday after Trinity and general use

First performance

probably 17 September 1730
Extra videos
Vocal texts
Original
1. Aria
Jauchzet Gott in allen Landen!
Was der Himmel und die Welt
an Geschöpfen in sich hält,
müssen dessen Ruhm erhöhen,
und wir wollen unserm Gott
gleichfalls itzt ein Opfer bringen,
dass er uns in Kreuz und Not
allezeit hat beigestanden.

2. Rezitativ
Wir beten zu dem Tempel an,
da Gottes Ehre wohnet,
da dessen Treu,
so täglich neu,
mit lauter Segen lohnet.

Wir preisen, was er an uns hat getan.

Muss gleich der schwache Mund
von seinen Wundern lallen,
so kann ein schlechtes Lob
ihm dennoch wohlgefallen.

3. Arie
Höchster, mache deine Güte
ferner alle Morgen neu.
So soll vor die Vatertreu
auch ein dankbares Gemüte
durch ein frommes Leben weisen,
dass wir deine Kinder heißen.

4. Choral
Sei Lob und Preis mit Ehren
Gott Vater, Sohn, Heiligem Geist!
Der woll' in uns vermehren,
was er uns aus Gnaden verheißt,
dass wir ihm fest vertrauen,
gänzlich uns lass'n auf ihn,
von Herzen auf ihn bauen,
dass uns'r Herz, Mut und Sinn
ihm festiglich anhangen;
drauf singen wir zur Stund:
Amen, wir werden's erlangen,
glaub'n wir aus
Herzensgrund.

5. Arie
Alleluia!
Translation
1. Aria
Rejoice unto God in all lands!
Every creature
in heaven and the world
must exalt His fame,
and we would likewise bring
our God an offering now,
for that He has always stood beside us
in affliction and distress.

2. Recitative
We worship in the temple,
where God's own glory dwells,
since His faith,
which is new every morning,
rewards with pure blessings.

We praise Him for what He hath done us.

Though our feeble voices
babble about His wonders,
a modest praise can nonetheless
still please Him.

3. Aria
Highest One, renew Thy goodness
each morning again.
Thus for Thy father's love
shall a grateful soul
show through a righteous life
that we are called Thy children.

4. Chorale
Laud and praise with honour
God the Father, Son and Holy Ghost!
May He increase in us
what He pledges us in mercy:
that we may firmly trust in Him,
wholly depend on Him
and rely on Him with our hearts,
that our heart, mind and will
steadfastly cling to Him;
to this now let us sing:
Amen, we shall achieve it,
if we believe with all our heart.


5. Aria
Alleluia!


Credits
Release date

5 May 2017

Recording date

17 December 2015

Location

Grote Kerk, Naarden

Conductor

Jos van Veldhoven

Soprano

Maria Keohane

Trumpet

Robert Vanryne

Violin 1

Shunske Sato, Annelies van der Vegt, Anneke van Haaften, Lidewij van der Voort

Violin 2

Sayuri Yamagata, Pieter Affourtit, Paulien Kostense

Viola

Staas Swierstra, Jan Willem Vis

Cello

Lucia Swarts, Richte van der Meer

Double bass

Robert Franenberg

Organ

Pieter-Jan Belder

Harpsichord

Siebe Henstra

Director

Joost Honselaar

Assistant director

Ferenc Soetman

Music recording

Guido Tichelman, Bastiaan Kuijt, Micha de Kanter

Music edit and mix

Guido Tichelman

Camera

Jochem Timmerman, Rene Holbrugge, Martin Struif, Chris Reichgelt

Lights

Zen Bloot

Lighting assistant

Patrick Galvin

Video engineer

Justin Mutsaers

Settechniek

Glenn van den Eerden

Data handling

Charlotte Storm

Project manager nep

Peter Ribbens

Interview

Onno van Ameijde

Producer concert

Marco Meijdam

Producer film

Jessie Verbrugh, Imke Deters

Acknowledgements

Angela Mast
Help us to complete All of Bach
There are still many recordings to be made before the whole of Bach's oeuvre is online. And we can't complete the task without the financial support of our patrons. Please help us to complete the musical heritage of Bach, by supporting us with a donation!