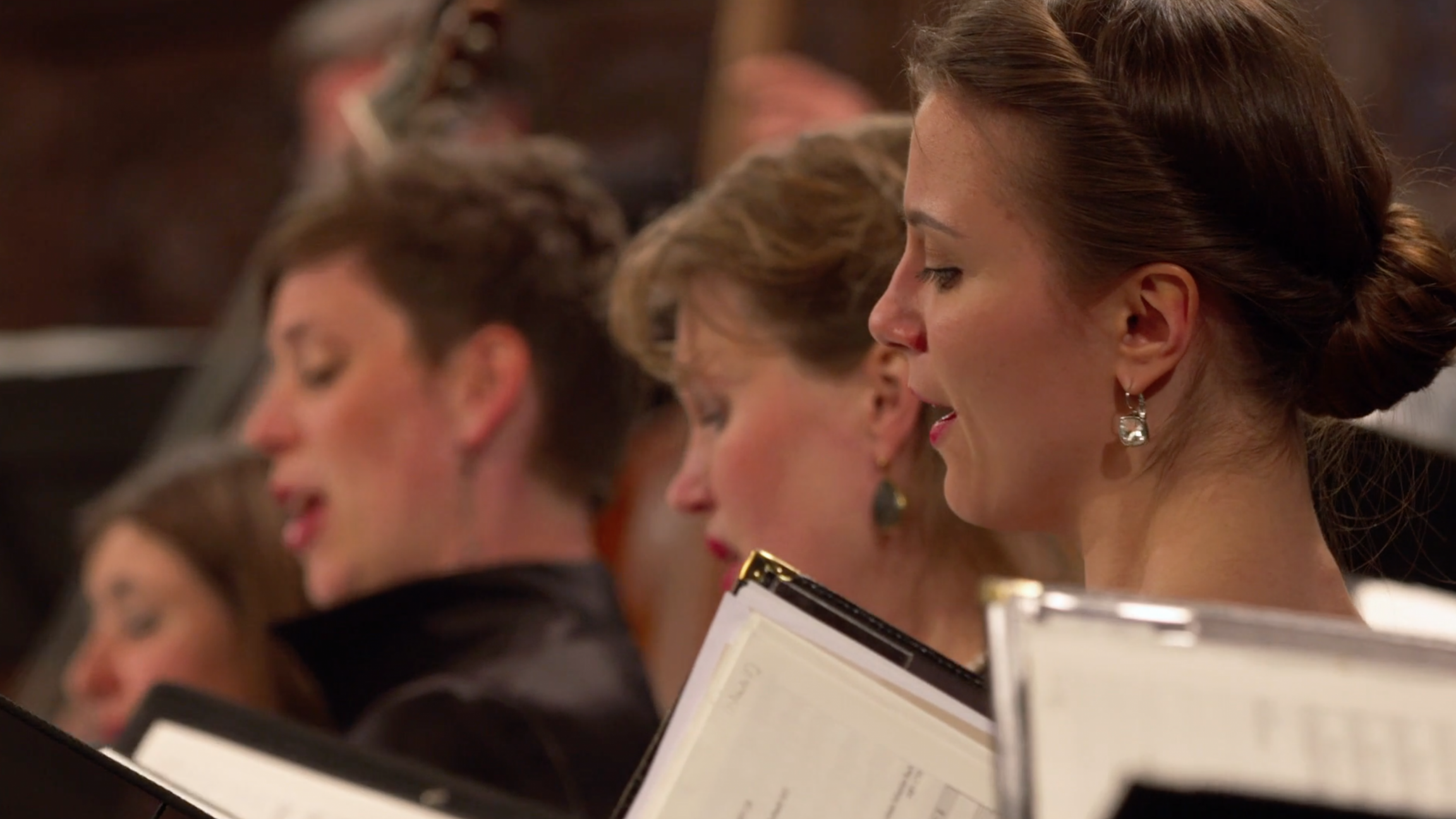 Komm, Jesu, komm
BWV 229 performed by the Netherlands Bach Society
conducted by Stephan MacLeod
Grote Kerk, Naarden
Story
Extra videos
Texts
Credits
The rough and the straight path
Bach looks to the hereafter with great confidence.
In his very readworthy book Johann Sebastian Bach – Die Motetten, Klaus Hofmann states that singers from Leipzig knew this motet for centuries as 'Der saure Weg', after the most difficult phrase in the piece. The path to the source is a straighter one, as although we still do not know precisely for whom Bach wrote this piece, it is anyway clear that he composed it himself. Moreover, we can presume that it is a funeral or memorial motet that was created in Leipzig. One important clue for this is the text, which was written by Paul Thymich in 1684 for the funeral of the headmaster of Thomasschule at the time. Bach took the first and last strophe from the 1697 Wagnerschen Liederbuch. Each verse ends with a reference to Jesus as the 'straight path', as in the book of John. The 'own melody' referred to in the book has not survived.
With no chorale as a basis, Bach was free to hark back to a classic motet model, by giving each element of meaning its own small part. The first strophe is thus divided into six contrasting sections. 'Der saure Weg' with its difficult steps and leaps is one of them, and the aptly expressed 'Kraft' that 'verschwindt' is another. You sense the hopeful desire for death already in the opening bars and in 'Ich sehne mich'. The cheerful transition from earth to heaven comes to life in the second 'Komm, komm' of the text ('ich will mich dir ergeben'). 'Du bist der rechte Weg' concludes the first verse with a rocking jubilant song for the two choirs.
For the second verse, Bach 'restricted' himself to an ingenious aria, in which both choirs unite. But the deceptively simple façade of a four-part chorale conceals a refined tapestry of sounds. Big leaps, difficult runs and exciting harmonies elevate this piece way beyond a simple congregational hymn, and the gentle melody exudes too much 'Bach' to be an existing chorale. Finally, there is another moving elaboration on the 'straight path' paraphrase, in an expression of deep trust in death and a place in heaven.
Motets, BWV 225-231, 118 and Anh159
Cantatas were Bach's daily bread and a regular part of his weekly tasks as Cantor of St Thomas's. His motets were a different case entirely. Apart from the cantata, hardly any new music was played in Leipzig (music was selected instead from the motet collection Florilegium Portense). This gave Bach scope for writing commissioned works for private occasions, often funerals. Unfortunately, probably dozens of these works have been lost. The pieces that did survive have stayed on the repertoire since their composition, unlike Bach's other vocal works.
The surviving authentic motets – nine works, although research continues – build on a genre with an impressive pedigree. Against the background of strict Renaissance polyphony, the generation of Schütz (1585-1672) borrowed elements from the opulent, polychoral works of Giovanni Gabrieli and gave them a Central-German, Lutheran twist. In Bach's case, too, the content focused on chorales and biblical passages, whereby worldly madrigalism (or put simply: portraying the words) served only to reinforce the expression of the religious genre.
BWV

229

Title

Komm, Jesu, komm, mein Leib ist müde

Genre

motets

Year

1723-1732

City

Leipzig

Lyricist

First and last strophe of a song by Paul Thymich
Extra videos
Vocal texts
Original
Komm, Jesu, komm,
mein Leib ist müde.
Die Kraft verschwindt je mehr und mehr,
ich sehne mich
nach deinem Friede;
der saure Weg wird mir zu schwer!
Komm, ich will
mich dir ergeben;
du bist der rechte Weg,
die Wahrheit und das Leben.

Drum schliess ich mich in deine Hände
und sage, Welt, zu guter Nacht!
Eilt gleich mein Lebenslauf zu
Ende,
ist doch der Geist wohl angebracht.
Er soll bei seinem Schöpfer schweben,
weil Jesus ist und bleibt
der wahre Weg zum Leben.


Translation
Come, Jesus, come,
my body is weary,
my strength deserts me more and more,
I yearn
for thy peace;
life's bitter path is too much for me!
Come, come, I will
surrender myself to thee,
thou art the right Way,
the Truth and the Life.

And so I place myself in thy hands
and bid thee, world, farewell!
Though the sands of my life
are running out,
the spirit is ready.
It shall hover before its maker,
for Jesus is and remains
the true way to life.


Credits
Release date

20 June 2017

Recording date

14 May 2016

Location

Grote Kerk, Naarden

Conductor

Stephan MacLeod

Soprano

Orlanda Velez Isidro, Klaartje van Veldhoven, Griet de Geyter, Aleksandra Lewandowska, Marjon Strijk, Hilde van Ruymbeke, Stephanie Pfeffer, Marta Paklar

Alto

Barabás Hegyi, Gemma Jansen, Elena Pozhidaeva, Bernadett Nagy, Marine Fribourg, Victoria Cassano McDonald

Tenor

Adriaan de Koster, Wolfgang Frisch, Guy Cutting, Diederik Rooker, Immo Schröder, Ronald Threels

Bass

Matthew Baker, Sebastian Myrus, Pierre-Guy Le Gall White, Martijn de Graaf Bierbrauwer, Michiel Meijer, Jelle Draijer

Cello

Lucia Swarts

Violone

Robert Franenberg

Bassoon

Benny Aghassi

Organ

Pieter-Jan Belder

Harpsichord

Siebe Henstra

Theorbo

Fred Jacobs

Director

Simon Aarden

Assistant director

Ferenc Soetman

Music recording

Guido Tichelman, Bastiaan Kuijt, Micha de Kanter

Music edit and mix

Guido Tichelman

Camera

Bart ten Harkel, Merijn Vrieling, Merlijn Dielemans, Chris Reichgelt, Martijn Struijf

Gaffer

Zen Bloot, Patrick Galvin

Video engineer

Niels Cnossen

Set technique

Marco Korzelius

Data handling

Jesper Blok

Project manager nep

Peter Ribbens

Producer

Marco Meijdam

Interview

Beitske de Jong, Gijs Besseling
Help us to complete All of Bach
There are still many recordings to be made before the whole of Bach's oeuvre is online. And we can't complete the task without the financial support of our patrons. Please help us to complete the musical heritage of Bach, by supporting us with a donation!