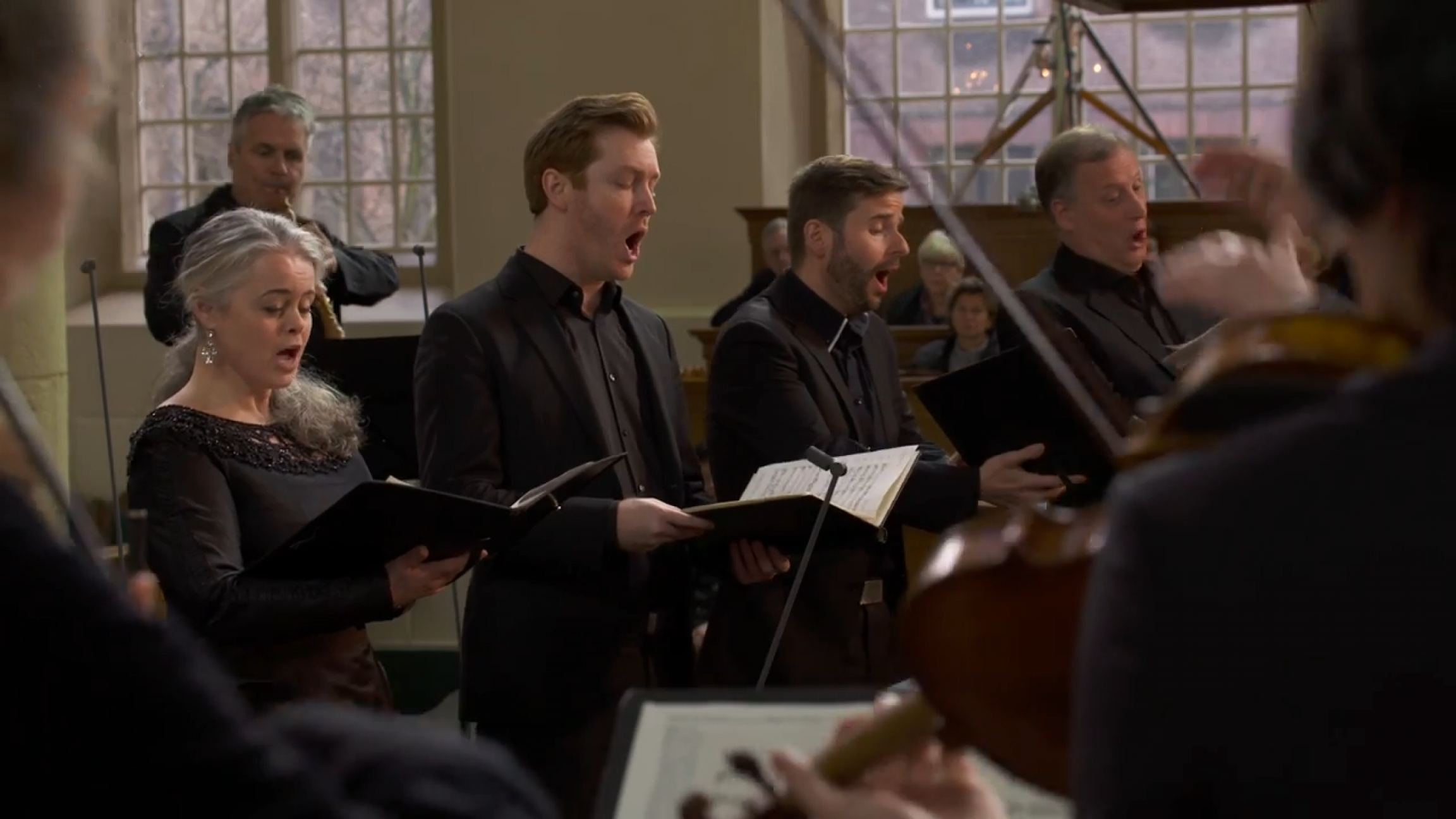 Sanctus in D major
BWV 238 performed by the Netherlands Bach Society
conducted by Jos van Veldhoven
Walloon Church, Amsterdam
Story
Extra videos
Texts
Credits
Multilingual
Contrary to popular belief, Luther argued for multilingualism in the church.
"I am not at all in sympathy with those who cling to one language and despise all others", wrote Martin Luther in the introduction to his Deutsche Messe, and "for in no way do I want to banish the Latin tongue entirely from the Service". Although German usually springs to mind when we think of Bach and Luther, in reality things were more multilingual. Particularly in university cities like Leipzig, Latin remained important in the church. The hymn book by Gottfried Vopelius that was used in Leipzig is full of Latin texts. It contains three versions of the Sanctus: two Gregorian melodies and a six-part setting for major feast days.
Bach himself also had a series of festive Sanctus settings for such occasions; partly his own compositions and partly those of others. The unusual thing about the Sanctus, BWV 238, is that there are only two independent instrumental parts: the bass part and the first violins. The other instruments double the four-part choir. So the whole work is six-part, just like Vopelius' Sanctus. This is probably due to the biblical source of the Sanctus, as the book of Isaiah tells of seraphim with 'six wings' who sing the Sanctus to one another.
Besides Latin and German, Luther would have liked even more variation: "if the Greek and Hebrew tongues were as familiar to us as Latin, […] we should hold mass on successive Sundays in all four languages, German, Latin, Greek and Hebrew.". The Sanctus itself takes the initiative, beginning with the words "Sanctus dominus Deus sabaoth...". The last word (meaning "army" or large group") comes via the Greek Σαβαώθ from the Hebrew צבאות. Luther himself left it at Zebaoth. The more multilingual, the better, he may have thought.
BWV

238

Title

Sanctus (in D major)

Genre

Latin church music

Year

1723

City

Leipzig

Lyricist

Mass text

Occasion

Christmas 1723

First performance

25 December 1723

Special notes

probably performed during Bach's first Christmas in Leipzig during the morning service, along with cantata BWV 63
Extra videos
Vocal texts
Original
Sanctus Dominus
Deus Sabaoth.
Pleni sunt coeli et terra
gloria eius.
Translation
Holy Lord,
God of hosts.
Heaven and earth
are full of your glory.


Credits
Release date

30 November 2018

Recording date

11 February 2018

Location

Walloon Church, Amsterdam

Conductor

Jos van Veldhoven

Soprano

Maria Keohane

Alto

Tim Mead

Tenor

Daniel Johannsen

Bass

Matthew Brook

Ripieno soprano

Hilde Van Ruymbeke, Marjon Strijk

Ripieno alto

Barnabás Hegyi, Marleene Goldstein

Ripieno tenor

Kevin Skelton, Guy Cutting

Ripieno bas

Drew Santini, Matthew Baker

Violin 1

Shunske Sato, Anneke van Haaften, Pieter Affourtit

Violin 2

Sayuri Yamagata, Lidewij van der Voort, Paulien Kostense

Viola

Staas Swierstra, Jan Willem Vis

Cello

Richte van der Meer, Lucia Swarts

Double bass

Robert Franenberg

Oboe

Martin Stadler

Bassoon

Benny Aghassi

Organ

Leo van Doeselaar

Harpsichord

Siebe Henstra

Director and editor

Bas Wielenga

Music recording

Guido Tichelman, Bastiaan Kuijt, Pim van der Lee

Music recording, edit and mix

Guido Tichelman

Camera

Merijn Vrieling, Ivo Palmen, Martin Struijf, Bjorn Tiebout

Director of photography

Merijn Vrieling

Lights

Zen Bloot, Henry Rodgers, Patrick Galvin

Assistant director

Ferenc Soeteman

Video engineer

Vincent Nugteren

Set technique

Dennis van Hoek

Data handling

Jesper Blok

Project manager nep

Peter Ribbens

Interview

Onno van Ameijde, Marloes Biermans

Producer concert

Imke Deters

Producer film

Jessie Verbrugh
Help us to complete All of Bach
There are still many recordings to be made before the whole of Bach's oeuvre is online. And we can't complete the task without the financial support of our patrons. Please help us to complete the musical heritage of Bach, by supporting us with a donation!