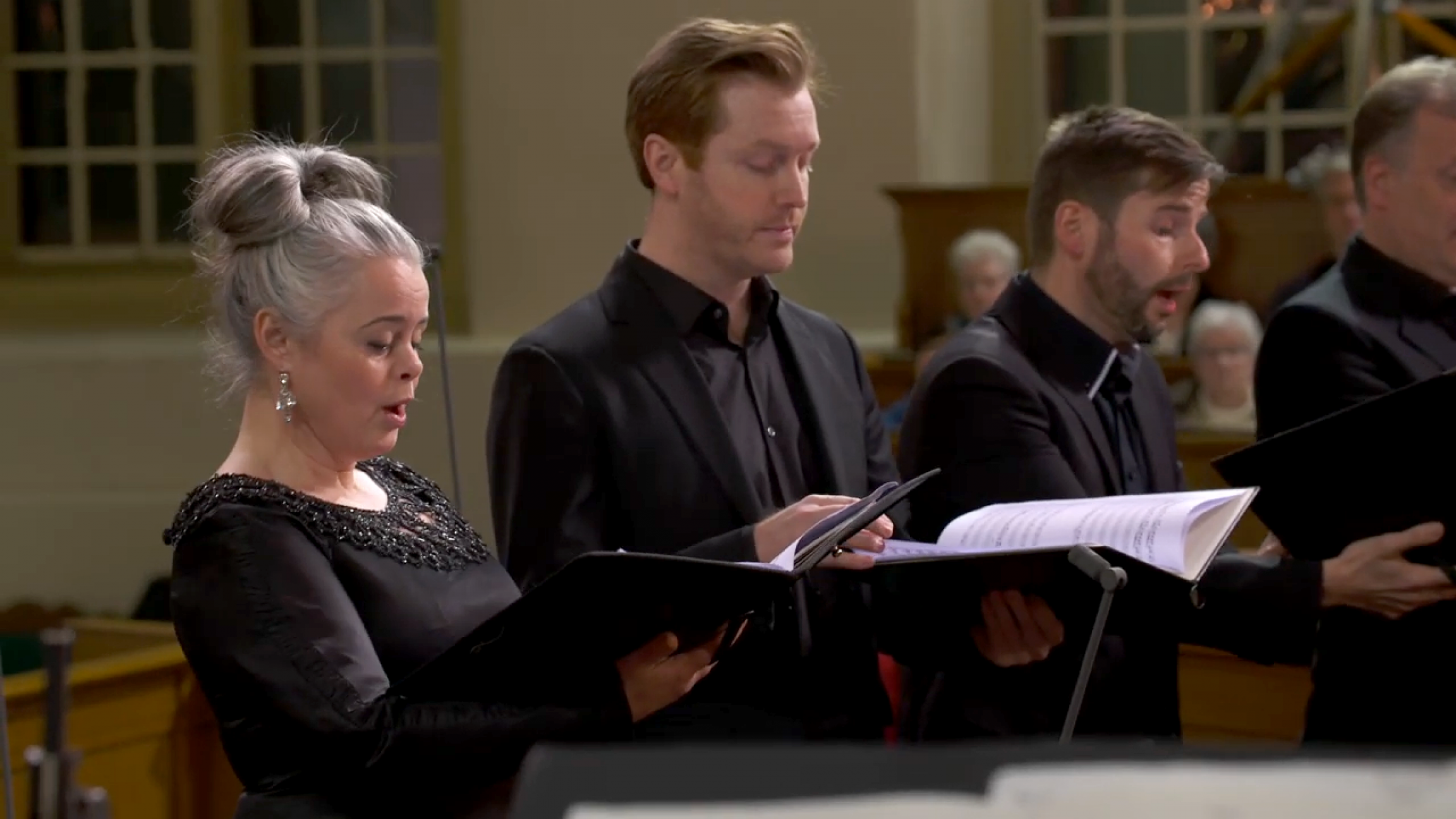 Kyrie, Christe, Kyrie
BWV 242 performed by the Netherlands Bach Society
conducted by Jos van Veldhoven
Walloon Church, Amsterdam
Menu
1. Kyrie eleison
2. Christe eleison
3. Kyrie eleison
Story
Extra videos
Texts
Credits
A snippet of Bach
Bach replaced the middle section by Durante with a new duet.
In Leipzig, Bach not only performed his own music, but also conducted and performed many works by other composers. Sometimes he gave them a personal twist, like in this Kyrie. The Kyrie, a three-part prayer for mercy that calls on God, Jesus and God in turn, was also sung or recited in the Lutheran service in Leipzig on feast days. This setting by Francesco Durante, which comes from a complete Mass, was probably copied by Bach in the second half of 1727. In copying it, he decided to replace the middle section of Durante's composition with his own notes, composing a new duet to the words Christe eleison (Christ have mercy). He then used the beginning of Durante's Gloria for the second Kyrie.
We can only guess at Bach's reason for intervening in Durante's music. Maybe he found Durante's structure too cheerful or too monotonous – the Christe was also four-part with string accompaniment – and he aimed to lend some contrast by adding the duet, as conductor Jos van Veldhoven suggests in the accompanying interview.
BWV

242

Title

Christe eleison in G minor

Genre

Latin church music

Year

ca. 1727-1731

City

Leipzig

Text

Mass text

Special notes

Insert in a Kyrie by Johann Ludwig Bach/Franceso Durante
Vocal texts
Original
Kyrie eleison.
Christe eleison.
Kyrie eleison.
Translation
Lord have mercy.
Christ have mercy.
Lord have mercy.
Credits
Release date

2 April 2020

Recording date

10 February 2018

Location

Walloon Church, Amsterdam

Conductor

Jos van Veldhoven

Soprano

Maria Keohane

Alto

Tim Mead

Tenor

Daniel Johannsen

Bass

Matthew Brook

Ripieno soprano

Hilde Van Ruymbeke, Marjon Strijk

Ripieno alto

Barnabás Hegyi, Marleene Goldstein

Ripieno tenor

Kevin Skelton, Guy Cutting

Ripieno bass

Drew Santini, Matthew Baker

Violin 1

Shunske Sato, Anneke van Haaften, Pieter Affourtit

Violin 2

Sayuri Yamagata, Lidewij van der Voort, Paulien Kostense

Viola

Staas Swierstra, Jan Willem Vis

Cello

Lucia Swarts, Richte van der Meer

Double bass

Robert Franenberg

Bassoon

Benny Aghassi

Organ

Leo van Doeselaar

Harpsichord

Siebe Henstra

Director and editor

Bas Wielenga

Music recording

Guido Tichelman, Bastiaan Kuijt, Pim van der Lee

Music edit and mix

Guido Tichelman

Camera

Merijn Vrieling, Ivo Palmen, Martin Struijf, Bjorn Tiebout

Lights

Zen Bloot, Henry Rodgers, Patrick Galvin

Assistant director

Ferenc Soeteman

Video engineer

Vincent Nugteren

Set technique

Dennis van Hoek

Data handling

Jesper Blok

Project manager nep

Peter Ribbens

Interview

Onno van Ameijde, Marloes Biermans

Producer concert

Imke Deters

Producer film

Jessie Verbrugh
Help us to complete All of Bach
There are still many recordings to be made before the whole of Bach's oeuvre is online. And we can't complete the task without the financial support of our patrons. Please help us to complete the musical heritage of Bach, by supporting us with a donation!