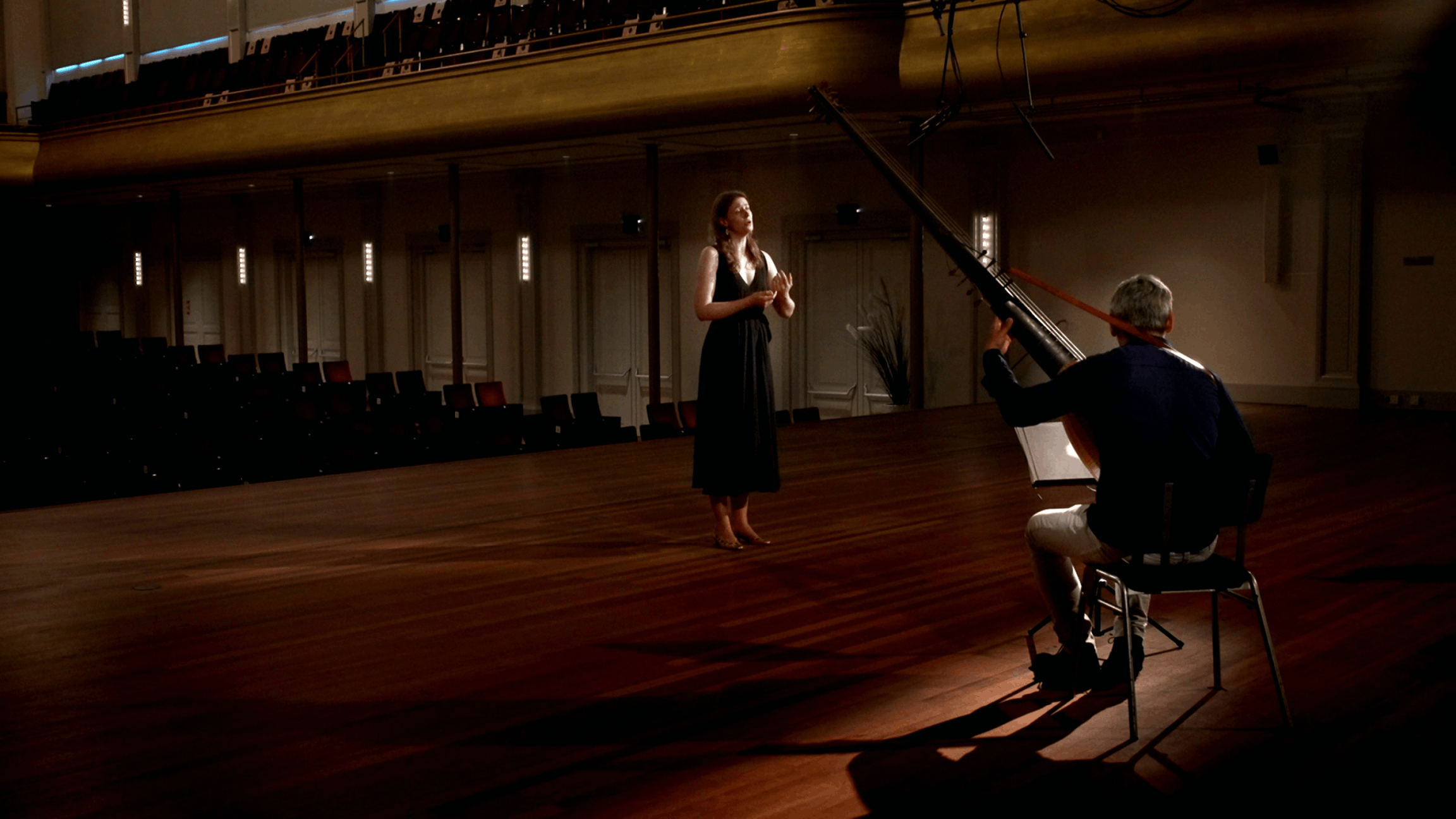 Der lieben Sonne Licht und Pracht
BWV 446 performed by Viola Blache
and Mike Fentross
PHIL, Haarlem
The close of day
A sacred hymn for everyone to sing along to
This is one of the "954 clever songs and arias – both old and new – with well written melodies" that were published in 1736 in the Musicalisches Gesang-Buch, edited by Georg Christian Schemelli. Most of the songs had no notes written down for them, but Der lieben Sonnen Licht und Pracht is one of the 69 exceptions where a melody and bass line were given.
This song book would undoubtedly have been largely forgotten if Schemelli had not involved Bach in his project. "The melodies included in this musical hymnbook have been completely recomposed in part by the very eminent Mr Johann Sebastian Bach [...], and in part improved by him with regard to the basso continuo". We can say with certainty that three of the songs really are by Bach, but we are not sure about the others – including this one.
Schemelli was the cantor of the castle in Zeitz, to the south of Leipzig, which was part of the Electorate of Saxony at the time. The fact that he called on the help of an external expert like Bach seems to fit with the history of Zeitz. Between 1656 and 1718, it was the capital city of the small Duchy of Saxe-Zeitz. The first duke started building his residence in 1663 and engaged Heinrich Schütz to take care of the musical matters, which included acquiring instruments, supervising the renovation of the organ and teaching the choristers. Schütz conducted the music for the inauguration of the castle in 1664, and he wrote a psalm setting for three choirs that was performed at the consecration of the chapel in 1672.
Der lieben Sonnen Licht und Pracht is one of the "evening song" hymns to close the day. And this is clear from the opening lines: the sun has done its work and the world comes to rest. The relative simplicity of the melody means that everyone can sing along with the hymn. The bass line has more movement in it, and although it is not figured, the occasional twist sometimes hints at a harmonic choice that is not completely straightforward. Do we see Bach the improver at work here?
BWV

446

Title

Der lieben Sonne Licht und Pracht

Instrument

Lute, Soprano

Genre

songs and arias

Serie

Schemelli's Musicalisches Gesang-Buch

Year

1736

City

Leipzig

Lyricist

Christian Scriver
Vocal texts
Original
1. Der lieben Sonnen Licht und Pracht
hat nun den Tag vollführet,
die Welt hat sich zu Ruh gemacht,
tu, Seel, was dir gebühret,
tritt an die Himmelstür
und sing ein Lied darfür,
laß deine Ohren, Herz und Sinn
auf Jesum sein gerichtet hin.
7. So will ich auch nun schlafen ein,
Jesu, in deinen Armen,
dein Gnad soll meine Decke sein,
mein Lager dein Erbarmen,
mein Küssen deine Brust,
mein Traum die süße Lust,
die aus der Seiten Wunden fleußt
und dein' Geust in mein Herz ergeußt.
9. Nun, matter Leib, gib dich zur Ruh
und schlafe sanft und stille,
ihr müden Augen, schließt euch zu,
denn es ist Gottes Wille.
Ich schließe dies mit ein,
Ach Jesu, ich bin dein.
So ist der Schluß recht gut gemacht,
nun Jesu, Jesu, gute Nacht!
Translation
The splendid sun in glorious light
Has closed the day in beauty,
The world has settled for the night,
Now, soul, tend to your duty:
Come near to heaven's gates
And sing a song of thanks,
Let now your ears and heart and mind
To your dear Jesus be inclined.
And so I now will take my rest,
In your arms, Jesus, sleeping,
Your grace shall be my sheltered nest,
Your mercy, my safekeeping,
My pillow be your breast,
Sweet dreams attend my rest,
As love flowed from your wounded side
Your spirit in my heart abide.
Now, weary body, rest your woes
And sleep now soft and gently,
You tired eyes at last may close,
As God wills and commends me.
My eyes close, reassured,
Oh Jesus, that I'm yours.
And so all ends well that ends right,
Now Jesus, I will say good night!
translation © Ruth van Baak-Griffioen
Credits
Release date

11 May 2023

Recording date

4 June 2021

Location

Philharmonie, Haarlem

Sopran

Viola Blache

Theorbo

Mike Fentross

Director, camera

Robin van Erven Dorens

Music recording

Guido Tichelman, Bastiaan Kuijt

Music edit and mix

Guido Tichelman

Camera

Onno van der Wal

Lights

Ernst-Jan Thieme

Best boy

Jordi Kooij

Data handling

Stefan Ebels

Assistant music recording

Marloes Biermans

Producer

Jessie Verbrugh
Help us to complete All of Bach
There are still many recordings to be made before the whole of Bach's oeuvre is online. And we can't complete the task without the financial support of our patrons. Please help us to complete the musical heritage of Bach, by supporting us with a donation!