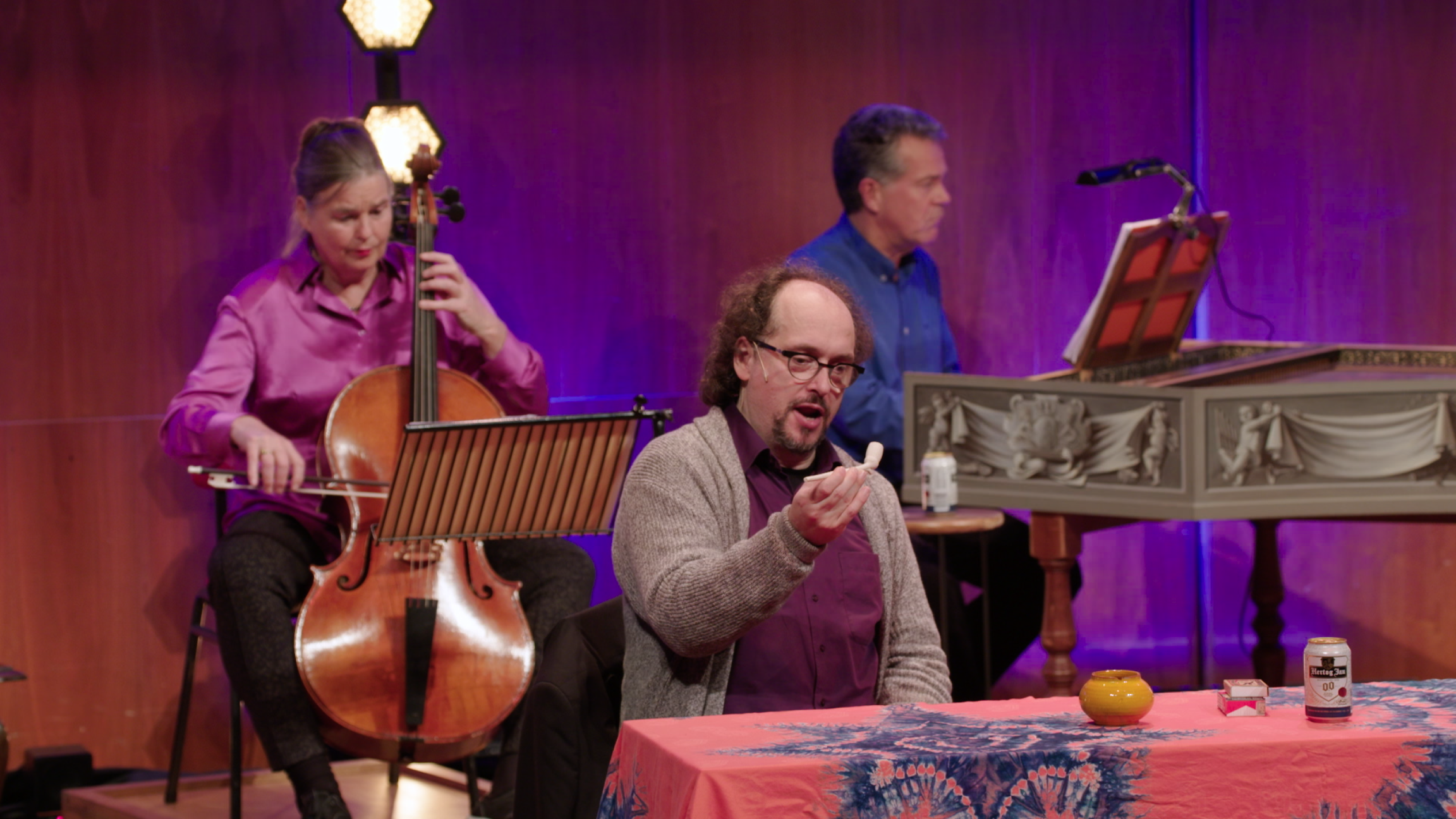 So oft ich meine Tobackspfeife
BWV 515 performed by Charles Daniels,
Menno van Delft, Mieneke van der Velden and Fred Jacobs
at the Bartolotti House, Amsterdam
Edifying thoughts on smoking
A pipe falls and breaks easily – and that is our fate as well.
This song appears twice in the Notenbüchlein from 1725: once without words, and again – directly alongside – with words and a more embellished bass line. Are the runs reminiscent of curling tobacco smoke? It may be a simple idea, but no simpler than the way in which the words explore the similarities between people and pipes: both are made of earth, and both are blackened by use. However hot the tobacco burns, protect yourself from the heat of hell. So smoke with care, bearing human life in mind – a real Lutheran awareness campaign.
The Notenbüchlein für Anna Magdalena Bach
Shortly after their arrival in Leipzig in 1723, Johann Sebastian and Anna Magdalena Bach revealed themselves as a cultural power couple. Although Anna Magdalena gave up her successful public singing career, she joined her husband in running a thriving music business, alongside looking after a large and growing family. We have at least two tangible traces of their married life in the form of two Notenbüchlein from 1722 and 1725.
Whereas the first Notenbüchlein was still a sort of notebook, containing things like early versions of five 'French Suites' (and who knows what else, as two-thirds of the pages are missing), the second one was definitely intended as a gift from Johann Sebastian to his wife. In fair copy, he notated two Partitas and all sorts of other music of Anna Magdalena's own choosing, such as the aria from the Goldberg Variations and the song Dir, dir Jehova, as well as music by composers like Couperin and Anna Magdalena's stepson Carl Philipp Emanuel. Together, the Notenbüchlein form a colourful mix of arias, chorales and suites.
BWV

515-II

Title

So oft ich meine Tobackspfeife

Instrument

Tenor

Genre

songs and arias

Serie

Notenbüchlein für Anna Magdalena Bach

Year

1733-1734

City

Köthen/Leipzig
Vocal texts
Original
So oft ich meine Tobackspfeife,
mit gutem Knaster angefüllt,
zur Lust und Zeitvertreib ergreife,
so gibt sie mir ein Trauerbild
und füget diese Lehre bei,
dass ich derselben ähnlich sei.
Die Pfeife stammt von Ton und Erde,
auch ich bin gleichfalls draus gemacht,
auch ich muss einst zur Erde werden.
Sie fällt und bricht, eh ihr's gedacht,
mir oftmals in der Hand entzwei,
mein Schicksal ist auch einerlei.
Die Pfeife pflegt man nicht zu färben,
sie bleibet weiß, also der Schluss:
dass ich auch dermal einst im Sterben
dem Leibe nach erblassen muss.
Im Grabe wird der Körper auch
so schwarz wie sie nach langem Brauch.
Wenn nun die Pfeife angezündet,
so sieht man, wie im Augenblick
der Rauch in freier Luft verschwindet,
nichts als die Asche bleibt zurück.
So wird des Menschen Ruhm verzehrt
und dessen Leib in Staub verkehrt.
Wie oft geschieht's nicht bei dem Rauchen,
dass, wenn der Stopfer nicht zur Hand,
man pflegt den Finger zu gebrauchen.
Dann denk ich, wenn ich mich verbrannt:
O, macht die Kohle solche Pein,
wie heiß mag erst die Hölle sein?
Ich kann bei so gestalten Sachen
mir bei dem Toback jederzeit
erbauliche Gedanken machen.
Drum schmauch ich voll Zufriedenheit
zu Land, zu Wasser und zu Haus
mein Pfeifchen stets in Andacht aus.
Translation
Whene'er I take my pipe and stuff it
And smoke to pass the time away,
My thoughts, as I sit and puff it,
Dwell on a picture sad and grey.
It teaches me that very like
Am I myself unto my pipe.
Like me, this pipe so fragrant burning
Is made of naught but earth and clay;
To earth I too shall be returning,
It falls and, ere I'd think to say,
It breaks in two before my eyes,
In store for me a like fate lies.
No stain the pipe's hue yet doth darken;
It remains white. Thus do I know
That when to death's call I must hearken
My body, too, all pale wilt grow.
To black beneath the sod 'twill turn,
Likewise, the pipe, if oft it burn.
Or when the pipe is fairly glowing,
Behold then instantaneously,
The smoke off into thin air going,
Till naught but ash is left to see.
Man's frame likewise will burn
And unto dust his body turn.
How oft it happens when one's smoking:
The stopper's missing from its shelf,
And one goes with one's finger poking
Into the bowl and burns oneself.
If in the pipe such pain doth dwell,
How hot must be the pains of Hell.
Thus o'er my pipe, in contemplation
Of such things, I can constantly
Indulge in fruitful meditation,
And so, puffing contentedly,
On land, on sea, at home, abroad,
I smoke my pipe and worship God.
Credits
Release date

27 July 2023

Recording date

10 October 2020

Location

TivoliVredenburg, Utrecht

Violin and director

Shunske Sato

Bass

Dominik Wörner

Cello

Lucia Swarts

Harpsichord

Siebe Henstra

Theatre concept, direction and design

Thomas Höft

Film director and editor

Bas Wielenga

Music recording

Guido Tichelman, Bastiaan Kuijt, Pim van der Lee, Rob Strolenberg

Music edit and mix

Guido Tichelman

Camera

Wesley Schipper, Wouter Revier, Jochem Timmermans, Chiel Hooijman

Lights

Zen Bloot

Assistant film director

Ferenc Soeteman

Set technique

Justin Mutsaerts

Project manager nep

Ron Vermeulen

Assistant music recording

Marloes Biermans

Producer concert

Imke Deters

Producer film

Jessie Verbrugh
Help us to complete All of Bach
There are still many recordings to be made before the whole of Bach's oeuvre is online. And we can't complete the task without the financial support of our patrons. Please help us to complete the musical heritage of Bach, by supporting us with a donation!