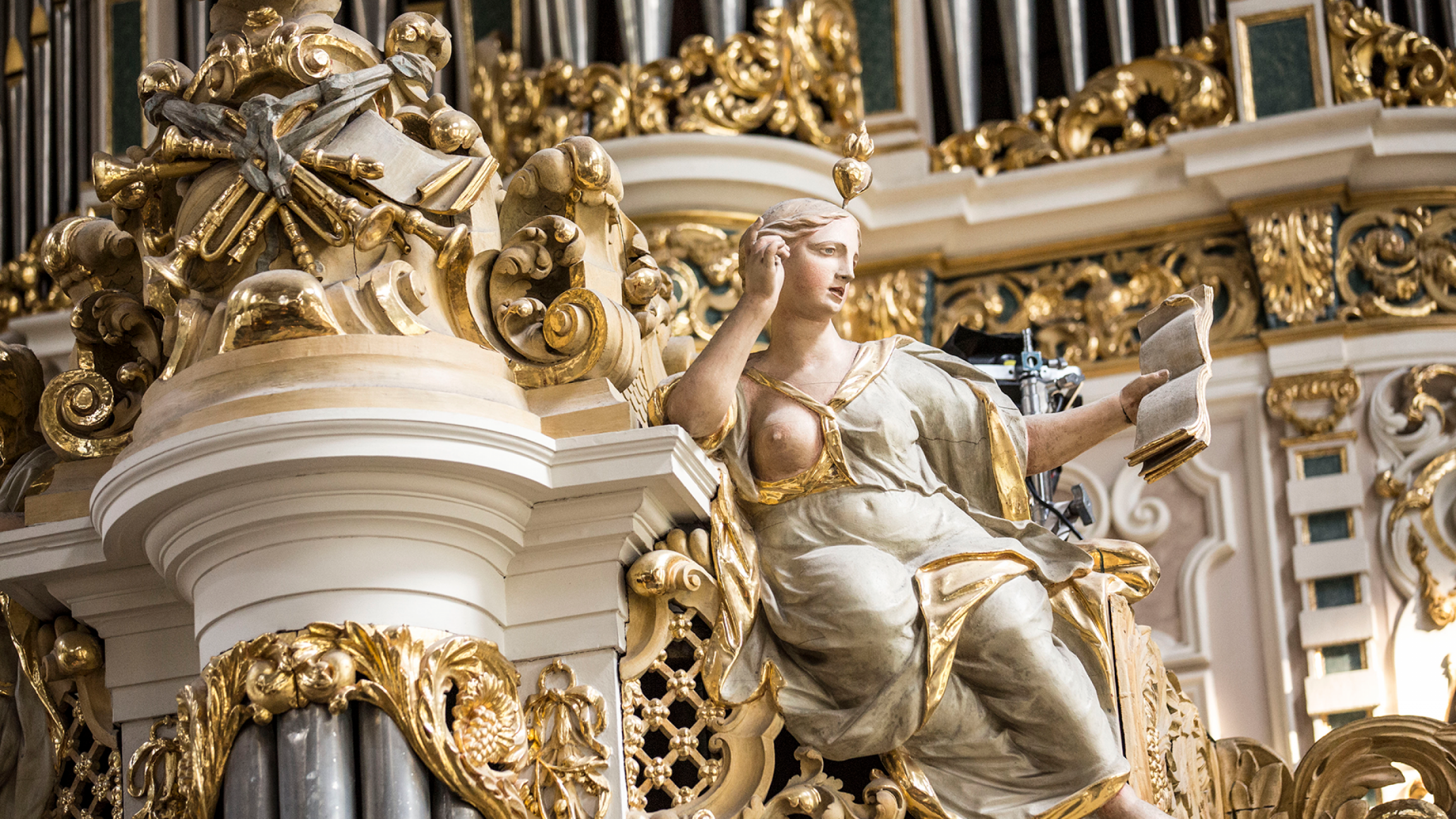 Sonata no. 2 in C minor
BWV 526 performed by Bernard Winsemius
Walloon Church, Amsterdam
Menu
Vivace
Largo
Allegro
Story
Extra videos
Credits
Concerto for a one-man band
All the typical elements of a solo concerto bundled into a new genre
Seated at his instrument, the organist may have the means at his disposal – but does he also have the mastery? This is a pertinent question in the case of Bach's demanding organ sonatas, with their three fully autonomous parts in two keyboards and pedal. This second sonata, which comes first in one of the sources, is the model for numbers 5 and 6: an Allegro opening with alternating tutti and solo passages, and a closing fugue – here with two themes: one classical and the other very surprising and modern. For this sonata, Bach probably transcribed existing trio sonatas, but these originals have unfortunately been lost.
Six sonatas, BWV 525-530
Around 1727-1730, Bach introduced a new organ genre: the trio sonata. This type of sonata –with two melodic instruments and bass, or a soloist and keyboard – had long been a fixture in Baroque chamber music, but the three parts had never been heard before on one instrument. Through clever registration, it is possible to attain a wealth of sounds on the organ, but this is merely the beginning, as the six sonatas are regarded as extremely difficult. Schweitzer, for instance, says that "those who have practiced these sonatas thoroughly will not actually encounter any more problems in either the old or the modern organ literature. [...] He has achieved absolute precision in his playing – the ultimate condition of the true art of organ-playing. In this complicated trio piece, even the smallest irregularity can be heard with terrifying clarity".
Biographer Forkel remarked that Bach wrote the collection (or transcribed it from earlier material) for the studies of Wilhelm Friedemann, whom he "thus trained to be the great organist he later became". Maybe this context is also the reason he adds galant touches to the Italian concerto style here and there, inspired by the operas in Dresden of which Friedemann was apparently a great fan. The sonatas remained influential for a long time, also on the young Mendelssohn, for example. Notwithstanding its chamber music origins, this is out-and-out keyboard music, with a unique interaction between both hands. The almost endless variation of form makes the collection a world of its own.
BWV

526

Title

Sonata no. 2 in c minor

Instrument

organ

Genre

organ works

Serie

Six sonatas (organ)

Year

1727-32

City

Weimar/Leipzig
Extra videos
Credits
Release date

30 January 2015

Recording date

25 June 2014

Location

Walloon Church, Amsterdam

Organist

Bernard Winsemius

Organ

Christian Müller, 1734

Producer

Frank van der Weij

Film director

Jan Van den Bossche

Directors of photography

Sal Kroonenberg, Ruben van den Broeke

Grip

Antoine Petiet

Music production, editing and mix

Holger Schlegel

Film editor

Dylan Glyn Jones

Colorist

Jef Grosfeld

Production assistants

Marco Meijdam, Zoë de Wilde
Help us to complete All of Bach
There are still many recordings to be made before the whole of Bach's oeuvre is online. And we can't complete the task without the financial support of our patrons. Please help us to complete the musical heritage of Bach, by supporting us with a donation!