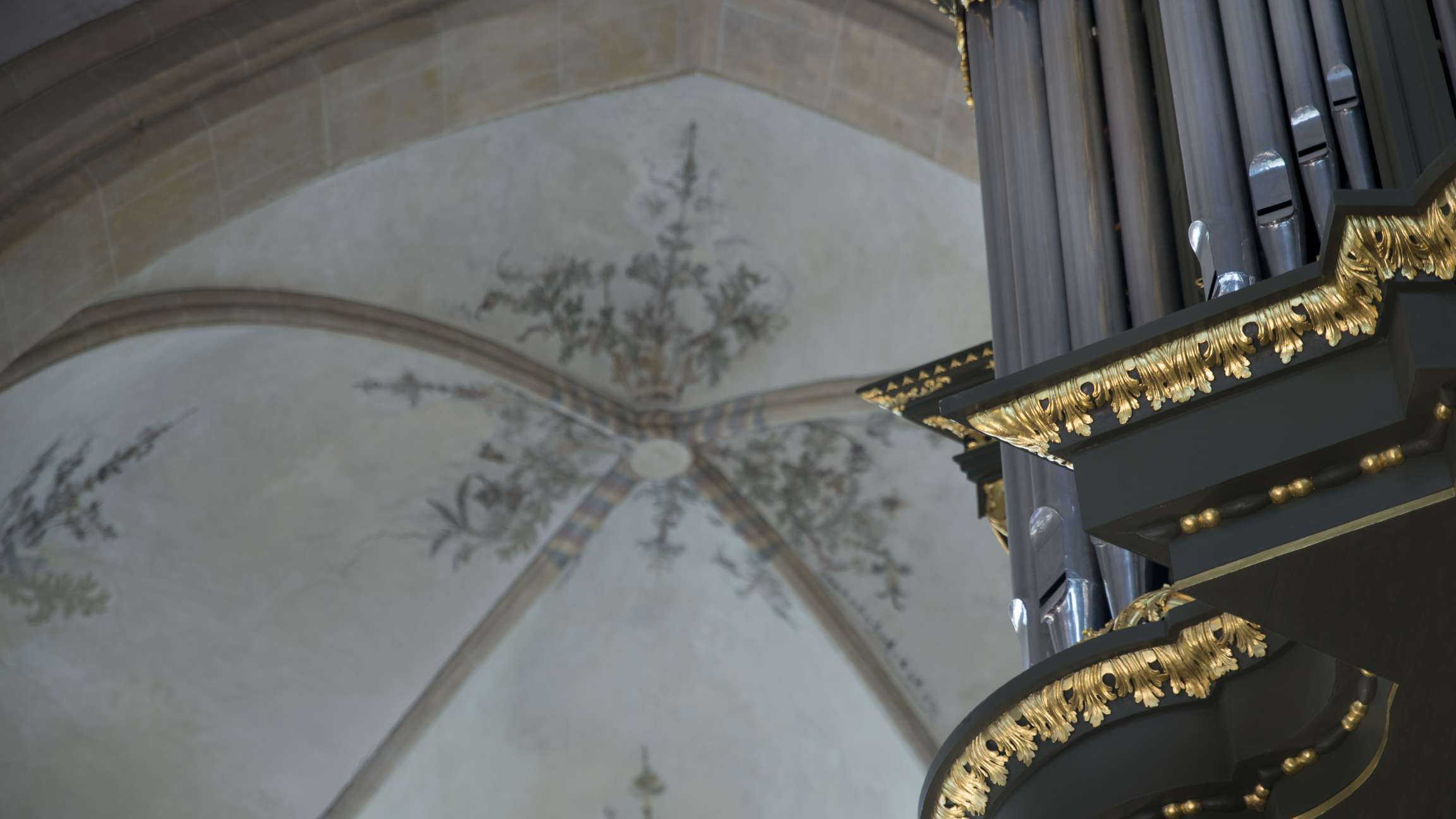 Fantasia and fugue in G minor
BWV 542 by Leo van Doeselaar
St. Martin's Church, Groningen
Menu
1. Fantasia
2. Fugue
Story
Extra videos
Credits
An unsolicited application in Hamburg
Bach paid tribute to the Deventer-born organist Reincken with a fugue theme derived from a Dutch folk song.
Many of Bach's organ works can only be dated approximately, but it is different in the case of this Fantasia and fugue. Bach performed these works in Hamburg, where the post of organist at St Jacob's Church became vacant in 1720. During a recital lasting over two hours, he demonstrated his skills as an organist and struck his audience dumb. One member of that audience was the former organist Reincken, the eminence grise of the Hamburg music scene, who praised Bach's improvisational art as follows: 'I thought this skill had died out, but I see it lives on in you'. Yet Bach was not really planning to take up the vacant position. Only three years beforehand, he had accepted a position as Kapellmeister in Köthen precisely in order to stretch his wings vocally as well, and to rid himself of the too restrictive label of 'organ virtuoso'. However, Bach probably did have an eye on the post of cantor at St John's School in Hamburg, which was shortly to become vacant. In the end, Telemann was appointed to that post and not long afterwards Bach was given a similar appointment in Leipzig.
Whatever the case, Bach confirmed his reputation with the ambitious scope and structure of his Fantasia and fugue. The breathtaking fantasia starts off as a completely free improvisation, but then reveals itself as a rhetorical argument. Overwhelming, rather ominous passages are alternated with measured, punctual annotations. All the registers are opened, from chromatic successions to all sorts of surprising harmonic twists and turns, which are finally finished off by the pedal. The virtuoso fugue that follows appears to contain an extra tribute to old Reincken, who was born in Deventer, as its theme is derived from a cheerful Dutch song, 'Ik ben gegroet van', from the collection Oude en Nieuwe Hollantse Boeren Lieties. The brisk footwork required by the piece takes it to its festive climax.
BWV

542

Title

Fantasia and fugue in G minor

Epithet

'Great'

Instrument

organ

Genre

organ works

Year

ca. 1720

City

Hamburg

Special notes

Handed down independently and only put together around 1800.
With support from
Faculty of Architecture and the Built Environment, TU Delft
Extra videos
Credits
Release date

20 June 2014

Recording date

8 October 2013

Location

St. Martin's Church, Groningen

Organist

Leo van Doeselaar

Organ registration

Tim Knigge

Organ

Arp Schnitger, 1692

Producer

Frank van der Weij

Film director

Jan Van den Bossche, Frank van der Weij

Directors of photography

Jorrit Garretsen, Sal Kroonenberg

Music production, editing and mix

Holger Schlegel

Film editor

Dylan Glyn Jones

Colorist

Jef Grosfeld

Production assistants

Marco Meijdam, Zoë de Wilde

Interview

Onno van Ameijde

Acknowledgements

Jan Haak

With support from

Faculty of Architecture and the Built Environment, TU Delft
Help us to complete All of Bach
There are still many recordings to be made before the whole of Bach's oeuvre is online. And we can't complete the task without the financial support of our patrons. Please help us to complete the musical heritage of Bach, by supporting us with a donation!