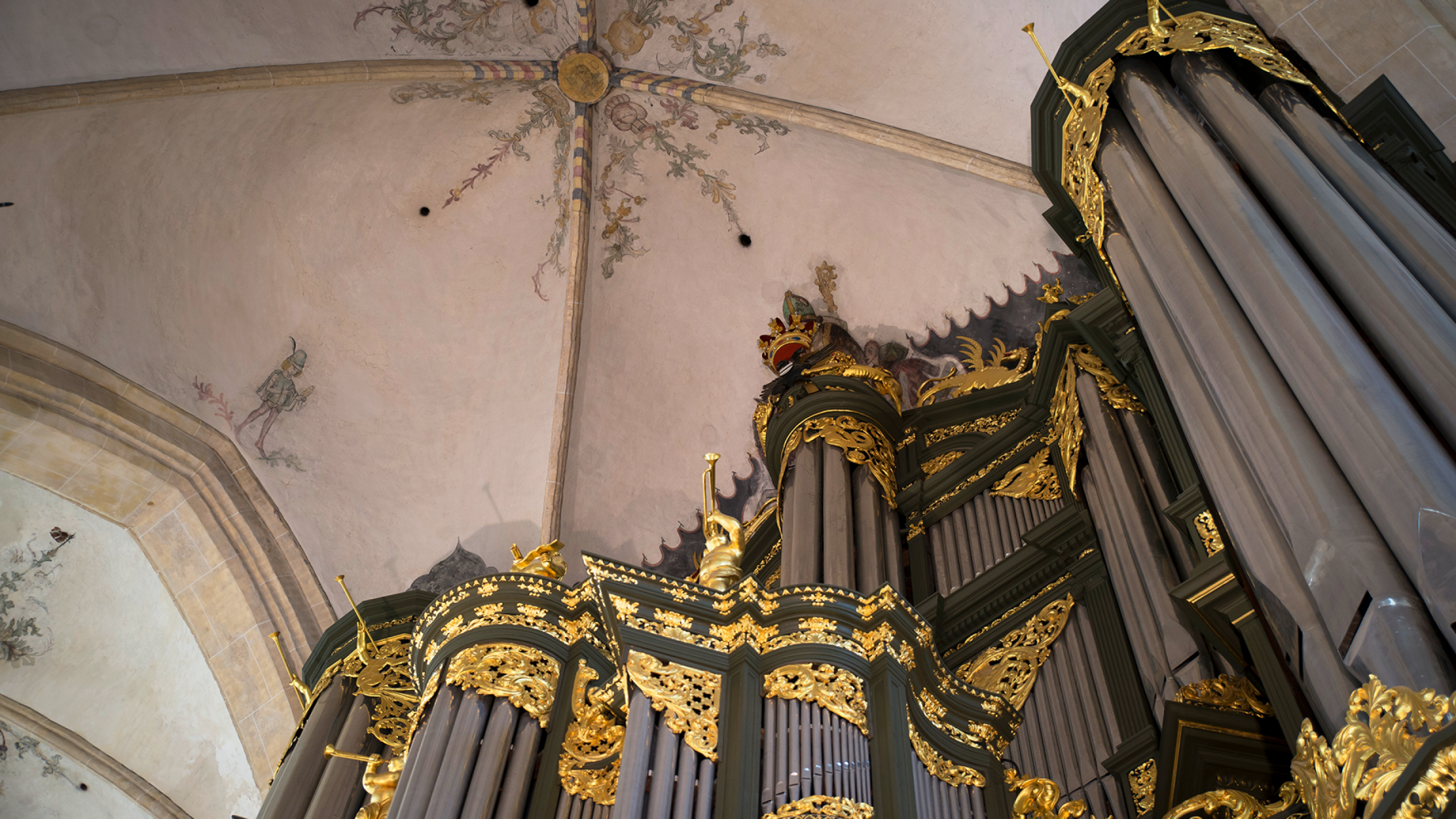 Toccata and fugue in D minor
BWV 565 by Leo van Doeselaar
St. Martin's Church, Groningen
Story
Extra videos
Credits
The Exuberance of Youth
There is no Bach composition that has been used so often and for such diverse purposes in our day as the 'Toccata and fugue in D minor', BWV 565.
From Disney's Fantasia to The Phantom of the Opera, the opening of this composition has provided many memorable moments. The secret is in the striking first note, accented with a mordent, followed by that brief, tense moment of silence and the overpowering descending series of notes (or variations on it, like in Pirates of the Caribbean). Unfortunately, Bach's own score has not survived, which has led to many speculations on the creation date of this wild and original composition that is actually not very 'Bach-like'.
Much would be explained if this toccata and fugue could be situated in Bach's younger years in Arnstadt, as the organ there lacked a 16-foot register on the keyboard. In order to create the effect produced by a 16-foot register (which sounds an octave lower than a 'normal' 8-foot register), Bach probably used octave doubling, thus enabling the continuation of the resounding effect of the opening bars. In any case, this sort of octave doubling is not found in any of Bach's later organ works. After the force of the 'improvised' toccata, the strictly directed fugue with its uninterrupted series of fast notes certainly sounds no less furious. Later on, Bach may have felt embarrassed about his crude, youthful 'clavier hussar' style, as his biographer Forkel called it, and put the work aside. A lot of his other early organ work has been lost completely. Fortunately, this 'youthful lapse' by Bach was preserved for posterity by the copyist Johannes Ringk.
Like the prelude, the toccata is an unstructured form, in which keyboard players can give free rein to their imagination. But while Johann Gottfried Walther refers to the prelude simply as 'ein Vorspiel' in his Musikalisches Lexicon of 1732, he describes the toccata as a long piece in which both hands alternate, sometimes accompanied by long pedal notes. The marked freedom of the toccata is connected to the stylus phantasticus, which was popular in North Germany from the seventeenth century. This fanciful style of composition that had come over from Southern Europe was described by the same Walther as 'freed from all constraint'. So it is remarkable that both the toccata and the prelude are often paired with the fugue, which is subject to strict compositional rules. Structure is lent to the whole, however, partly because the fugue derives its thematic material from the preceding part.
BWV

565

Title

Toccata and fugue in D minor

Instrument

organ

Genre

organ works

Year

1703-1707

City

Arnstadt

Special notes

This work may be a transcription of a lost violin piece.

Autograph

Undated copy by Johannes Ringk by Johannes Ringk, Preussischer Kulturbesitz Handschrift Mus. Ms. Bach P595
Credits
Release date

2 May 2014

Recording date

9 October 2013

Location

St. Martin's Church, Groningen

Organist

Leo van Doeselaar

Organ registration

Tim Knigge

Organ

Arp Schnitger, 1692

Producer

Frank van der Weij

Film director

Jan Van den Bossche, Frank van der Weij

Director of photography

Jorrit Garretsen, Sal Kroonenberg

Music production, editing and mix

Holger Schlegel

Film editors

Leonie Hoever, Dylan Glyn Jones

Colorist

Petro van Leeuwen

Production assistants

Zoë de Wilde, Marco Meijdam

Acknowledgements

Jan Haak
Help us to complete All of Bach
There are still many recordings to be made before the whole of Bach's oeuvre is online. And we can't complete the task without the financial support of our patrons. Please help us to complete the musical heritage of Bach, by supporting us with a donation!