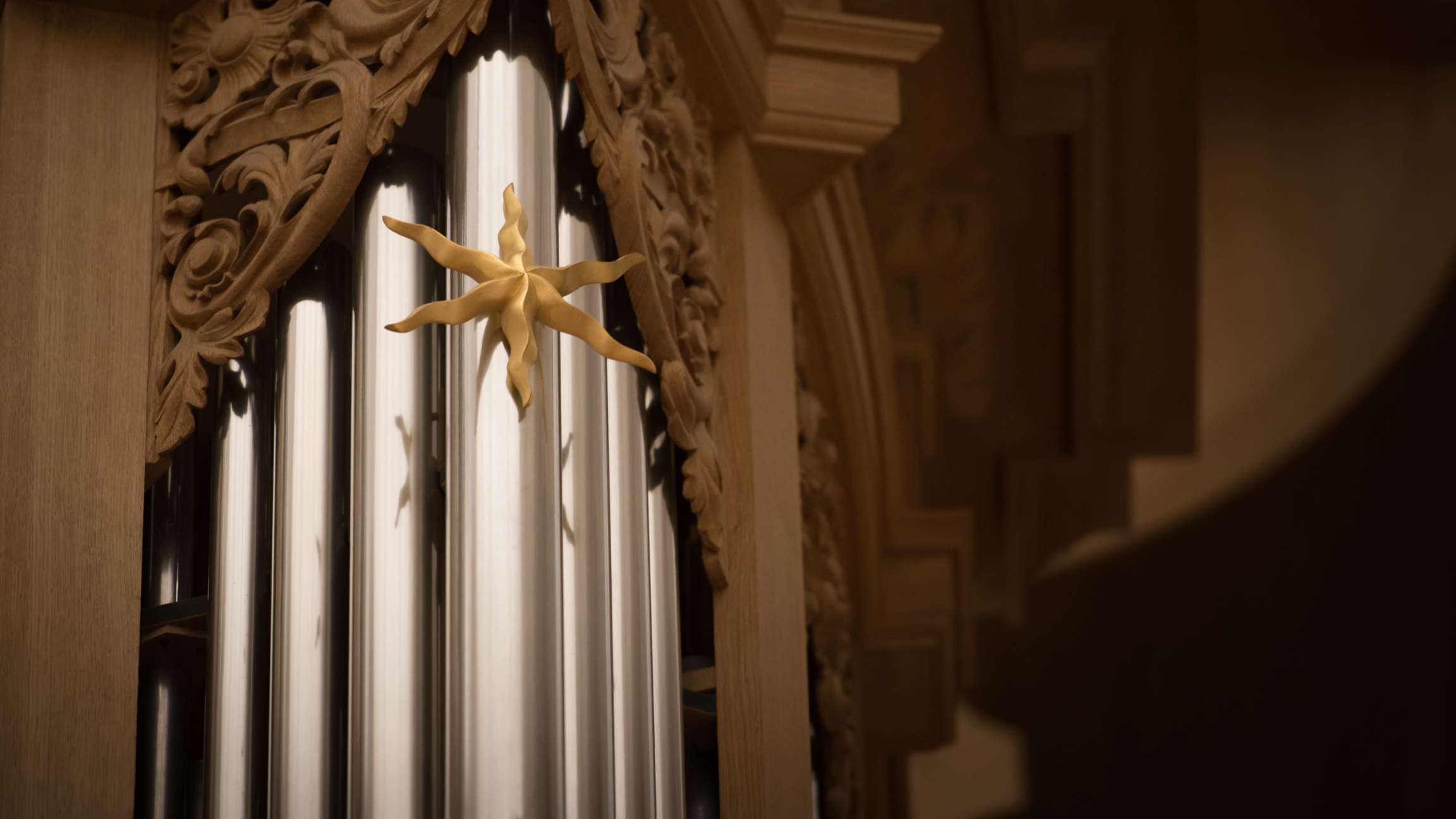 Pièce d'Orgue
BWV 572 performed by Leo van Doeselaar
St. Catherine's Church, Hamburg
Menu
1. Très vitement
2. Gravement
3. Lentement
Story
Extra videos
Credits
Veni, vidi, vici
Did Bach scare Louis Marchand stiff by putting his own mark on the French organ style?
This majestic exercise in French style was created before 1717. In this period, Bach copied the Livre d'Orgue from 1700 by the French organist and composer Nicolas de Grigny, wishing to master the French style. The way in which he proceeded to put his own stamp on this style in the Pièce d'Orgue is admirable and dazzling in equal measure. Completely in line with the style, the three movements are named successively Très vistement, Gravement and Lentement, but they merely give the piece the appearance of being in three parts. Neither are they all quite as French as you might expect. In fact, the piece revolves around the overwhelming central movement, which is intended to be played with all the stops pulled out (Grand Plein Jeu), as was customary in similar pieces by French organists. It is preceded by a short nervously tinkling prelude and followed by an almost neurotic coda. Together, the three movements could equally well be construed as a free fantasia, and one of the versions of the piece has indeed survived under this title.
The Pièce d´Orgue is unique in Bach's oeuvre. Although it may just be an exercise in the French style, it could well have connections with the keyboard competition to be held in Dresden in the autumn of 1717, in which Bach was to pit his strength against the conceited French virtuoso Louis Marchand, who was travelling through Germany at the time. The competition never took place, however, as the French keyboard wizard is said to have heard Bach preparing for it and taken to his heels in a hurry. So Bach went on to give a solo performance to a perplexed audience. There are no details about what he performed, but Bach's obituary refers to an improvisation duel, naming a drawing room as the location. The harpsichord would therefore seem a more likely weapon of combat than the organ. But is it really so unthinkable that in preparation for his showdown Bach composed a French-style 'tribute' to his opponent? In any case, there can be no doubt that if Marchand had indeed heard this piece, it would have scared him stiff.
BWV

572

Title

Pièce d'Orgue

Epithet

Fantasia in G major

Instrument

organ

Genre

organ works

Year

Before 1717

City

Weimar

Special notes

Bach revised the piece in Leipzig.
Extra videos
Credits
Release date

18 December 2015

Recording date

22 October 2014

Location

St. Catherine's Church, Hamburg

Organist

Leo van Doeselaar

Organ

Various builders between the 15th and 19th century. Restoration: Flentrop 2013

Director

Jan Van den Bossche

Director of photography

Sal Kroonenberg

Camera assistents

Andreas Grotevent, Lucas Lütz

Music production, editing and mix

Holger Schlegel

Interview

Onno van Ameijde

Producer

Frank van der Weij

Acknowledgements

Vadim Dukart, Andreas Fischer
Help us to complete All of Bach
There are still many recordings to be made before the whole of Bach's oeuvre is online. And we can't complete the task without the financial support of our patrons. Please help us to complete the musical heritage of Bach, by supporting us with a donation!