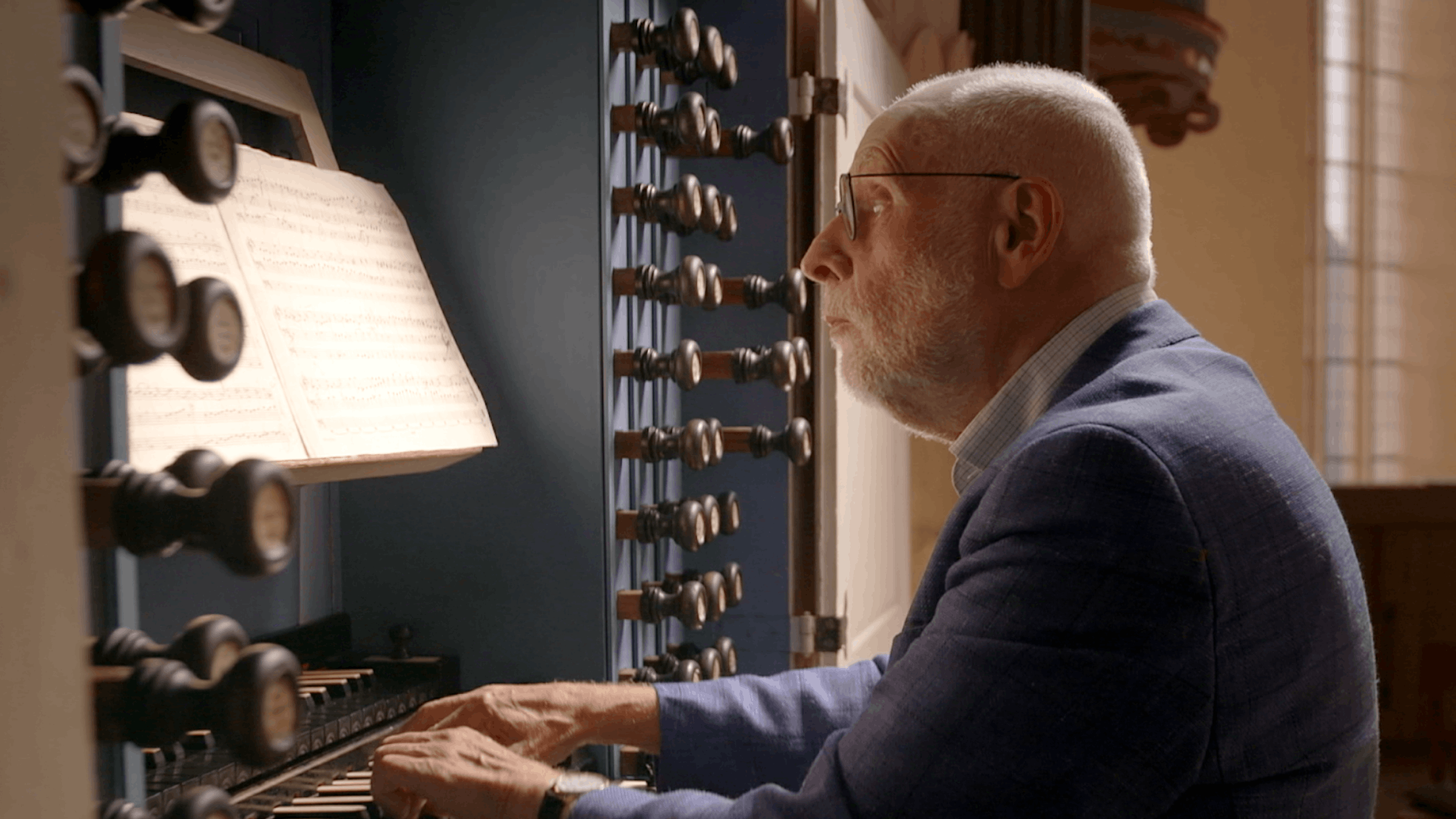 Allabreve in D major
BWV 589 performed by Ton Koopman
Stadtkirche St Wenzel, Naumburg, Germany
Story
Extra videos
Credits
Something old, something new
An organ work in which Bach shows that he moves with the times.
This work has not survived in a manuscript by Bach himself, but in the most important source it is called: "Allabreve con pedale pro organo pleno". The second and third elements of this description are clear: 'con pedale', i.e. with pedal, and 'pro organo', i.e. for organ. Even 'allabreve' is not complicated in itself: it is a tempo indication meaning that the whole note is the beat unit (the unit that you intuitively tap with your foot). But here 'allabreve' also seems to indicate a style: stile antico.
In Bach's day there were, to put it simply, two theoretical composition models. The modern style was what we now associate mainly with Baroque music: quick runs, harmonic twists, sudden dissonants and contrasts in tempo and dynamics. Stile antico was the old style, which followed the composition rules that were the norm in the sixteenth century. From the beginning of the seventeenth century, this continued to exist alongside the new style. Stile antico was characterised by lines that ran calmly and gradually, usually with few harmonic extravagances. In Bach's day, stile antico was associated with church music, stateliness and solemnity.
Bach had a thorough command of both styles – old and new – and could use them as he wished. And that is just what he does in BWV 589. Rhythmically, everything remains 'antico', and the initial theme keeps returning throughout the piece in all the parts, according to the rules of this style. But harmonically, it becomes gradually more adventurous. Bach begins to deviate further from the starting key, and chromatic passages creep in now and again a little further on. Shortly before the ending, just before the pedal comes to rest on the long, low closing note, he keeps the listener alert for a moment with a clearly 'modern' harmonic twist. Yes, definitely stile antico, but then in a modern guise.
BWV

589

Title

Allabreve in D major

Instrument

organ

Genre

organ works

Year

unknown

City

Weimar?

Special notes

Bach borrowed the theme from a concerto for oboe and strings by Johann David Heinichen
Extra videos
Credits
Release date

26 October 2023

Recording date

13 September 2020

Location

Stadtkirche St Wenzel, Naumburg, Germany

Organist

Ton Koopman

Organ

Zacharias Hildebrandt, 1746

Director and editor

Robin van Erven Dorens

Music recording

Guido Tichelman, Bastiaan Kuijt

Music edit and mix

Guido Tichelman

Camera

Robin van Erven Dorens, Onno van der Wal

Lights

Ernst-Jan Thieme

Assistant music recording

Marloes Biermans

Interview

Robin van Erven Dorens, Marloes Biermans

Producer

Jessie Verbrugh

With support from

Professor Howard Fee
Help us to complete All of Bach
There are still many recordings to be made before the whole of Bach's oeuvre is online. And we can't complete the task without the financial support of our patrons. Please help us to complete the musical heritage of Bach, by supporting us with a donation!