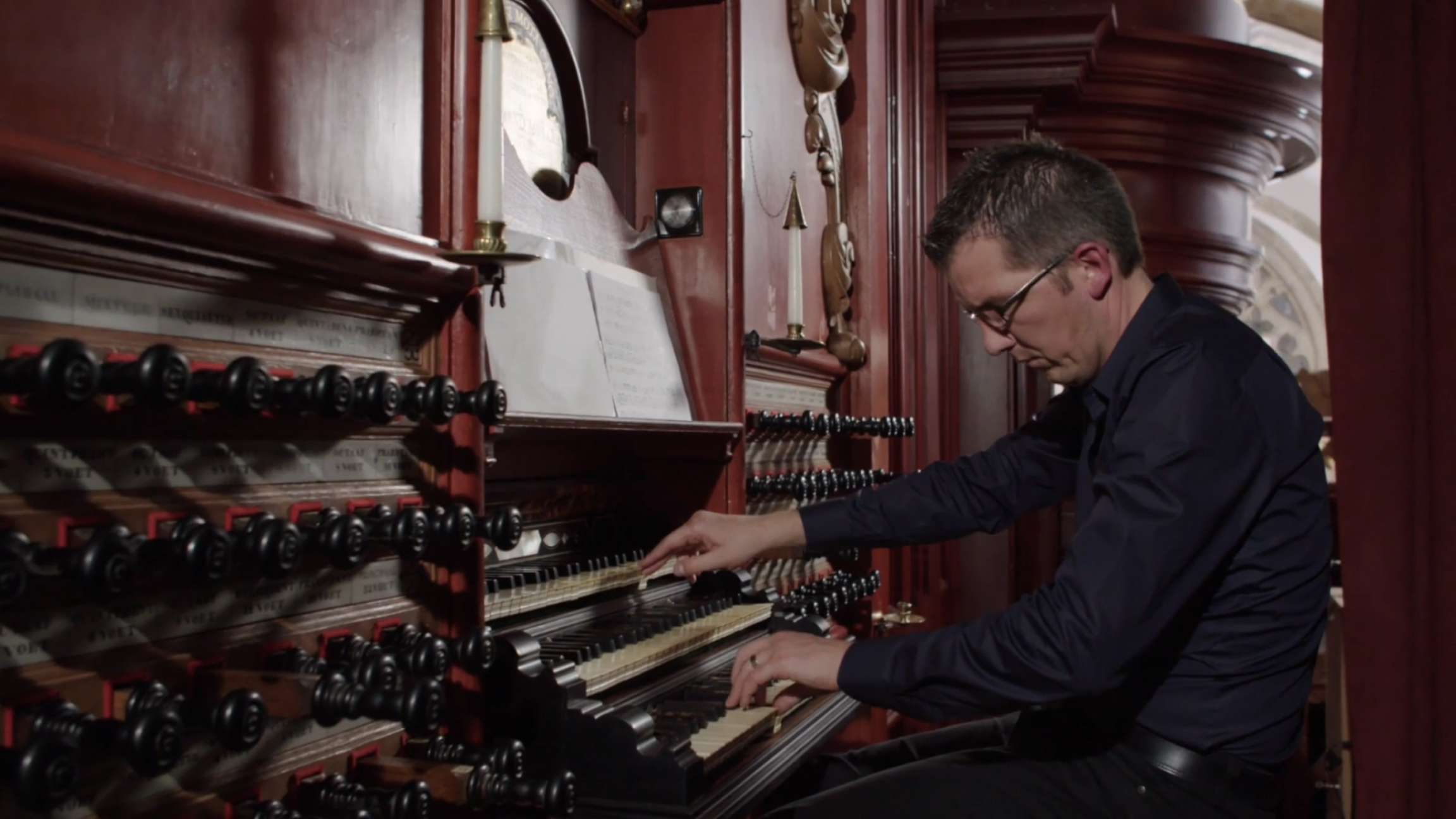 Das alte Jahr vergangen ist
BWV 614 performed by Bart Jacobs
St Bavo's Church, Haarlem
Story
Extra videos
Credits
Protect us!
How a New Year hymn provoked a protracted conflict.
A New Year hymn is relatively innocuous and cheerful, you would think. Yet here Bach made a fairly chromatic and melancholy arrangement of Das alte Jahr vergangen ist. He was undoubtedly aware of the fact that the hymn was not merely innocuous.
Bach wrote this piece during his years in Weimar between 1708 and 1717. Not far from Weimar lies Erfurt, which in those days belonged to the Catholic electorate of Mainz. Although the Lutherans had freedom of religion, conflicts always loomed on the horizon. And in 1712, a conflict flared up about the hymn Das alte Jahr vergangen ist. A group of schoolboys were singing it in the streets. Just as they passed the home of a Catholic, they got to the third strophe, with the words: 'protect us, Lord, from Papal teaching and idolatry' (Vor's Papsts Lehr' und Abgötterei bewahr uns, Herr). Was it coincidence or mischievous intent? Whatever the case, it went down badly and resulted in a long conflict about freedom of religion, insults and this hymn.
The situation was reversed in Haarlem in the eighteenth century, where the Protestants were in charge and the Catholics were tolerated provided they kept a low profile. The imposing organ in the Protestant St Bavo's Church was a resounding symbol of acoustic dominance, especially when all the stops were pulled out. Fortunately, Bart Jacobs has opted for a more conciliatory sound.
Orgelbüchlein, BWV 599-644
During his time as court organist at Weimar (1708-1714), Bach already started compiling his first collection of chorale arrangements and chorale preludes (compositions based on Lutheran hymns). They were intended to be used in church services, and the preludes were an introduction to congregational singing. According to the list of contents in Bach's manuscript, it was supposed to have been a collection of 164 compositions, but in the end it did not exceed 46 (BWV 599-644). The order, combined with the limited length of the pieces, indicates that Bach was planning to compile a complete cycle of chorale arrangements. Later, in his period at Köthen, he gave the collection a title page, which reads: 'Orgel-Büchlein, Worinne einem anfahenden Organisten Anleitung gegeben wird, auff allerhand Arth einen Choral durchzuführen…' ('Little organ book, in which a beginner organist is taught to arrange a chorale in all sorts of ways...'). So at the time, he intended the collection just as a teaching manual, maybe to present on his application in 1722 for the post of cantor at the Thomasschule in Leipzig, which was an important teaching position. The pupils must have had a hard time of it, as the preludes contain the complete range of baroque keyboard techniques in a nutshell.
Organ
This recording was made on the famous Müller organ in the Cathedral of Saint Bavo, in Haarlem. It is a very special instrument from 1738. Both Georg Friedrich Händel and Wolfgang Amadeus Mozart travelled to Haarlem to play this organ! Händel was particularly delighted by the unusual Vox Humana register. The organ has over 5000 pipes, divided over 64 registers, with three manuals and a pedal.
BWV

614

Title

Das alte Jahr vergangen ist

Instrument

Organ

Genre

organ works

Serie

Orgelbüchlein

Year

ca. 1708-1717

City

Weimar

Occasion

New Year Hymn
Credits
Release date

29 December 2017

Recording date

22 September 2016

Location

St Bavo's Church, Haarlem

Organist

Bart Jacobs

Organ

Christian Müller, 1738

Director

Bas Wielenga

Camera

Bas Wielenga, Jeroen Simons

Music recording

Guido Tichelman, Bastiaan Kuijt

Lights

Gregoor van de Kamp

Producer

Jessie Verbrugh

Interview

Onno van Ameijde
Help us to complete All of Bach
There are still many recordings to be made before the whole of Bach's oeuvre is online. And we can't complete the task without the financial support of our patrons. Please help us to complete the musical heritage of Bach, by supporting us with a donation!