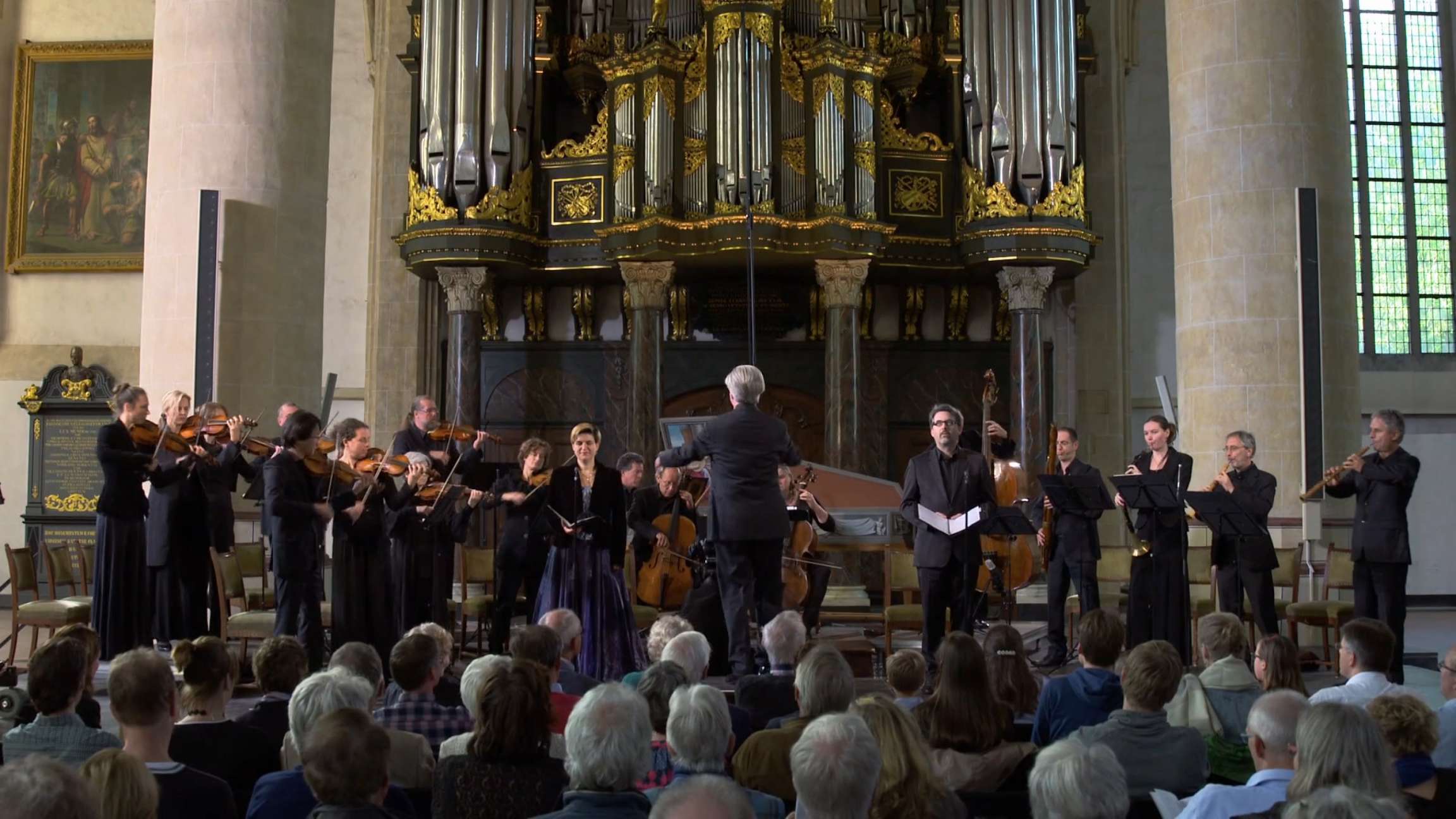 Ach Gott, wie manches Herzeleid
BWV 58 performed by the Netherlands Bach Society
conducted by Jos van Veldhoven
St. Martin's Church, Groningen
Menu
1. Ach Gott, wie manches Herzeleid (Arie)
2. Verfolgt dich gleich die arge Welt (Rezitativ)
3. Ich bin vergnügt in meinem Leiden (Arie)
4. Kann es die Welt nicht lassen (Rezitativ)
5. Ich hab für mir ein schwere Reis (Duett)
Story
Extra videos
Texts
Credits
Efficient frugality
Bach illustrates loneliness extremely effectively with an austere instrumentation.
Right at the outset of this piece, Bach makes an abrupt ending to the festive spirit of Christmas with a heartrending aria. It is the first Sunday after New Year's Day and the sermon is about the story of the Massacre of the Innocents. Herod, afraid that he would lose his throne to Jesus, ordered the massacre of all the children of Bethlehem. Joseph, however, had received a warning, and escaped with Mary and Jesus to Egypt. All the other children were killed.
This great suffering is expressed in the opening aria: a drawn-out sarabande with austere instrumentation. The suffering soul, a soprano, sings the cheerless words of the first verse of the chorale 'Ach Gott, wie manches Herzeleid', accompanied by a descending plaintive bass line. The bass, Jesus, interrupts rather more cheerfully, advising patience, as the path to salvation is not strewn with roses.
The turning point of this laboured cantata comes in the extraordinarily beautiful soprano aria, in which the tormented soul – supported by a radiant violin part and in the knowledge that Jesus has been saved – comes to terms with her suffering. At the end of this completely symmetrical cantata, when the duo once again enter into dialogue, we hear the second verse of another chorale: 'O Jesu Christ, meins Lebens Licht'. A festive fanfare erupts, as the soprano has accepted her devotion and looks forward to the eternal comfort of Jesus.
The exceptional beauty of this gem from 1727 lies in the combination of the limited means and the loneliness caused by the suffering. Even when Bach added a trio of two oboes and an alto oboe to the outer movements, for a later performance around 1733, he still did not put in any solo wind passages. Only right at the end are the trio allowed to give a festive hint of the hope of paradise. And it was, of course, considerate of Bach to think of his musicians, who could certainly have done with a breather after the busy Christmas period and just before the Epiphany festivities on 6 January.
BWV

58

Title

Ach Gott, wie manches Herzeleid, Concerto in Dialogo

Instrument

bass, soprano

Genre

cantatas

Year

1727

City

Leipzig

Lyricist

unknown

Occasion

Sunday after New Year's Day

First performance

5 January 1727

Special notes

Bach only added the two oboes and the alto oboe around 1733.
Extra videos
Vocal texts
Original
1. Arie und Choral (Bass, Sopran)
Ach Gott, wie manches Herzeleid
Nur Geduld, Geduld, mein Herze,
begegnet mir zu dieser Zeit!
es ist eine böse Zeit!
Der schmale Weg ist Trübsals voll,
Doch der Gang zur Seligkeit
den ich zum Himmel wandern soll.
führt zur Freude nach dem Schmerze.
Nur Geduld, Geduld, mein Herze,
Es ist eine böse Zeit!

2. Rezitativ (Bass)
Verfolgt dich gleich die arge Welt,
so hast du dennoch Gott zum Freunde,
der wider deine Feinde
dir stets den Rücken hält.
Und wenn der wütende Herodes
das Urteil eines schmähen Todes
gleich über unsern Heiland fällt,
so kommt ein Engel in der Nacht,
der lässet Joseph träumen,
dass er dem Würger soll entfliehen
und nach Ägypten ziehen.
Gott hat ein Wort, das dich vertrauend macht.
Er spricht: 'Wenn Berg und Hügel niedersinken,
wenn dich die Flut des Wassers will ertrinken,
so will ich dich doch nicht verlassen
noch versäumen.

3. Arie (Sopran)
Ich bin vergnügt in meinem Leiden,
denn Gott ist meine Zuversicht.
Ich habe sichern Brief und Siegel,
und dieses ist der feste Riegel,
den bricht auch selbst die Hölle nicht.

4. Rezitativ (Sopran)
Kann es die Welt nicht lassen,
mich zu verfolgen und zu hassen,
so weist mir Gottes Hand
ein andres Land.
Ach! könnt es heute noch geschehen,
dass ich mein Eden möchte sehen!

5. Aria und Choral (Bass, Sopran)
Ich hab für mir ein schwere Reis
Nur getrost, getrost, ihr Herzen,
zu dir ins Himmels Paradeis,
hier ist Angst, dort Herrlichkeit!
Da ist mein rechtes Vaterland,
Und die Freude jener Zeit
daran du dein Blut hast gewandt.
Überwieget alle Schmerzen.
Nur getrost, getrost, ihr Herzen,
hier ist Angst, dort Herrlichkeit!




Translation
1. Aria with Chorale
Ah God, what deep affliction
Patience, patience, O my heart,
befalls me at this time!
these are bad times!
The narrow path is full of sorrow
Yet the path to salvation
on which I must go to Heaven.
leads to joy after pain.
Patience, patience, O my heart,
these are bad times!

2. Recitative
Though the wicked world persecutes you,
you still have God as a friend,
who, in the face of your foes,
will always support you.
And even though furious Herod
sentenced our Saviour
to shameful death,
there came an angel in the night
and sent a dream to Joseph,
that He should escape the butcher
and flee into Egypt.
God's Word gives you confidence.
He saith: when hills and mountains crumble,
when flood waters submerge you,
I shall neither leave you
nor forsake you.

3. Aria
I am content in my suffering,
for God is my reassurance.
I have a trustworthy seal and charter,
and this is the solid bolt
that Hell itself cannot break.

4. Recitative
Though the world cannot refrain
from persecuting and hating me,
God's hand reveals to me
another land.
Ah, could it but come to pass today
that I might behold my Eden!

5. Aria with Chorale
I have a difficult journey to go
Be consoled, consoled, O hearts,
to reach Thee in heaven's paradise;
here is fear, there glory reigns!
that is my true fatherland,
And the joy of that day
for which Thou hast shed Thy blood.
outweighs all pain.
Be consoled, consoled, O hearts,
here is fear, there glory reigns!



Credits
Release date

20 January 2017

Recording date

26 September 2015

Location

St. Martin's Church, Groningen

Conductor

Jos van Veldhoven

Soprano

Monika Mauch

Bass

Stephan MacLeod

Violin 1

Shunske Sato, Annabelle Ferdinand, Anneke van Haaften, Annelies van der Vegt

Violin 2

Sayuri Yamagata, Pieter Affourtit, Paulien Kostense

Viola

Staas Swierstra, Deirdre Dowling

Cello

Lucia Swarts, Richte van der Meer

Double bass

Robert Franenberg

Oboe

Martin Stadler

Oboe 2

Peter Frankenberg

Taille

Hanna Lindeijer

Bassoon

Benny Aghassi

Organ

Leo van Doeselaar

Harpsichord

Siebe Henstra

Director

Simon Aarden

Editor

Pjotr 's Gravesande

Assistant director

Niek Wijns

Music recording

Guido Tichelman, Bastiaan Kuijt, Micha de Kanter

Music edit and mix

Guido Tichelman

Camera

Jorrit Garretsen, Bart Ten Harkel, Chris Reichgelt, Jochem Timmerman

Lights

Daan de Boer

Lighting assistant

Gijs 't Hoen

Video engeneer

Niels Cnossen

Set technique

Marco Korzelius

Project manager nep

Peter Ribbens

Interview

Onno van Ameijde

Producer concert

Marco Meijdam, Imke Deters

Producer film

Jessie Verbrugh

Acknowledgements

Jan Haak
Help us to complete All of Bach
There are still many recordings to be made before the whole of Bach's oeuvre is online. And we can't complete the task without the financial support of our patrons. Please help us to complete the musical heritage of Bach, by supporting us with a donation!