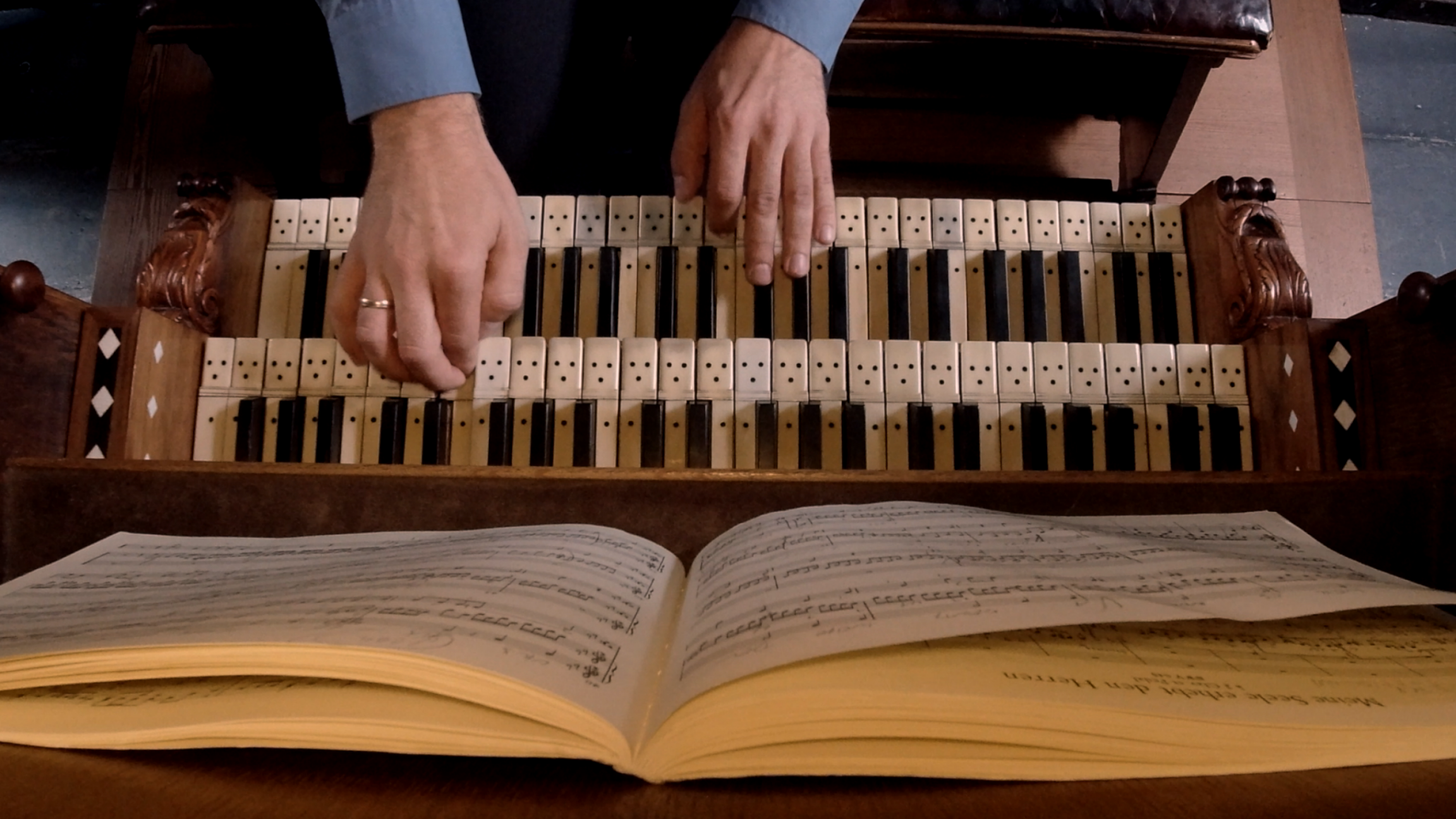 Ach bleib bei uns, Herr Jesu Christ
BWV 649 performed by Peter Kofler
Jacobikerk, Uithuizen
Story
Extra videos
Credits
Exceptionally light
Bach shows his modern side in this piece.
An exercise for just one hand? A work that's survived incomplete? Or maybe a strange fugue with a theme that's far too long? If you were to come across BWV on its own, for the first 30 seconds you'd be wondering what sort of piece it was. But when the second part enters, the bits of the puzzle soon fall into place with the chorale melody Ach bleib bei uns, Herr Jesu Christ: it's a chorale arrangement! Yet BWV 649 does not follow the typical pattern of this type of orchestral work, as the musical web is exceptionally light in its strict two-part texture.
Like the other chorale arrangements from the Schübler-Choräle, this one too is an arrangement of an earlier work with a completely different instrumentation. Originally, Bach wrote almost identical notes as an aria for violoncello piccolo and soprano, as part of cantata BWV 6. We don't know why this aria, in particular, was included in the Schübler-Choräle, but what helped in any case was that Bach showed his modern 'galante' side in the aria. Rather than complex counterpoint and well-wrought harmonies, there is elegant, melodious simplicity. This sort of music was most in demand in the late 1740's.
The printed Schübler-Choräle could be bought from Bach himself, and also from his sons Wilhelm Friedemann in Halle and Carl Philipp Emanuel in Berlin. Unfortunately, we don't know who bought copies from them. But it may be the case that BWV 649 was performed at the time on one of the organs built by Arp Schnitger; for example, the one in Schloß Charlottenburg or in Hamburg. Although it took longer to be performed on his organ in Uithuizen, it was well worth the wait.
Schübler Chorales, BWV 645-650
They may have a number and an epithet, but that does not necessarily mean that Bach wrote the six enchanting Schübler Chorales himself. Five of them are arrangements of known cantata movements – and the sixth may well be an arrangement too, from a lost work. Whereas some people, as organist Wolfgang Zerer, do not doubt the hand of the master and identify a well-considered construction in it, other specialists see a big gap between Bach's own refined transcriptions and these works that have often been transferred rather literally to the organ. Did the master give this task to his son Wilhelm Friedemann, for example? Did he want to give opportunities to players of more popular music in Clavier-Übung III, as well as to the most virtuoso organists? Were these hits also bestsellers when arranged? Although we do not know the answers, it is a fact that Bach himself owned a copy of Schübler's publication, which is very interesting for its abundance of improvements and changes by a composer in the latter years of his life.
BWV

649

Title

Ach bleib bei uns, Herr Jesu Christ

Instrument

Organ

Genre

organ works

Serie

Schübler-Choräle (organ)

Year

1748-49

City

Leipzig

Special notes

Organ version of the aria Ach bleib bei uns, Herr Jesu Christ from the cantata Bleib bei uns, denn es will Abend werden
Credits
Release date

21 April 2022

Recording date

18 July 2019

Location

Jacobikerk, Uithuizen

Organist

Peter Kofler

Organ

Arp Schnitger, ca. 1700

Director and editor

Robin van Erven Dorens

Music recording

Guido Tichelman, Bastiaan Kuijt

Music edit and mix

Guido Tichelman

Camera

Onno van der Wal

Lights

Gregoor van de Kamp

Interview

Robin van Erven Dorens, Marloes Biermans

Producer

Jessie Verbrugh, Stefan Ebels
Help us to complete All of Bach
There are still many recordings to be made before the whole of Bach's oeuvre is online. And we can't complete the task without the financial support of our patrons. Please help us to complete the musical heritage of Bach, by supporting us with a donation!